Mount Sunflower
Introduction
Mount Sunflower is the highest point in the State of Kansas, at 4,039 feet above sea level. The site is a tongue-and-cheek reference to the flat topography of western Kansas and has become a tourist attraction since the 1970s. The owners of the land built a small picnic area and encourage visitors to the site which includes a tribute to their ancestors, Edward and Elizabeth Harold, who established a homestead here in the early 1900s.
Images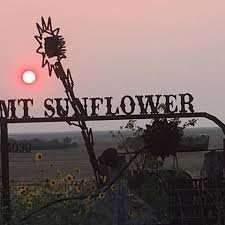 Backstory and Context
The origins of this tongue-in-cheek Kansas landmark date back to 1970 when Mountaineer Joseph "Mitch" Michaud came to Weskan late in 1970. Michaud was traveling through the United States to visit the highest point in each of the 50 states. When news of Michaud's visit spread and he was joined by Weskan Elementary students walking up to the "summit" of Mt Sunflower, area residents decided to mark the location. In the spring of 1971, Mt Sunflower was featured on CBS News "On the Road" with Charles Kuralt.
Sources
Joseph Mitch Michaud. Highpointers Club. . Accessed April 15, 2018. http://highpointers.org/joseph-mitch-michaud-1928-2013/.