Mount Rainer National Park
Introduction
Located southwest of Seattle, Mount Rainer National Park is among the more popular national parks in the country. It is named for the large, semi-dormant volcano that rises to a height of 14,411 feet. It was established in 1899, becoming the country's fifth national park and the first created after the United States Forest Service was founded in 1891. The park covers an area just over 336,000 acres. Mount Rainer is the tallest mountain of the Cascade Mountain Range, which stretches from British Columbia to northern California. In terms of natural features and ecosystems, the park has subalpine meadows, old growth forests, rivers, lakes, valleys, and 25 glaciers. Visitors can partake in many activities, including hiking, camping, and backpacking. There are several visitor centers, some of which are not open during the winter. The one on the map location, the Henry M Jackson Memorial Visitor Center, is situated on the southern slope of Mt. Rainier. It was built in 2008, replacing the Paradise Inn which was built in 1967. Visitors can view exhibits that explore the history of the park and ask for information from park rangers.
Images
Mount Rainer is 14,000 feet tall and is named after British Rear Admiral Peter Rainer.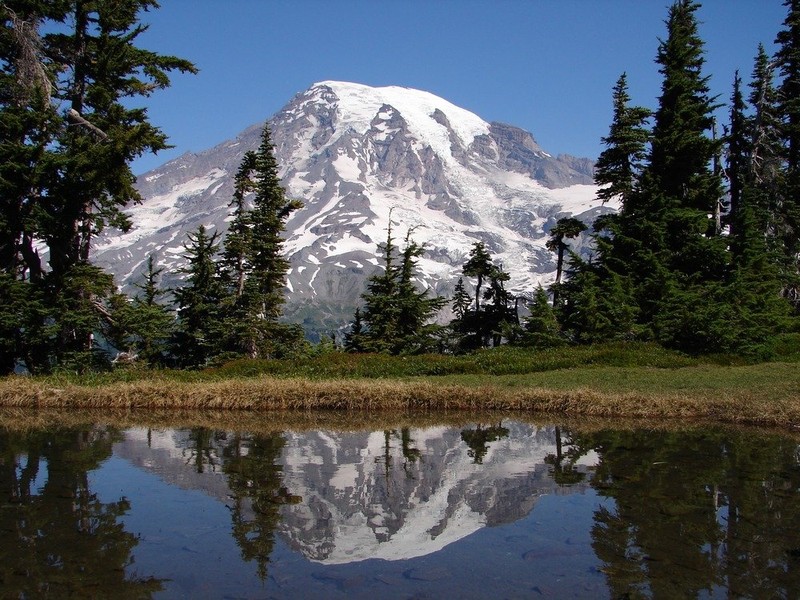 The Henry M Jackson Memorial Visitor Center was built in 2008 and is located on Mount Rainer's south slope.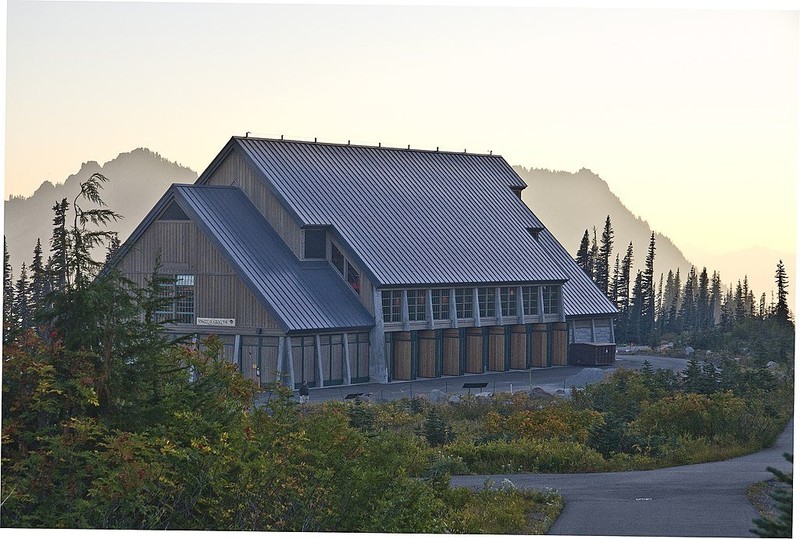 Interior view of the Henry M. Jackson Memorial Visitor Center.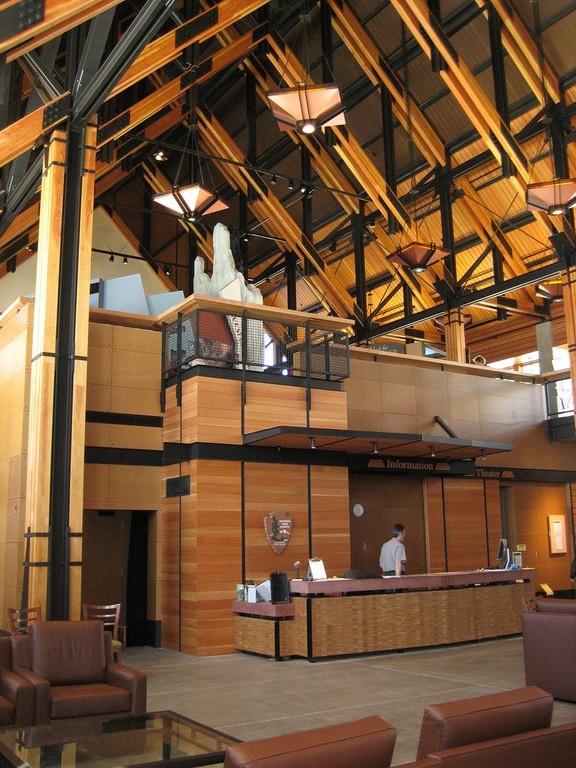 Backstory and Context
Mount Rainer erupts episodically, meaning that while an eruption has not occurred a long time, there is still the possibility that it might at any time. As a result, visitors will evacuation route signs throughout the park.

Archaeological evidence indicates that humans first appeared in the area 9,000 years ago. The first European to record seeing Mount Rainer was Captain George Vancouver in 1792, who was surveying the Pacific Coast. He was the one who gave the volcano its name, naming it after his friend Rear Admiral Peter Rainer. Future explorers and settlers would encounter the Muckleshoot, Nisqually, Yakama, Puyallup, Squaxin Island, and Cowlitz tribes.

The first known attempt to climb Rainer occurred in 1870. Other climbs were attempted and many still make the attempt each year. In 1883, one of these climbers found a spring on the way down, which gave him the idea of building a hotel and spa. This marked the beginning of the park's tourist industry.

The entire park is a National Historic Landmark district. It includes four national landmarks and 42 buildings listed on the National Register of Historic Places (see link below). The park is a national landmark for the architecture of the well-preserved buildings within it, which were designed in a style developed by the National Park Service, and for the fact that master planning of national parks began here in the 1920s. The park's plan, which was completed by 1931, became the model for other national parks.
Sources
"Mount Rainer History." National Park Service - Mount Rainer National Park Service. Accessed April 8, 2018. https://www.nps.gov/mora/learn/historyculture/mount-rainier-history.htm.

Stephanie Toothman, Susan Begley, and Ethan Carr. "Mount Rainier National Park." National Park Service - National Historic Landmark Nomination Form. September 14, 1996.
https://npgallery.nps.gov/pdfhost/docs/NRHP/Text/64500707.pdf.

Photo Credits:
- Mount Rainier: National Park Service
- The Henry M Jackson Memorial Visitor Center: Wikimedia Commons
Additional Information