Johnny Unitas Statue at Ravens Stadium
Introduction
Standing in front of the Baltimore Ravens Stadium is a statue to honor Johnny Unitas. Johnny was considered one of the greatest American football players of all time. He set a majority of the records for quarterbacks during his time, many of which he still holds today.
Images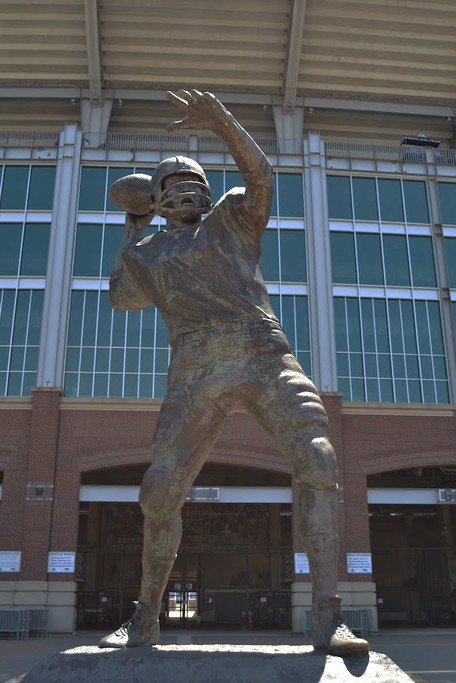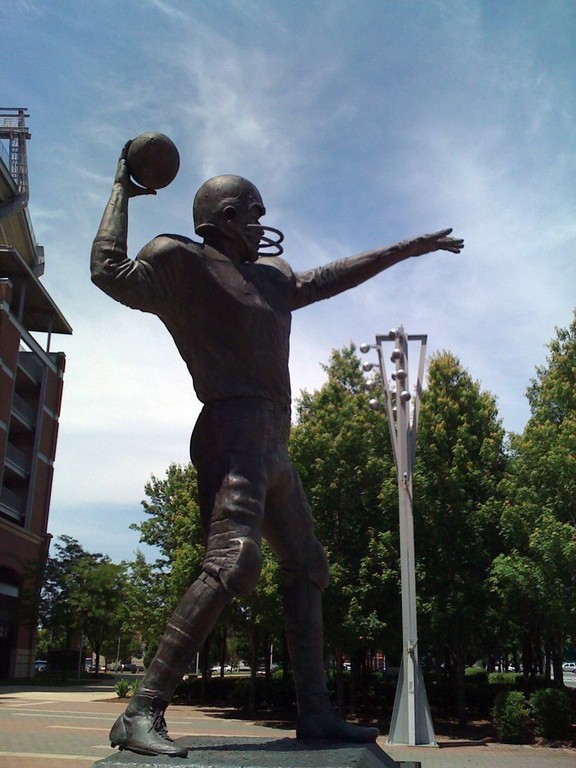 Backstory and Context
Johnny Unitas was born on May 7,1933 in Pittsburgh, Pennsylvania. He played football as a child and throughout high school until he attended the University of Louisville. Nicknamed "The Golden Arm" he was well known throughout college football as an advanced quarterback.

After he graduated college in 1955 he was drafted to the Pittsburgh Steelers in the ninth round draft pick. After a year of not playing with the Steelers he was picked up by the Baltimore Colts where he played from 1975-1972. During this time he received the NLF's vote for MVP in the years 1957, 1959, 1964, and 1967. In 1973 Unitas was traded to play for the San Diego Charges until he retired in 1974.

By the time he retired he finished his career with 290 touchdowns and over 40,000 yards passing. These stats allowed him to hold basically every record for a pro quarterback. Johnny died on September 11, 2002 of a sudden heart attack.

Artist Frederick Kail created this statue in bronze. It was dedicated in 2002 and stands in Unitas Plaza at the north entrance of the Ravens Stadium.
Sources
"Johnny Unitas." Baltimore Ravens. Accessed February 13, 2017. http://www.baltimoreravens.com/team/history/johnny-unitas.html.

"Johnny Unitas Statue at Ravens Stadium." Monument City Blog. Accessed February 13, 2017. http://monumentcity.net/2009/05/21/johnny-unitas-statue-baltimore-md/.

Litsky, Frank. "Johnny Unitas, N.F.L.'s Genius of the Huddle, Dies at 69." New York Times, September 12, 2002. http://www.nytimes.com/2002/09/12/sports/johnny-unitas-nfl-s-genius-of-the-huddle-dies-at-69.html.



Additional Information