Knotty Pine Restaurant
Introduction
Located on Wilmington's east side, the Knotty Pine Restaurant was, until a few years ago, the city's longest continually-operating African-American-owned restaurant. The restaurant closed for a few years following the owner's retirement but has since reopened. The restaurant served as a welcoming haven for Wilmington's African American community when segregation kept them from many other establishments. Some of the most well-known entertainers of the day were patrons.
Images
Knotty Pine Restaurant with historic marker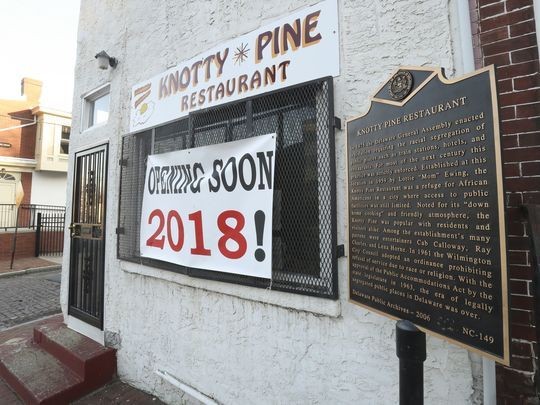 Stella Dunning before her retirement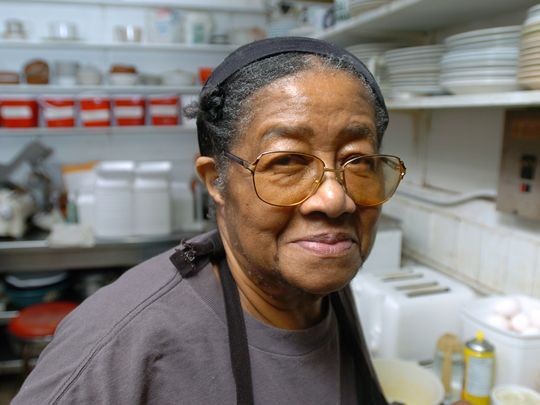 Backstory and Context
In an age when African Americans were largely excluded from many public facilities, the Knotty Pine Restaurant became a Wilmington institution. Lottie Ewing opened the restaurant in 1959, and it quickly became a refuge for the city's African American community. Ewing's home-cooked meals became popular with locals as well as visitors to the east side.
As the Knotty Pine's popularity in the city grew, it became a gathering spot for entertainers in the city. When African American entertainers like Cab Calloway, Ray Charles, and Lena Horne performed at the Hotel du Pont, segregation prohibited them from eating there, so they often came to the Knotty Pine. James Brown was a patron, as well as local politicians and public figures.
Lottie Ewing's daughter, Stella Dunning, inherited the Knotty Pine from her mother and ran it until declining health led her to retire in 2014. There are currently plans to reopen the restaurant later in 2018. The restaurant will remain in the Dunning family; Stella Dunning's grandniece, Lolita Johnson, plans to continue the family tradition with the Knotty Pine II, located in the same east side building.
Sources
Brown, Robin. Knotty Pine Owner Takes Off Apron for Retirement. Delaware Online. August 03, 2014. Accessed April 10, 2018. https://www.delawareonline.com/story/news/local/2014/08/03/knotty-pine-owner-takes-apron-retirement/13557667/.

Jedra, Christina. Knotty Pine, Historic Soul Food Restaurant in Wilmington, to Reopen. Delaware Online. April 08, 2018. Accessed April 10, 2018. https://www.delawareonline.com/story/news/local/2018/04/08/knotty-pine-historic-soul-food-restaurant-wilmington-reopen/320326002/.