Richard Carter Park
Introduction
College Station was originally a part of the land given away by Mexican land grants. Richard Carter received his land grant through Stephen F. Austin's contracted "Old 300". Throughout Carter's lifetime, he maintained the land, grew crops, raised cattle, and left the land for his wife and children after his passing. This park dedicated in his name represents the beginning of College Station and Texas.
Images
This is a picture of the description of the park and it's significance placed by the State.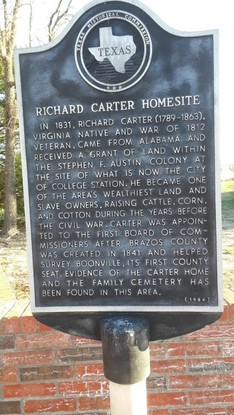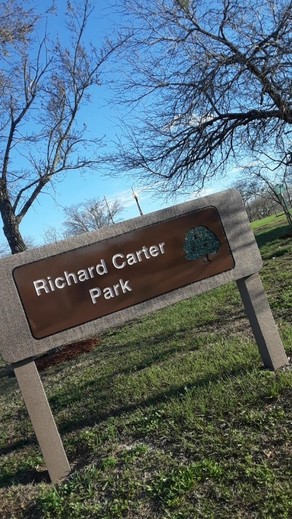 This is a picture of the park and the gazebo from the street entrance.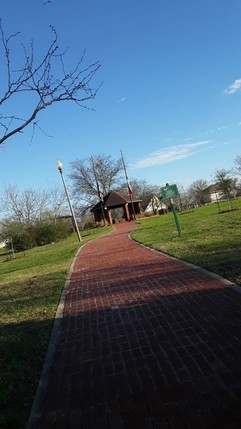 Backstory and Context
Richard Carter was born in Franklin County, Virginia to Joseph Carter and Nancy Menefee in 1789. The family moved to Knoxville, Tennessee; during the war of 1812, Carter served as a private in the Militia Infantry of East Tennessee Volunteers and was married at the age of 22 to a woman named Elizabeth shortly after.1 Together, the couple had four children: Wiley, Evaline, Mary Ann, and Elizabeth. In 1820, the family moved to Decatur, Alabama where they lived peacefully until Carter received a land grant from Stephen F. Austin in Texas on April 30, 1831. Carter was granted one league and one labor of land in Brazos County within the Stephen F. Austin colony.2 This grant was the first settlement in the current town of College Station.
Upon moving to Texas, the family lived well secluded and only interacted with a few Indians that lived and traveled nearby. After 1835, Carter moved to Tinninville in Robertson County and supposedly paid taxes on land there in 1838; he moved back to Carter Creek in 1841 to spend Christmas Day with his family. That year, Boonville was established as the county seat; Carter's close proximity to Boonville influenced his involvement in county politics. Carter joined John H. Jones and Hiram Hanover in becoming the first Board of Commissioners in 1841.3 They dealt in surveying and auctioning off the land. Carter served as commissioner again in 1848. In 1842, Carter broke up his land into several pieces for each part of his family; meanwhile, Carter's land began to increase in worth. It is said that his main source of wealth was his cattle and slaves. By 1850, Carter owned 350 cattle, 5 horses, and 5 slaves and he continued gain – in 1860, he had 1000 cattle, 22 slaves, and 31 horses all being worth 30,000 dollars.4 His progress continued, making him one of the most successful landowners in Brazos County. In 1863, Richard Carter died at the age of 74. After his death, Carter left his land to his wife, and after her death, their children.
Throughout the years of the civil war, the land continued to grow in bounty as high as 44,000 dollars, but when taxes were filed in 1865, the land came out to only be worth 9,800 dollars. It was a huge loss to the family; by Elizabeth's death in 1876, the value had dropped to 3,400 dollars. After that, the land was passed down through the family until Carter's daughter, Evaline Burton, sold it to H.P. Dansby in 1903.5
The park itself is just the homestead of the Carter land; the land he originally owned would have taken up the entire city of current College Station. This homestead consists of a small cemetery, a water well (90 feet in depth), and a statue, that was placed there in 1986.6 This cemetery is where his family was supposedly buried; the family within a fence enclosure and his slave families around the fencing. The statue is a bronze sculpture by Albert Pedulla that represents Richard Carter claiming the land and starting the community that is now College Station.7 The park was officiated in 1983 as a historical landmark by the State of Texas, as well as Brazos County. The park has a Gazebo with informational signs hung on the inside walls. The signs include a map of what Brazos County looked like back in the 1830s, a history on Mexican land grants, a summary of the park's history, a map of the park, a history of wells that relate to the well in the park, a history of early Texan life, a history of Texas before the Civil War, a history of slaves, a listing of the archaeological items found in the park and how they are significant pieces of history, a history of the cemetery, a listing of all the plants found in the park and their significance to Texas history and the area, photographs of archaeological artifacts found in the area, a map of the park in relation to today's College Station, and a dedication to all of the donors that made this park possible.
There is no information on how the state came to have this land or who dedicated it to Richard Carter, but the list of donors is as follows: Heather M. White, M.D., Jim and Tina Hanna, Brazos Heritage Society, A&M Garden Club, Keep Brazos Beautiful, City of College Station Parks & Recreation Department, Henry P. Mayo, Ellen Marquis Horner, College Station 75th Anniversary Planning Committee, Texas Independence Chapter, NSSAR, Sons of the American Revolution, La Villita Chapter, National Society Daughters of the American Revolution, William Scott Chapter, National Society Daughters of the American Revolution, Susan Irza, Laureate Alpha Alpha Chapter of Beta Sigma Phi, Donors to the 1986 Richard Carter homesite exhibit, General Telephone Company of the Southwest, and the Brazos County Sesquicentennial Commission.
All in all, the Richard Carter Park is an important historical landmark; it marks the settling of Texas. In reality, this park is more monumental to Brazos County and the city of College Station than to Texas as a whole. This park represents how College Station came to be, and without it, who knows what this town would look like or what the people would be like.
Sources
6 "Richard Carter Homesite." Brazos County Historical Commission. 2010. Accessed March 7, 2018. http://www.brazoscountyhistory.org/node/78.
7 "Richard Carter Park." City of College Station : Richard Carter Park. Accessed March 07, 2018. http://cstx.gov/Index.aspx?page=547.
1 2 4 5 Carlson, Shawn Bonath. "A History Of Richard Carter, College Station's Earliest Settler ." May 2, 1983. Accessed March 7, 2018 http://www.brazoscountyhistory.org/sites/default/files/RichardCarter.pdf.
3 Nance, Eleanor Hanover. "Carter, Richard." Texas State Historical Association. June 12, 2010. Accessed March 7, 2018. https://tshaonline.org/handbook/online/articles/fcaaq.