Babe Ruth/North Carolina State Historical Marker
Introduction
Standing unobtrusively in front of the District Engineer's Office, on the grounds of the North Carolina Division of Highways facility, at the corner of Southern Avenue and Gillespie Street, in Fayetteville, North Carolina, is an historical marker that reads: "Babe Ruth hit his first home run in professional baseball, March 1914, 135 yds. N.W. In this town George Herman Ruth acquired the nickname 'Babe.'" While the baseball park where Ruth performed this feat, the old Cape Fear Fair Grounds, has long since disappeared, one need take only a short walk around the facility's grounds to catch a glimpse of where the diamond was most likely situated, in a carved out wood by a meandering creek. Over the years, the town of Fayetteville has held a number of remembrances of the event, including a recent 100-year anniversary commemoration, which included a vintage baseball game re-creation. The date of the feat was March 7, 1914; it was his first professional game and his second professional at-bat.
Images
Historical Marker for Babe Ruth's First Home Run as a Pro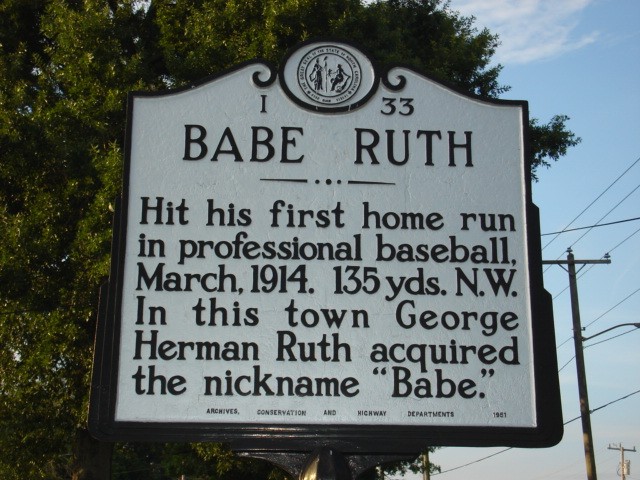 Historical Marker Situated on Division of Highways Facility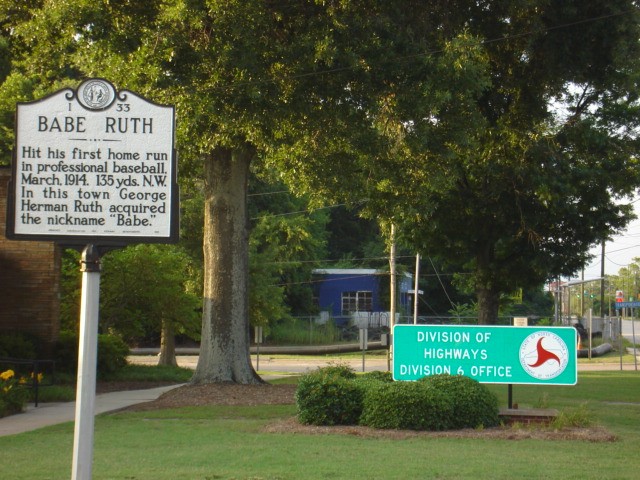 Likely site of the ballfield at the old Cape Fear Fair Grounds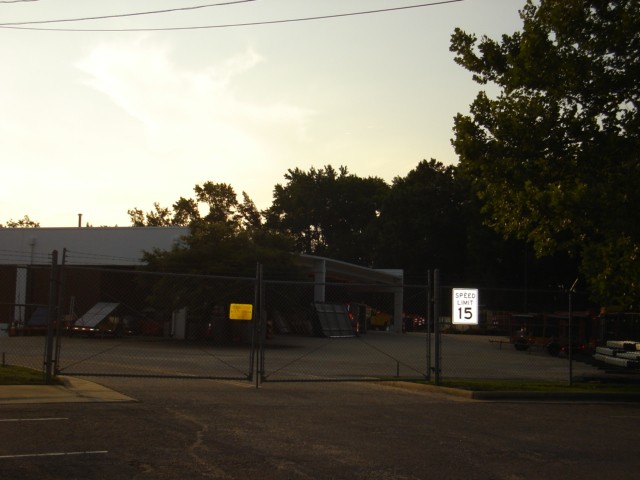 Aerial View of Present Day with Estimated Diamond Location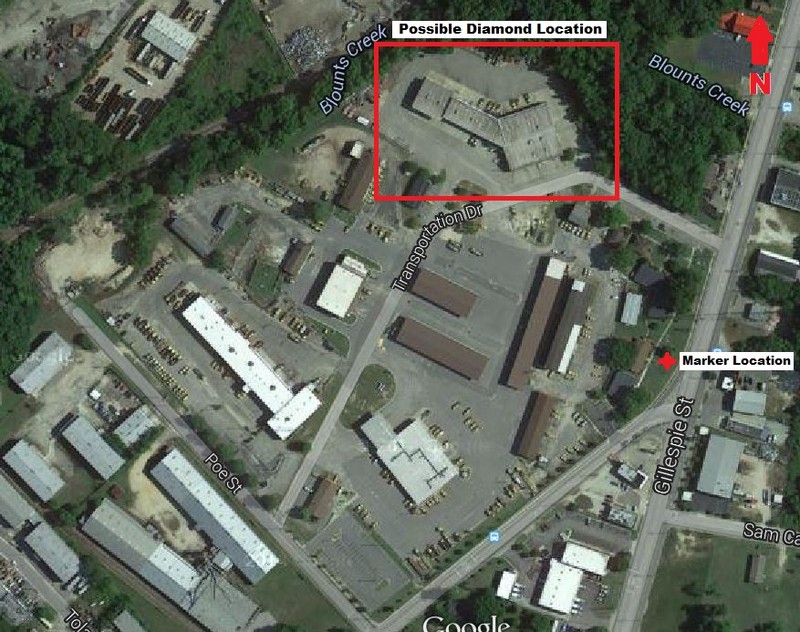 Babe Ruth in Fayetteville, Reportedly

Backstory and Context
The website for the North Carolina Highway Historical Marker Program describes the circumstances giving rise to the marker:
When Ruth was nineteen, Jack Dunn, manager of the Baltimore Orioles, spotted him and signed the prospect to his first professional contract at $100 a month. A few weeks later, the Orioles headed to Fayetteville enroute to Florida for spring training.

While in Fayetteville, it came to the attention of teammates that Dunn had legally adopted George H. Ruth to keep him with the team. Ruth's parents forced Dunn to become Ruth's official guardian in return for allowing their son to depart Jesuit-sponsored St. Mary's two years earlier than was standard practice. The development, combined with Ruth's incessant playing on the elevators at the Lafayette Hotel in Fayetteville resulted in the older players teasing him as "Dunn's baby," which was later shortened to "Baby" and "Babe."


A few days after their arrival in March 1914, team members walked a mile from the hotel to practice at the old Cape Fear Fair Ground. Although not all the players had reported yet, the Orioles who were present divided into two teams, the Buzzards and the Sparrows, for an inter-squad game. They were so short of players that several local reporters joined in the game.

In the last inning, Ruth hit a long home run to right field. Some who were present said it landed in a cornfield beyond the fence. Others claimed that that it had soared past the field and landed in Mallet's Mill Pond. Rodger H. Pippen, a reporter playing center field, claimed that he measured the home run's distance at 350 feet.1
It turns out that Mallet's Mill Pond no longer exists. It was apparently drained and paved over for incorporation into the large Division of Highways complex. Nevertheless, the ground that lies approximately 135 yards from the historical marker is bounded to the northeast by a rounded cropping of trees, almost the perfect cut for a baseball diamond. At that time the Baltimore Orioles were a minor league club; Baltimore being Ruth's hometown. The Orioles had been lured to Fayetteville, in a part of the year that was clearly their spring training, by a prominent Fayetteville businessman, who was former Baltimore resident, and friend of Mr. Dunn. Ruth would later confirm that the titanic shot was, indeed, his first professional home run, and both the Babe Ruth Birthplace and Museum and National Baseball Hall of Fame enshrine it as being his first as well. Still, the city of Toronto sees things differently. The Canadians claim that Ruth's first homer in an official pro game came in Toronto on Sept. 5, 1914, playing for the minor league Providence Grays after being traded by the Orioles.2
Babe Ruth would, of course, go on to hit hundreds of more home runs during his famed Major League Baseball career, and would officially be credited with 714, which makes him number three on the all-time list. But, in 1914, he would not hit his first homer in the majors, nor for the Baltimore Orioles. At that time in his career, Ruth was primarily a starting pitcher, and a very good one, such that the Orioles would see fit almost immediately to cash in by selling him to the Boston Red Sox. He would win his first start with the Red Sox, in July of 1914, and pitch in four more games before being sent down to the minors for the remainder of the year. Ruth would play five seasons with the Red Sox, primarily as a starting Major League pitcher, winning 87 games, while losing only 45. However, after tying for the American league lead in home runs in 1918, while playing only a little over half the season, Babe Ruth was made an everyday player in 1919. Through the next 16 years, he would average over 37 homers per year, and the legend was made.3
Finally, as the date on the historical marker indicates, Fayetteville recently commemorated the centennial of Ruth's home run. At 2:00 PM on March 7, state and local officials held a re-dedication of the highway marker. The next day, baseball re-enactors dressed in the traditional uniforms of the past took the field for a double header of so-called "Vintage Base Ball." These games were played barehanded, using balls, bats and rules established back in the nineteenth century.4
Sources
1. "Marker Text: BABE RUTH." North Carolina Highway Historical Marker Program. Accessed July 11, 2014. http://www.ncmarkers.com/Markers.aspx?MarkerId=I-33
2. "Fayetteville celebrates connection to Babe Ruth." Fayetteville Observer. March 6, 2014. http://www.fayobserver.com/9d7d4802-77b5-5f58-83de-a90de2b2a2ef.html.
3. "Biography." Family of Babe Ruth and Babe Ruth League.
Accessed July 11, 2014.
http://www.baberuth.com/biography/);
Babe Ruth Batting Statistics. Baseball Reference.
Accessed July 11, 2014.
http://www.baseball-reference.com/players/r/ruthba01-bat.shtml.
Babe Ruth Pitching Statistics.
Baseball Reference.
Accessed July 11, 2014.
http://www.baseball-reference.com/players/r/ruthba01-pitch.shtml.
4. "Events Honoring 100th Anniversary of Babe Ruth's First Home Run to Take Place in Fayetteville, NC." PRWeb. March 2, 2014. http://www.prweb.com/releases/baberuth/fayetteville/prweb11639623.htm.
Additional Information