Commerce Building
Introduction
The Commerce Building is an historic building located in downtown Athens, Georgia. The building was constructed in 1908 as the headquarters of the Southern Mutual Insurance Company. There have been a number of businesses that have called the building home, including the Costa Family Soda Fountain. The building is now owned by a local dermatologist and has been converted into apartments and commercial space.
Images
The Commerce Building, located on College Avenue in Athens, Georgia.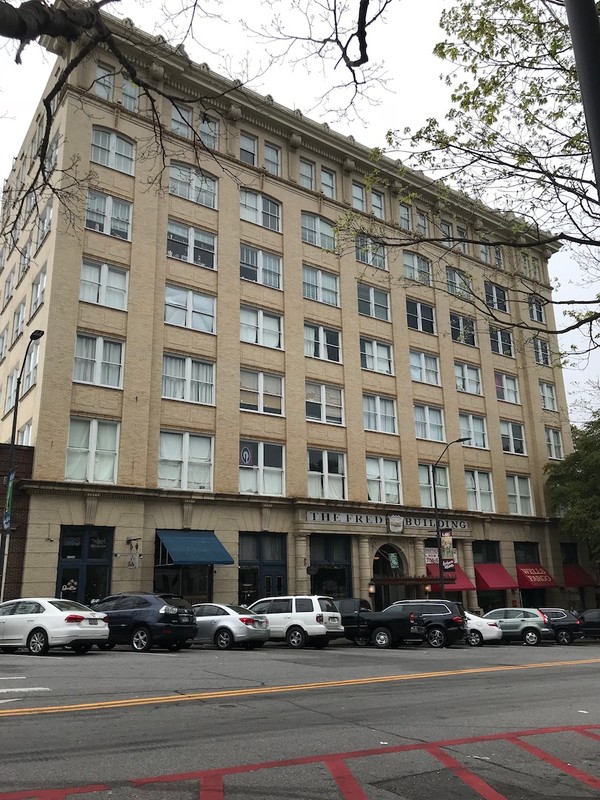 Plaque located inside the lobby of the Commerce Building.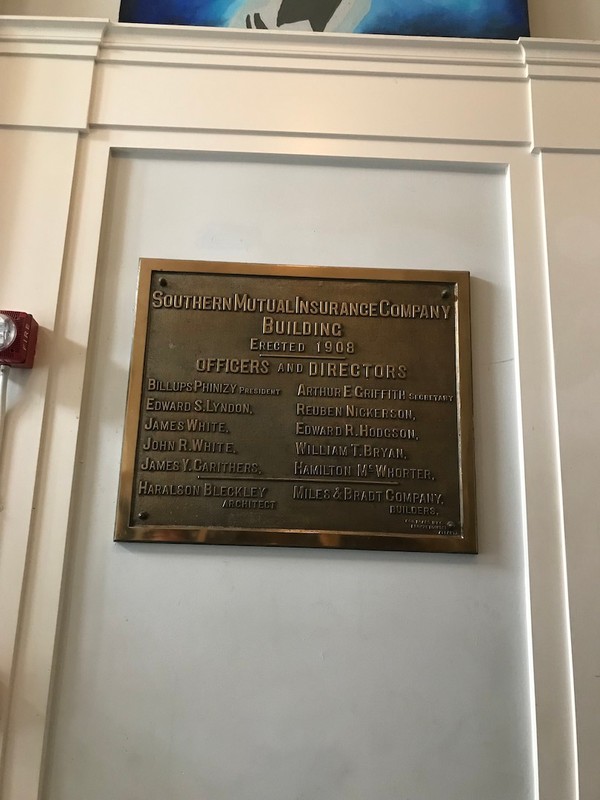 Postcard from 1911, Georgia Archives.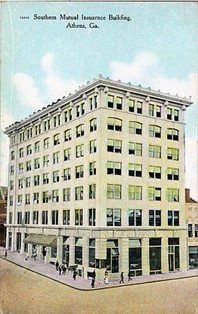 Backstory and Context
The Commerce Building, also known as the Southern Mutual Building, is a neoclassical style building located on College Ave in downtown Athens, Georgia. It was built in 1908 and was considered Athens' first skyscraper. The building is also the largest ferro concrete building in the South. The building was designed by Atlanta architect Haralson Bleckley.
The building was the headquarters for the Southern Mutual Insurance Company from 1908 to 1988. The company had previously operated from a three-story building on the corner, and that building was moved when construction on the current building began. In 1988 the company moved to its current location on Alps Road. The Costa Family Soda Fountain called the building home until 1939, when they opened up Costa's Ice Cream Factory on East Washington Street. Milner, Stephens, & Bentley law firm moved into the building in 1952 after waiting years for a vacancy and remained there until 1982. Other businesses to occupy the building include Georgia National Bank, C&S Bank, and Palmer and Sons Drug Store.
In 2004, the building was purchased by Dr. Fred Moorman, a local dermatologist, who changed the name to The Fred Building. Today, the building houses apartments as well as Fred's Historic Properties, which is also owned by Moorman. The apartments still contain original fixtures and floors from the Southern Mutual Company offices. Fred's Historic Properties manages a number of apartments around downtown Athens, including the Albon Chase House, which is one of the oldest mansions in Athens. Albon Chase owned and operated the precursor for the Athens Banner-Herald, as well as working for the Southern Mutual Insurance Company.
Sources
History. Fred's Historic Properties. . . https://www.fredshistoricproperties.org/history/.

Athens Downtown Walking Tour. . . https://static1.squarespace.com/static/5848609a59cc6865bb26ddb9/t/58dc0a80d482e96717c64e86/1490815617780/downtown-athens-walkiing-tour-2017.pdf.

Our History. Southern Mutual Insurance Company. . . https://www.southernmutual.com/about-us/our-history.