Castle Museum of Saginaw County History
Introduction
This county history museum is located in a historic post office that was dedicated in 1898. Its design was inspired by French country mansions and was chosen to commemorate early French settlement of the Saginaw Valley. At the time of its construction, the federal government had a policy of designing buildings to reflect the heritage of the (white) communities where they were located. Almost as soon as the structure was completed, it became a cherished Saginaw landmark and was featured on postcards and souvenir items.
Images
Architect William Martin Aitken designed the original front facade.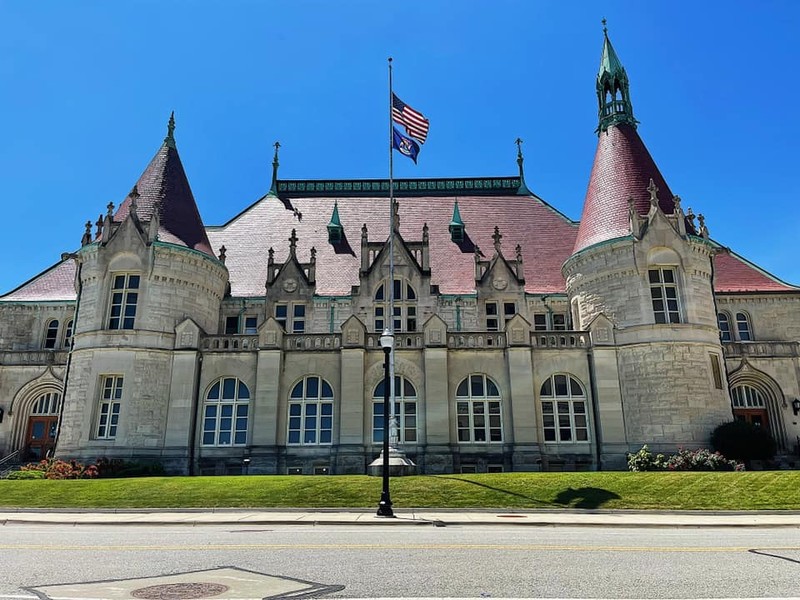 Backstory and Context
By the mid-1930s, the building had become inadequate to serve the community's needs, and the federal government proposed construction of a new post office on the site. This proposal met with community-wide opposition. Instead, officials developed plans to enlarge the existing building.
The 1937 addition and reconstruction preserved the Federal Avenue facade but resulted in the reomval of a tower on the South Jefferson Avenue front. New wings and a large mail sorting room were added. Almost all interior spaces were reconfigured and the original lobby was replaced with a new public lobby featuring travertine walls and an oak paneled ceiling.
But yet, again, the post office outgrew its location. By 1970, the federal government had completed a new post office and the building was vacant. Again threatened with demolition, local residents worked to find a suitable alternative. The County reserved funds to preserve and maintain the building as a museum.
Today, the Castle Museum shares the continuing story of Saginaw County through permanent exhibits featuring Native American history, lumbering, automotive and industry, and coal mining history. Additionally the museum features temporary exhibits detailing many aspects of Saginaw County history. The museum is honored to host the Saginaw County Sports Hall of Fame.
Additional Information