One Love Park and the Former Home of Bob Marley
Introduction
Though few people outside Wilmington are aware of it, reggae legend Bob Marley had strong connections to the city. His mother lived in the city for a number of years and Marley was a regular visitor there. Near the home that Marley sometimes shared with his mother, a playground and park was renamed One Love Park in his honor, and each year the city hosts the People's Festival, a musical tribute to the performer.
Images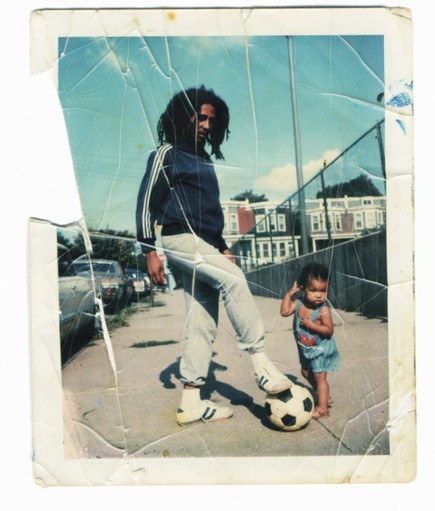 Historical marker at One Love Park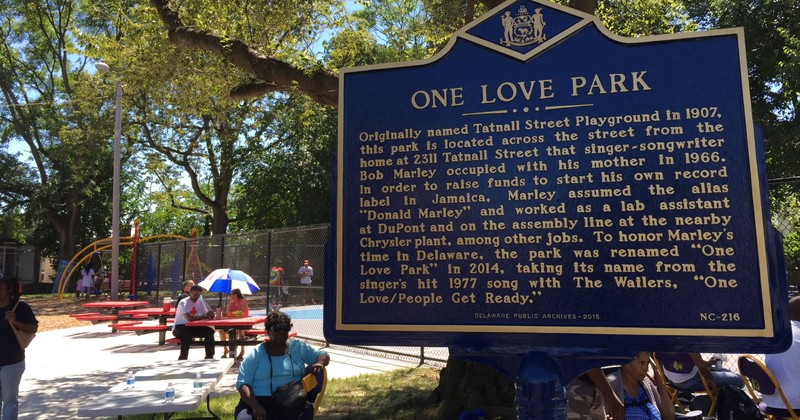 Detail of Bob Marley mural across the street from One Love Park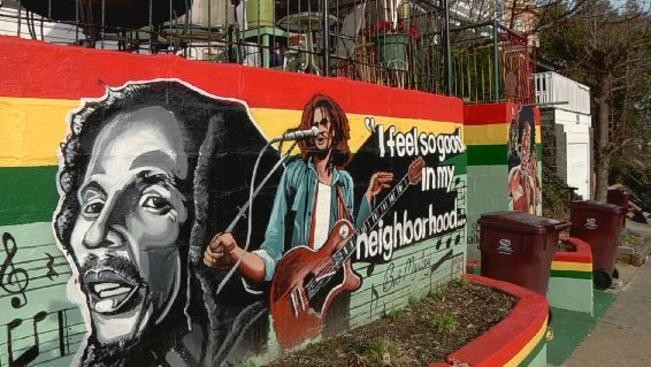 Backstory and Context
Famed Jamaican reggae artist Bob Marley once lived in Wilmington and even after he moved, he still visited the city a number of times over the years. Marley first came to Wilmington in 1966 to live with mother, Cedella Booker, who had moved from Jamaica in 1962. Bob was a teenager when his mother moved and stayed behind in Jamaica.
At the time of his arrival in Wilmington, Marley was a young married man and already performing with the Wailers. His wife Rita and her small daughter remained in Jamaica. Marley held a number of low-paying jobs in Wilmington—working as a parking lot attendant, a lab assistant for DuPont, and a forklift operator at the Chrysler plant in Newark. Many fans believe that Marley's song "Night Shift" was inspired by his job at Chrysler, where he worked the third shift.
Accounts differ regarding the length of time that Marley spent in Wilmington, although it is generally agreed that the singer lived in the city off and on from 1966 to 1977. At the time, his mother owned two houses on Tatnall Street and operated a Jamaican music shop on Market Street.
Over the years, Marley would bring his family to Wilmington and at times they lived with Cedella on Tatnall Street. His son Stephen was born in Wilmington, and he and his siblings attended Wilmington schools at times and stayed in the city when Marley was on tour. Once Marley became a celebrity, he bought his mother a home in Miami and their time in Wilmington came to an end.
In 2014, the name of Tatnall Playground, located in Bob Marley's old neighborhood, was changed to One Love Park, in honor of the music legend. Nearby, a wall outside one of the houses on Tatnall Street is adorned with a mural honoring Marley. And each year since 1994, Wilmington has hosted the People's Festival, which also honors him. His mother, who died in 2008, attended several of the festivals.
Sources
Burdo, Alison. Local Park Honors Bob Marley With Name Change. NBC Philadelphia. April 03, 2014. Accessed April 25, 2018. https://www.nbcphiladelphia.com/news/local/Local-Park-Honors-Bob-Marley-with-Name-Change-253791431.html.

Brown, Robin. Delaware Backstory: Lovin' Bob Marley. Delaware Online. July 05, 2015. Accessed April 25, 2018. https://www.delawareonline.com/story/news/local/2015/07/05/delaware-backstory-lovin-bob-marley/29753145/.


Additional Information