Sultana Disaster Museum
Introduction
This small museum in Marion commemorates the lives lost in the largest maritime disaster in American military history. The Sultana exploded on April 27, 1865 and an estimated 1700 to 2300 lives were lost as a result of the explosion. The vast majority of the victims were Union soldiers returning home after the war. Several hundred more would have likely perished had it not been for the actions of the crew of another vessel traveling along the Mississippi River
Images
The museum is located near the park in Marion and the organization and volunteers hope to expand the collection in the future.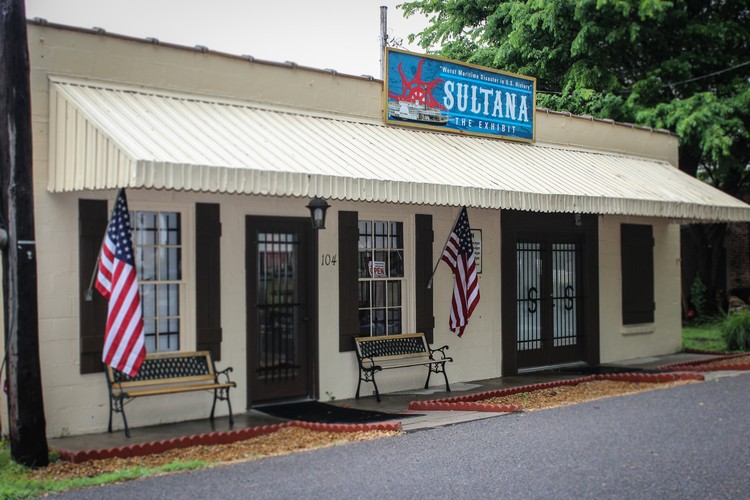 Backstory and Context
The final voyage of the Sultana began in New Orleans on April 21, 1865. While traveling upstream to Vicksburg, the engineer discovered leaks in the boilers. The Sultana docked in Vicksburg on April 24th and repairs were made to the boilers while 1800 to 2000 additional passengers and 60 mules and horses were boarded onto the vessel which was originally designed to carry 376 passengers.The large number of passengers is a result to hundreds of men cramming their way onto the vessel given their eagerness to return home and the willingness of captains and crew to overload their vessels. Many of the men had survived long period in prisoner of war camps and an accurate accounting of the men who were on board was never completed.
As the steamer made its way north up the Mississippi, the boilers began to leak once again and the crew decided to stop for repairs in Memphis. Believing that the patch added in Memphis would seal the boilers while recognizing that stopping for a complete repair would result in his passengers being transferred to another vessel, Sultana captain J. Cass Mason made a fateful decision and resumed the journey towards Cairo, Illinois. The Sultana failed to reach the destination as the overloaded boilers exploded around 1:00 on the morning of April 27, 1865.
Additional Information