2001 Oklahoma State University plane crash memorial site.
Introduction
On January 27, 2001, after an 97-71 loss between Oklahoma State University Cowboys and Colorado Buffalos, one of the three planes carrying part of the Oklahoma State University Basketball team, as well as coaches and broadcasters for the university, crashed killing all ten on board. A monument remembering the ten that died has been placed close to the crash site in Byers, Colorado.
Images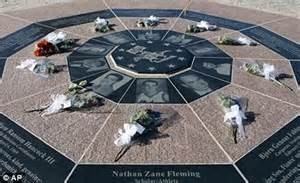 Backstory and Context
After an 87-71 loss against the Colorado Buffalos, it was time for the Oklahoma State Cowboys to return home. On January 27, 2001, in a Beechcraft Super King Air 200, hit bad weather in an oncoming snowstorm, at Strasburg, Colorado. The pilot became disoriented, crashing the plane, killing all ten that were on board. Among those killed were two of the team members, some of the coaching staff, and the broadcasters of OSU. This was one of three planes carrying the Oklahoma Cowboys team.
It was ruled an accident, the pilot simply lost control in the snowstorm and crashed the plane. This was devastating to Oklahoma State University and is still remembered over a decade later.The team is honored during Oklahoma State University's 5k and 10k runs, which is called "Remember the Ten" Run in memory of the ones that died.
A memorial in Byers, Colorado, about a thousand feet from the actual crash site, was erected. The marble decagon shows pictures of the ten that died in the crash. In the center are ten stars surrounding the Oklahoma State University Spirit Rider mascot. Due to the dust content of the area, it is recommended that tourists bring water and a dust rag to carefully clean the images. The monument is always open to the pubic and can be accessed at any time.
Additional Information