Frances Willard House (A.K.A. "Rest Cottage")
Introduction
Frances Willard (1839 - 1898) served as president of the largest women's non-secular group of the late nineteenth century: Woman's Christian Temperance Union (WCTU). The WCTU not only pushed for temperance, but also women's suffrage and for reforms to labor and prisons. The WCTU also provided a voice to anti-lynching campaigns. When she died, nearly 20,000 people paid their respects as she had gained considerable notoriety for her work as a social activist.
Images
Frances Willard: Well-known American teacher, suffragette, feminists, reformer and co-founder of the Woman's Christian Temperance Union (WCTU) in 1874 and their president from 1879 to 1898.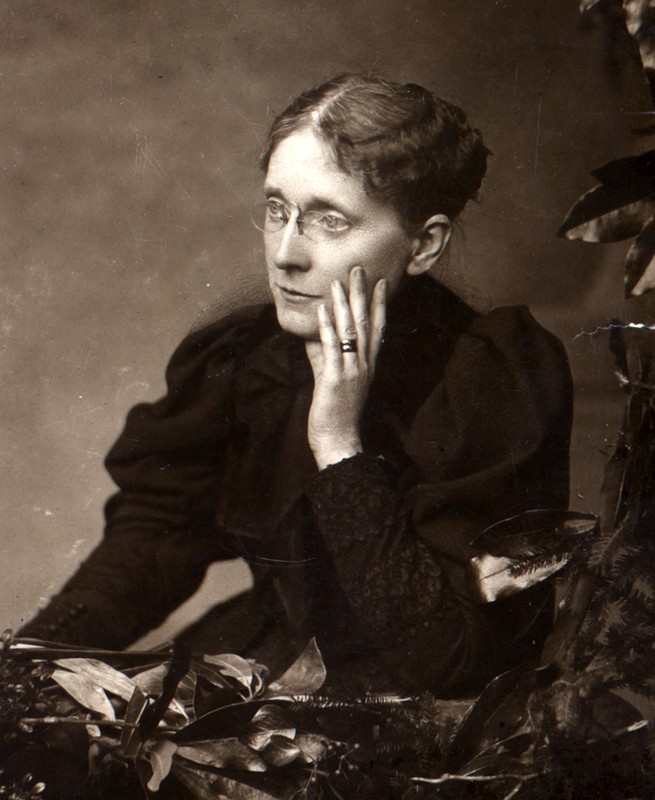 Frances Willard House, modern picture.
Backstory and Context
The Frances Willard House, built in 1865, is a historic house museum that was the home of one of the most famous women in the United States during the nineteenth century, Frances Willard (1839-1898). The home later served as the longtime headquarters for the Woman's Christian Temperance Union (WCTU), the organization she helped, as president, grow into largest U.S. women's organization of the era. 
The WCTU not only preached temperance, but played a pivotal role in enacting social reforms such as improving women's rights (including suffrage), reforming prisons, campaigning against lynching, raising the age of consent, and pushing for labor reforms including the eight-hour workday.
Willard was born in Churchville, New York, but spent the bulk of her childhood in Wisconsin. She arrived in Evanston in 1858 at the age of 18. Though mostly homeschooled (she attended the Milwaukee Female College for one term), she enrolled at the Methodist-affiliated North Western Female College in Evanston and graduated the next year. Upon graduation, Willard began a teaching career that eventually took her to secondary schools in Pennsylvania and New York. 
Towards the end of the Civil War, Willard's father built the first portion of what became the now historic house. Willard returned to Evanston in 1871 and lived with her father in the new home. That same year, Willard became president of the newly formed Evanston College for Ladies, which merged with Northwestern University in 1873 when Willard subsequently became the first Dean of Women of the Women's College. 
However, her life changed dramatically one year later, in 1874, when Willard resigned due to months of disagreement with university President (and her former fiancé) Charles Henry Fowler. She followed that resignation by working for the woman's temperance movement. In November 1874, Willard participated in the founding convention of the WCTU and was subsequently elected as the organization's first Corresponding Secretary. 
Her role at WCTU included traveling to many of the nation's small towns and cities where she aided in forming local Unions while also building support for WCTU. Her work involved broadening the reform movement to include education, labor, as well as woman's suffrage and woman's rights. She also became a vocal proponent for the anti-lynching crusade. 
As a result of her hard work, the WCTU elected her president in 1879; she helped grow the WCTU into the largest organization of women in the nineteenth century. Willard preached a "Do Everything" philosophy, which consisted of encouraging members to engage in abundant social reforms through political and grassroots strategies, including lobbying, letter-writing campaigns, public speaking, publishing, and educating people. 
Willard referred to the house in Evanston as "Rest Cottage" because it became a place for her to rest in between her tours and WCTU activities. However, after her mother died in 1892, Willard's health declined, and she chose to spend the bulk of her time in England working to establish the World's WCTU.
In late 1897, Willard's health began to deteriorate rapidly. She went on a pilgrimage to her birthplace in Churchville, New York and her childhood home in Janesville, Wisconsin, and returned briefly to the house in Evanston. In February 1898, she was preparing to sail to England to stay with Lady Isabel Somerset when she fell ill with influenza in New York City. She died in the Empire Hotel on February 17, 1898, at the young age of fifty-eight. 
At the time of her death, Willard had become one of the most famous women in the world. Nearly 20,000 mourners paid their respects to her at her funeral. She left the WCTU as a dominant force within the realm of politics and social activism. Indeed, when she died, the WCTU boasted of 150,000 members. It can be argued that her influence eventually led the way for the passage of both the Eighteenth (Prohibition) and Nineteenth (Women Suffrage) U.S. Constitutional Amendments in the 20th century.
Sources
Daffner, Nancy. "Women's Christian Temperance Union." Newberry Library: Encyclopedia of Chicago. http://www.encyclopedia.chicagohistory.org/pages/1369.html. 
"Frances E. Willard (1839-1898)." Woman's Christian Temperance Union. Accessed May 01, 2018. https://www.wctu.org/. 
Frances Willard House Museum website. "Biography." Frances Willard House Museum & Archives. Accessed May 01, 2018. https://franceswillardhouse.org/.
Schroer, Blanche Higgins. "Nomination Form: Frances Willard House (Rest House)." National Register of Historic Places. https://npgallery.nps.gov/GetAsset/ef7c39d7-4f2c-4c77-8d3c-8815e4d49325/
Photo Sources
Frances Willard House: Thshriver - Own work, CC BY-SA 3.0, https://commons.wikimedia.org/w/index.php?curid=21029286
Frances Willard: Photo taken before 1898, author not known, Image edited - http://memory.loc.gov, Public Domain, https://commons.wikimedia.org/w/index.php?curid=3391737
Additional Information