Azurest South, Virginia State University Alumni House
Introduction
Designed by Virginia State Alumna, Amaza Lee Meredith, Azurest South serves as the official headquarters of the Virginia State University alumni association. Meredith lived in this home until her death in 1984 and was one of the nation's first certified African-American female architects. In addition to her work as an architect, Meredith was a teacher the founder of Fine Arts Department at Virginia State. The name of the home is a reference to "Azurest North" a small community of Long Island vacation homes Meredith and other Black architects designed for other middle-class Black families. These clusters of Black homes in Long Island reflected both the informal patterns of segregated living that characterized northern communities and the importance of Black architects, investors, and agents that created opportunities for Black families.
Images
VSU became the first fully supported, four-year institution for African Americans in the United States.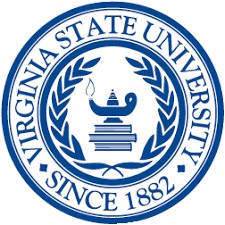 Amaza Lee Meredith designed and lived in this home which now serves as the VSU Alumnia House. Photo by Isaac Harrell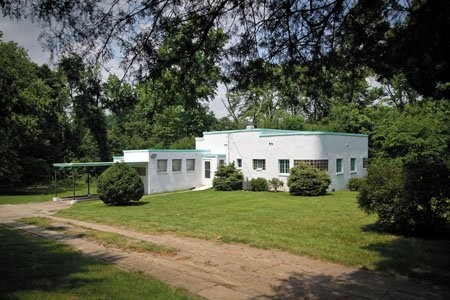 Backstory and Context
Virginia State University was founded on March 6, 1882 as the Virginia Normal and College Institute after the state legislature passed a bill sponsored by Delegate Alfred W. Harris, a Black attorney, which chartered the university. The state established the university to serve the needs of a population that was at the time excluded from other public institutions in Virginia. Virginia Normal and College Institute opened as a teacher training college for both male and female Black students, but it also included a modest liberal arts curriculum.
The campus opened on October 1, 1883 the University had 126 students and seven faculty, one building, 33 acres, a 200-book library, and a $20,000 budget. And now it has a student body of over 5,000 students, including 500 graduate students, and over 250 faculty members. It has a library containing 200,000 books and 360,000 microform and non-print items, a 236-acre campus and 416-acre farm, more than 50 buildings, including 15 dormitories and 16 classroom buildings, and a biennial budget of $31,000,000, exclusive of capital outlay. Virginia State University has degree granting programs in four undergraduate schools and college and a School of Graduate Studies, Research and Outreach.
The school changed its name to Virginia Normal and Industrial Institute in 1902 after the state legislature revised the charter and curtailed the liberal arts program. In 1920, the state moved its land-grant program for Blacks from private Hampton Institute to Virginia Normal and Industrial College. The college program was restored in 1923 and the school was renamed the Virginia State College for Negroes in 1930. The college opened a two-year branch campus in Norfolk in 1944, which would later gain its independence and become a four-year institute known as Norfolk State College. In 1946, the school was renamed Virginia State College and finally, in 1979, the state legislature passed a law that renamed the institution to its current name of Virginia State University.
The university's most prominent alumni include Reginald Lewis, former owner of TLC Beatrice International, William H. Lewis, first African American Assistant Attorney General, James Avery, actor, Billy Taylor, jazz musician, and Dr. Mary Hatwood Futrell, former president of the National Education Association
Sources
"Virginia State University." Virginia State University (1882 - ) | The Black Past: Remembered and Reclaimed, www.Blackpast.org/aah/Virginia-state-university-1882.
"History of VSU." History of VSU - Virginia State University, www.vsu.edu/about/history/history-vsu.php.
Virginia Foundation for the Humanities. "Virginia State University." African American Historic Sites Database, www.aahistoricsitesva.org/items/show/466.
"Virginia State University." (VSU, VSU) History and Academics - Petersburg, VA, Virginia.stateuniversity.com/.
Additional Information