Shungopavi Village Baseball Field and the Louis Tewanima Footrace
Introduction
This baseball field has been the site of the annual race in honor of Hopi Indian and Olympian Louis Tewanima since 1974. Tewanima was raised at this reservation and represented the United States in the 1908 and 1912 Olympics. The race celebrates his legacy and Hopi running heritage.
Images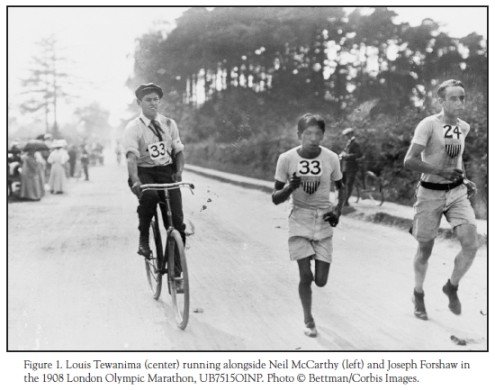 Backstory and Context
Louis Tewanima was a Hopi Indian who represented the United States during the 1908 and 1912 Olympic games. Starting in 1974, an annual footrace has been held in honor of Tewanima at the reservation where he lived.
Hopi Indians have a tradition of running that goes back centuries. The Hopi belief system integrates running as something that is intrinsically good in addition to the health benefits. The Hopi also believe that running helps to prepare young members of their tribe for adulthood as well as an activity that can help to unify area villages. Hopi beliefs also integrate the idea that long distance running was done for the betterment and prosperity of the Hopi people and individual clans.
Louis Tewanima faced the hardship that many Native Americans did in the late 19th and early 20th centuries. His people had been moved and treated as second class citizens gaining citizenship only in 1924. Born on the Hopi reservation, he was forcibly moved to the Carlisle School in Pennsylvania for civil disobedience and it was there his talents were discovered. A school and team mate of the more well-known Jim Thorpe, Tewanima won the silver medal in the 1912 Olympics for a country that did not extend full citizenship to Native Americans.
Sources
http://beyondthemesas.files.wordpress.com/2012/09/marathoner-louis-tewanima-and-the-continuity-of-hopi-running-1908-1912-whq-autumn-2012.pdf http://www.hopirunners.com/resources.html http://www.active.com/shungopavi-village-az/running/trail-run-races/41st-annual-louis-tewanima-footrace-2014
Additional Information