Poage Family Home
Introduction
This log cabin belonged to the Poage family, who founded the town of Ashland. Known as Poage Landing before it was renamed, they were the first settlers to reach this spot on the Big Sandy River. The family traveled from Virginia to join the pioneer movement that was heading west. Ashland soon flourished into a thriving town, with industries based around coal, pig iron, and timber.
Images
Picture of the Poage home where it sits in Ashland Central Park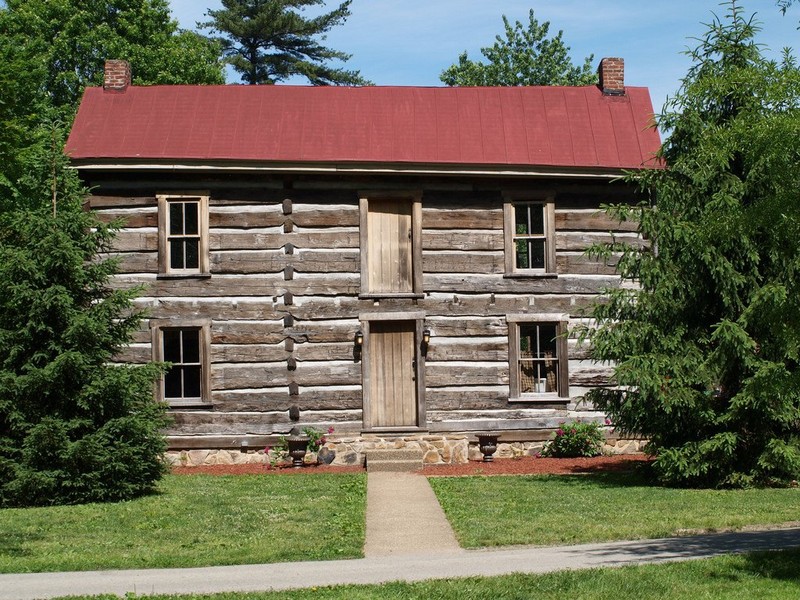 Backstory and Context
George, Robert, and Robert Poage left Virginia in 1799 on a land grant from Governor James Garrard of Virginia. The land along the Big Sandy River only had a few settlements on it, and the land was cheap to purchase. The Poages went and found a section of land that was suitable for agriculture and building. They cleared the land, and once their farms were founded, they sent word back to Virginia, and the rest of the family started to pack and make their way west.
The prolific nature of the Poages meant that their families claimed a large swath of land, which caused some contention between other settlers coming to the area. Poorly kept records meant that the families coming into the region had to find a way to settle the land differences between them. By doing so, the Poages increased their holdings in the area and divided among the different branches of the family.
The Poage Settlement became Poage's Landing, which developed around the industries of agriculture, timber, and pig-iron. They found the iron ore while building their farms and used the first furnace, Argillite, (founded by Richard Deering and Thomas Trimble), to convert ore into usable iron. This led to additional ironmasters opening their own furnaces, and surplus was shipped down the Ohio River for sale.
Poage's Landing was not the center of industry on this part of the Ohio River; that title belonged to Catlettsburg. When the Lexington Railroad company moved to extend its lines to the area, they were going to bypass Poage's Landing entirely for Catlettsburg. Daniel Weiss, a notable lawyer from Louisa, knew that if the railroad did not come through Poage's Landing, their industry and businesses would suffer. This led him to meet up with several other prominent members of Poage's Landing and create the Kentucky Iron, Coal, and Manufacturing Company. This development company allowed the purchase of land for a railroad that went to Poage's Landing before Catlettsburg.
After the railroad went through, the town boomed with industry and business and was renamed "Ashland." The house is the oldest in Ashland and was moved to its current location in Ashland Central Park from 621 12th Street.
Sources
The Kentucky Encyclopedia. Lexington, Kentucky. University Press of Kentucky, 2015.

A History of Ashland Kentucky: 1786-1954. Ashland, Kentucky. Graber Printing Company, 1954.


Additional Information