Ebenezer Academy
Introduction
Ebenezer Academy, said to be the oldest Methodist school in American, had its genesis in the last quarter of the eighteenth century. Some of the brightest lights of early Methodism such as Bishop Francis Asbury and Edward Dromgoole had a hand in its establishment, thought the exact date of its construction is not known. Razed in the twentieth century, the building was photographed in its later years. It is located in Brunswick County.
Images
Drawing of Ebenezer Academy before the structure was razed.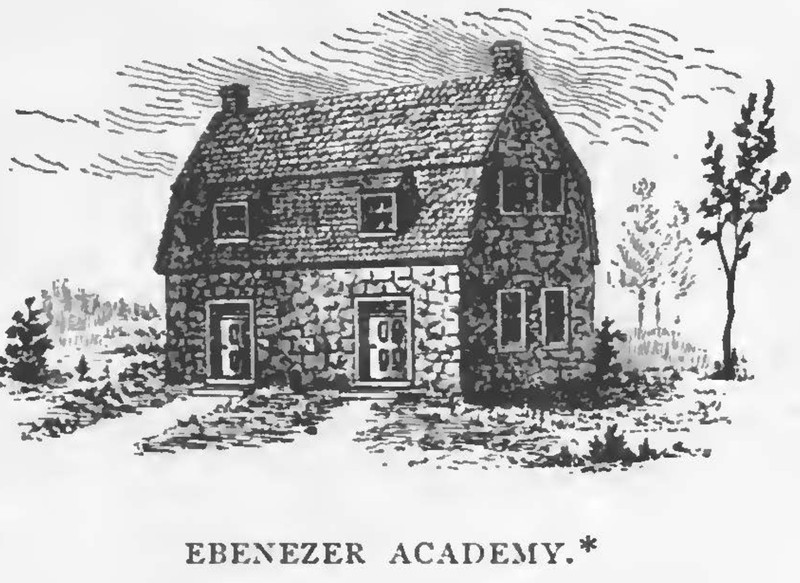 Backstory and Context
The structure consisted of a ground story of native stone with a second story enclosed within a gambrel roof. The two end walls were each centered with an integral stone chimney. At the second story level the end walls were of wood frame sheathed with weatherboards. Although we have no description of interior subdivision, the photographs and dimensions suggest a plan of two rooms flanking a center hall on each floor.
The building was used for academic purposes until the mid-nineteenth century though Jeremiah Lee records that it passed out of Methodist control before 1810. Some of Brunswick's most prominent families sent their sons to be educated there.
History records several notable events which took place at Ebenezer during the nineteenth century. In April 1826 interested Presbyterians assembled there to establish the first organized Presbyterian congregation in Brunswick County. In 1829 a subscription of $20,000 was raised in Brunswick to entice the proposed Randolph-Macon College to locate near Ebenezer Academy. This offer was rejected in favor of Mecklenburg County. Ebenezer Academy became the training grounds for a company of Confederate soldiers organized as the "Ebenezer Greys" under the command of Dr. Thomas J. Taylor. They saw action at Fort Donelson and Gaines Mill as Company E, 56th Virginia Infantry Regiment.
After the conflict the building was used for residential purposes which it served until neglect and disrepair caused it to be vacated. Early in the twentieth century a group of Methodists in the Petersburg District became interested in saving the old Academy building and formed a board of trustees which acquired nineteen acres surrounding the decaying structure. They determined that the building had deteriorated beyond feasible recall so it was razed leaving about two feet of the exterior stone walls standing. Within this enclosure a pyramidal monument was erected of stones salvaged from the walls. In this state the site has continued under the auspices of the Methodist Church. At one time the grounds were considered as a possible location for construction of housing for retired clergy.
Sources
All material comes from the post on the Old Brunswick Circuit Foundation website. The references are care of Laurie Preston, Head of Reference at Randolph Macon College's McGraw-Page Library

Additional Information