Engine House No. 5 Museum
Introduction
Built in 1880, Engine House No. 5 housed firefighters and their horse-drawn steam pumper and a hose cart. The horses and carts were replaced by motorized equipment in the early 1900s. Slated for demolition in 1980, community activists and firefighters raised funds to preserve the building. As a result, the historic old firehouse was taken apart brick by brick, moved to a new location, and reconstructed and restored. The building now serves as a museum.
Images
Engine House No. 5 was completed in 1880 and saved from the wrecking ball a century later by local firefighters and preservation-minded citizens.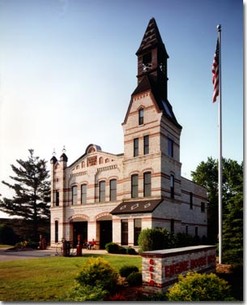 Backstory and Context
According the historic fire station's website, "Except for a somewhat simplified wooden treatment of her 90-foot combination watch and hose tower, she [the old fire station] is as she was" when 'she' was completed in 1880. Modern fire apparatus now rest on the wooden floor of the station where there once stood wagons and horses in their stalls. The second story was home to a training room and dormitory for the firefighters for a century. Prior to 1915, the firefighters had to share room with a hay loft
The former fire chief's office is now used to hold museum exhibits. Like the rest of the station, has been restored and features a brass fire pole. The is a working space for the museum. A Babcock wagon from 1877 is one of the museum's highlights. This wagon used chemicals to produce a reaction that created pressure in order to discharge water. The museum also has a 1921 La France engine and a 1928 Ahrens-Fox pumper that are in working condition and were in service until the 1960s.
Additional Information