New Agricultural Sciences Building
Introduction
The new West Virginia University Agricultural Sciences Building opened September 9th, 2016 and lies adjacent to the original Agricultural Sciences Building that was built in 1961, which had not undergone any significant renovations since its completion. It is a five story, 207,000 square foot building that is nestled in WVU's Evansdale campus and pays homage to the college's land-grant heritage. It was designed to accommodate the needs of the Davis College of Agriculture, Natural Resources, and Design, and features research labs that support animal and nutritional sciences, landscape architecture, and soil sciences, among other things.
Images
WVU President E. Gordon Gee with students and officials at the Ag Sciences ribbon cutting ceremony.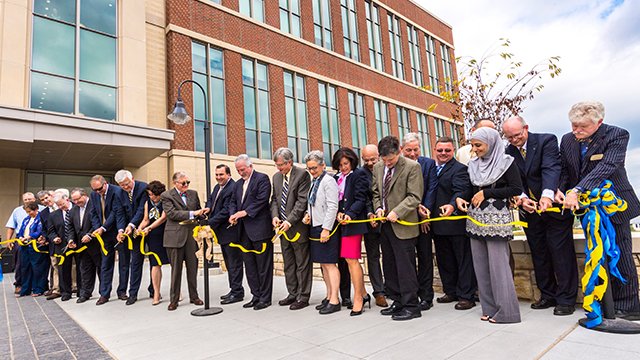 The Pamela Mann quilt displayed in the Agricultural Sciences Building.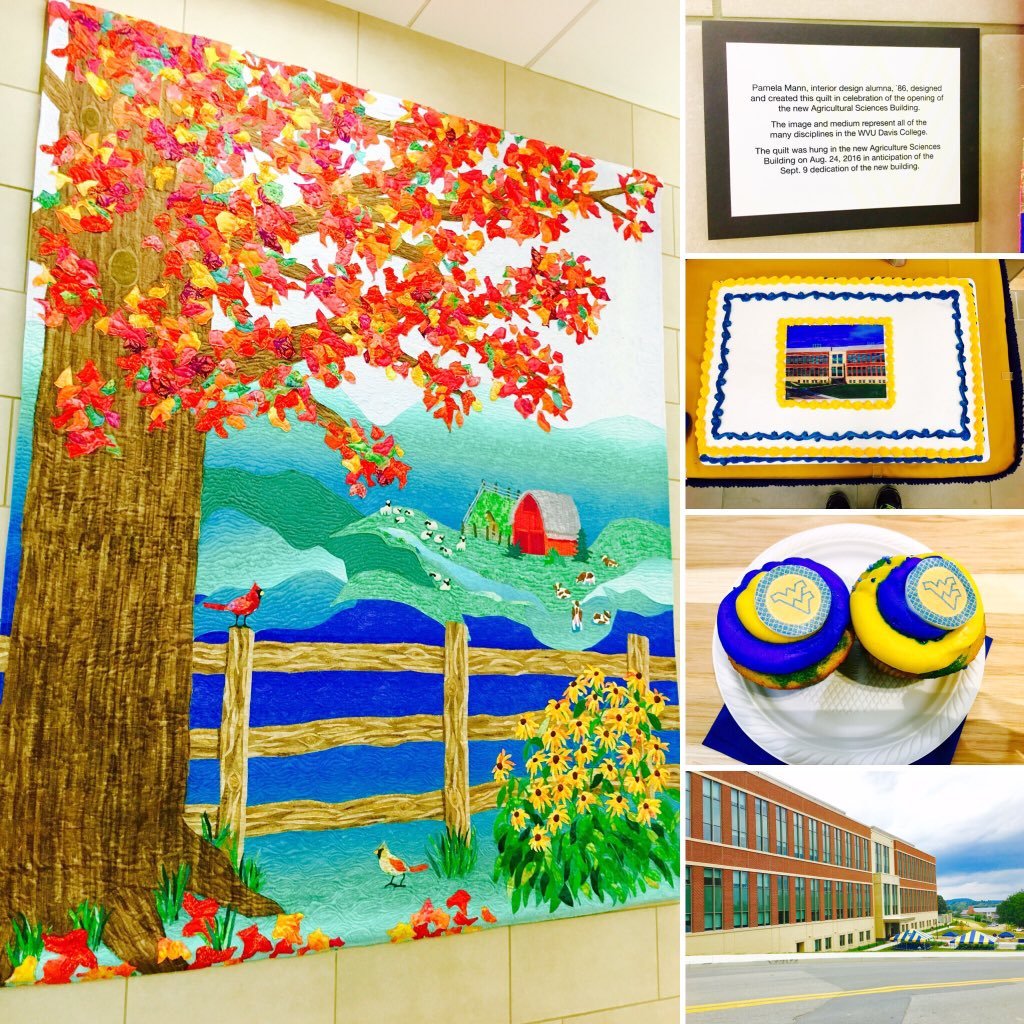 Backstory and Context
The new Agricultural Sciences Building was built after it was determined that the old agricultural sciences building had too many structural issues to undergo major renovation. It was a significant part of the re-imagining of agricultural sciences at WVU's Davis College. The excavation started on September 12, 2013, and the building opened nearly three years later. The facility is five stories tall with 207,000 square feet and is adjacent to the old building. The building includes two computer labs, six general purpose classrooms, and numerous departmental teaching and research laboratories that support a variety of disciplines such as entomology, genetics, animal sciences, landscape architecture, soil science, human nutrition, and more.

Many sustainability features are incorporated into the building's design, including an energy recovery system that captures heat or cold exhausted from laboratories and HVAC system that reduces exhaust from unoccupied laboratories; occupancy and motion sensors in many rooms; and a green roof on the west side of the building, which helps with regulating building temperature, reducing maintenance and replacement of roof systems, and retaining more stormwater than a typical roof. The green roof also provides beautification and improves air quality.

Featured in the main lobby is the Pamela Mann Quilt, handcrafted by Pamela Mann, an interior design alumnus from the Davis College's class of '89. The quilt was designed to commemorate the opening and dedication of the new building. The quilt features representations of the various disciplines within the Davis college, including Land Management, Horitculture, and Landscape Architecture. Other finishing touches throughout the building include custom hardwood furniture from Gat Creek, a local West Virginia manufacturer.


Sources
Luna, Nikky. WVU dedicates new Agricultural Sciences Building. WVUToday Archive. September 09, 2016. Accessed July 06, 2018. http://wvutoday-archive.wvu.edu/n/2016/09/09/wvu-dedicates-new-agricultural-sciences-building.html.

Remaking Evansdale: new buildings to transform WVU's Evansdale campus. WVUToday Archive. June 08, 2011. Accessed July 19, 2018. http://wvutoday-archive.wvu.edu/n/2011/06/08/remaking-evansdale-new-buildings-to-transform-wvu-s-evansdale-campus.html.

Welsh, David. WVU to break ground on new Davis College building. WVUToday Archive. September 10, 2013. Accessed July 19, 2018. http://wvutoday-archive.wvu.edu/n/2013/09/10/wvu-to-break-ground-on-new-davis-college-building.html.


Additional Information