Jennie Wade House Museum
Introduction
The house and its exhibits tell the story of Jennie Wade, a civilian who was killed during the Battle of Gettysburg. Visitors can tour the home with the assistance of a guide in period dress who can answer questions about the furnishings and the experience of civilians during the Battle of Gettysburg.
Images
This home has been restored complete with period furnishing to match its 1863 appearance.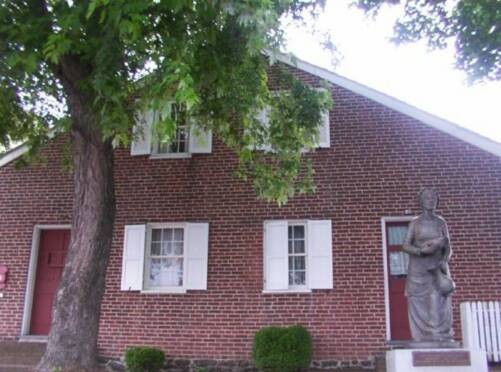 Backstory and Context
In the days leading up to the Battle of Gettysburg, twenty-year-old Mary Virginia "Jennie" Wade and her mother stayed with Jennie's sister Georgia in this home on Baltimore Street to avoid the greater danger that they felt awaited them at their home on Breckenridge Street. The two women also chose this home as their shelter so that they could help Georgia with her newborn baby. Like many other area women, the family provided assistance to the soldiers. On July 1st and 2nd, for example, Jennie joined her mother and aunt in baking and distributing bread to members of the Union Army. The omen also provided water for their canteens.
On July 3rd, Confederate troops began shooting toward the upper windows of the house around 7am. Despite the danger, Jennie continued making bread. While kneading dough that morning, a Confederate musket ball went through two doors of the house and struck Jennie Wade. Union soldiers garrisoning the town heard the cries of Wade's mother and sister who had been killed almost instantly. The men carried Jennie's lifeless body to the cellar where she was kept until she could be buried at Evergreen Cemetery. The following day, July 4th, 1863, Jennie's mother finished preparing the bread Jennie was making at the moment she was killed.
Additional Information