Kingwood Academy
Introduction
Incorporated on January 2, 1841, the Kingwood Academy was one of the earliest schools built in Preston County, West Virginia. Established due to increasing population and a boom in the economy of the county, this building was an integral part of Kingwood, West Virginia and its community. Prominent West Virginians, including first president of West Virginia University, Rev. Alexander Martin, got their start teaching at the Academy.
Images
Photo credit located in citations. A class of students at Kingwood Academy ca. 1900.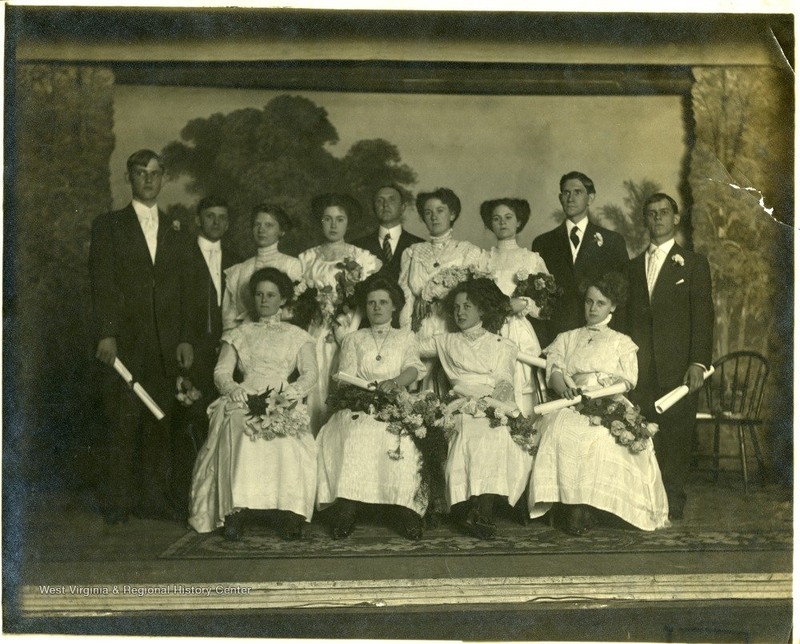 Current state of the Kingwood Academy building. Kingwood Academy has been recently restored since 1996 by the nonprofit organization Friends of Preston Academy, Inc. to make it inhabitable [8]. One of the oldest buildings in Kingwood, this building was pl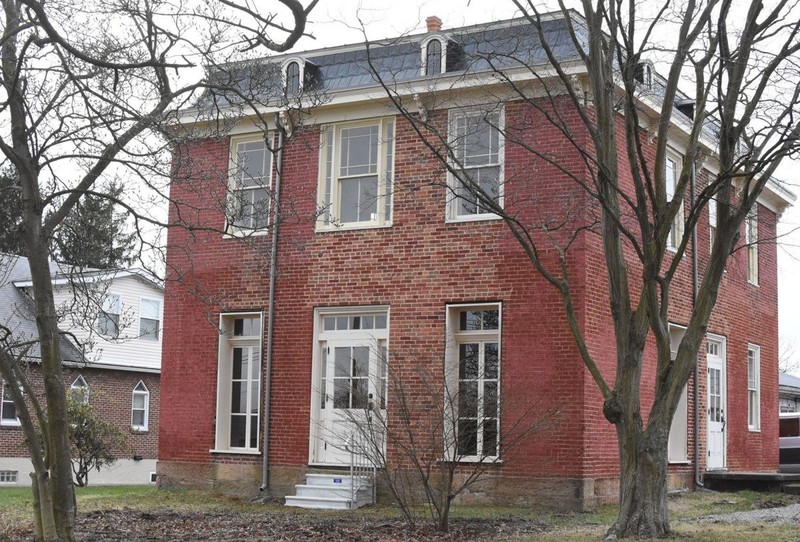 Backstory and Context
Education and the passion behind it's importance is at the core of West Virginian pride. In the 1800s, Preston County saw an influx of schools being established to accommodate for the sharp increase in demand for educational institutions. In Kingwood, West Virginia, part of Preston County, one of these schools was established and named "Kingwood Academy," respectively after the name of the town in which it was located. Not only was this institution historically significant for being an older school building, but also due to the significant figures who saw their careers and legacies begin here. Institutions such as these should be credited and praised for their role in the broader history of West Virginia and its people.

Forming from the larger Monongalia County in April of 1818, Preston County was home to places such as the historical town of Kingwood. The county's name hails from the governor of Virginia's name at the time, James Patton Preston, who was in office from 1816-1819. During the 1800s, West Virginian communities such as Kingwood saw many educational institutions being established, many of which were one-room school houses which focused on both primary and secondary education. The Kingwood Academy itself was built as a result of this boom which was happening at the time, and saw it's official date of establishment on January 2, 1841.

During the 1840s, Preston County was in the midst of agricultural and economic prosperity, leading to an increase in population and demand for educational facilities such as Kingwood Academy, and it met the public's need for such a request. It was built to educate students on primary and advanced subject matter. It was utilized for a time as the county's circuit court when in 1869 the Court House was burnt down, as ordered by governor William E. Stevenson, being both used as a building to hold hearings as well as for students to go about their learning. Not only was the institution utilized in such a manner as this, but it also helped build up individuals who had a larger impact on the history of West Virginia.

Many prominent individuals got their start as either teachers or personnel at the Kingwood Academy. One of these men was Reverend Alexander Martin, who later went on to become the first president of the newly established West Virginia University, after being a teacher and a principal of Kingwood Academy. Alexander Martin established himself as a advocate for furthering the education of West Virginians, and this idea started as a result of working at this institution.

Other important individuals have come out of Kingwood Academy as teachers and principals. In Grafton, West Virginia on May 12, 1890, C.C. Showalter was elected superintendent of a new West Virginia Reform School at the age of 28. Showalter was the principal of Kingwood Academy at the time and was elected based on merit and was highly acclaimed as a teacher of superior ability mixed with executive expertise. Another man, Major William Conley, was taught at this school, whose son became governor of the state from 1928-1932, being the first state-born governor in West Virginia.

In retrospect, Kingwood Academy, although being a small building with little use in the modern age, has had a profound impact on quite a few individuals who became an important part of the state's history. It was built during a time of an economic boom in Preston County and remained an important part of Kingwood during the time of it's running. The school closed in 1875 but was bought again by the Board of Education in 1959 to hold some classes there, so it saw its' heyday through a relatively short period, yet it brought out so many important individuals into West Virginian society. The importance of education remains at the highest significance in the state, and through this shows that it has always been at the heart of West Virginia.
Sources
1. N/A. "Republican Chosen for the Superintendency of the State Reform School."
The Wheeling Daily Intelligencer
(Wheeling, West Virginia), May 14, 1890. Accessed November 15, 2018. https://chroniclingamerica.loc.gov/lccn/sn84026844/1890-05-14/ed-1/seq-1/#date1=1841&index=1&rows=20&words=Academy Kingwood&searchType=basic&sequence=0&state=West Virginia&date2=1900&proxtext=kingwood academy&y=0&x=0&dateFilterType=yearRange&page=1.

2. Oxtoby, and Duffield. "The Intelligencer - Proclamation."
The Wheeling Daily Intelligencer
(Wheeling, West Virginia), June 23, 1869. Accessed November 15, 2018. https://chroniclingamerica.loc.gov/lccn/sn84026844/1869-06-23/ed-1/seq-4/#date1=1841&index=3&rows=20&words=Academy Kingwood&searchType=basic&sequence=0&state=West Virginia&date2=1900&proxtext=kingwood academy&y=0&x=0&dateFilterType=yearRange&page=1.

3. WVU Libraries. "Graduates of Old Kingwood Academy, Preston County, W. Va." Family Names: Mooney Family. - West Virginia History OnView | WVU Libraries Search Results. Accessed November 18, 2018. https://wvhistoryonview.org/catalog/a9/b9/cf/25/a9b9cf25-a86f-4053-a715-514901e57b9e.

4. "A Brief History – Preston County Schools." Preston County Schools. Accessed October 18, 2018. http://prestoncountyschools.com/a-brief-history/.
5. "Daily Mail Editorial: Founder Helped Form WVU into Torch That Lights State." Charleston Gazette-Mail. November 21, 2017. Accessed October 18, 2018. https://www.wvgazettemail.com/opinion/daily-mail-editorial-founder-helped-form-wvu-into-torch-that/article_427635b8-15c1-5a42-a0ba-98fddc8ab209.html.

6. Ward, Bryan, Susan Pierce, Lora Lamare, Carolyn Kender, and Staci Spertzel. The Past Matters Today: The West Virginia Statewide Historic Preservation Plan 2009-2014. Charleston, W. Va.: West Virginia Division of Culture and History, 2009.
7. "Brief History." Www.kingwoodwv. Accessed November 15, 2018. https://www.kingwoodwv.org/Brief_History.html.
8.
McCloud, Cynthia. "Historic Preston Academy's Re-birth, Building's Restoration Has Been in Progress since 1996." WV News. March 10, 2017. Accessed December 08, 2018. https://www.wvnews.com/prestoncountynews/news/historic-preston-academy-s-re-birth-building-s-restoration-has/article_be82ea76-3162-591d-b32a-4f0cc2b240ac.html.
Additional Information