First Baptist Church in America
Introduction
Providence's First Baptist Church was constructed between 1774 and 1775 by a congregation first founded by Roger Williams in 1638. Church divisions and the belief that lavish church facilities were a sign of vanity thwarted previous efforts towards building a substantial church edifice. By the mid-1770s, a more unified congregation and an acceptance that a substantial meeting hall was necessary and proper led to the construction of this building.
Images
First Baptist Church in America, as pictured in 2008.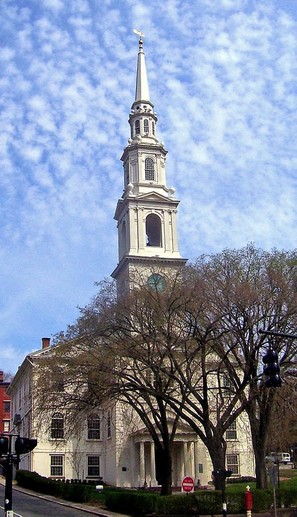 2012 Picture of the church building's inside.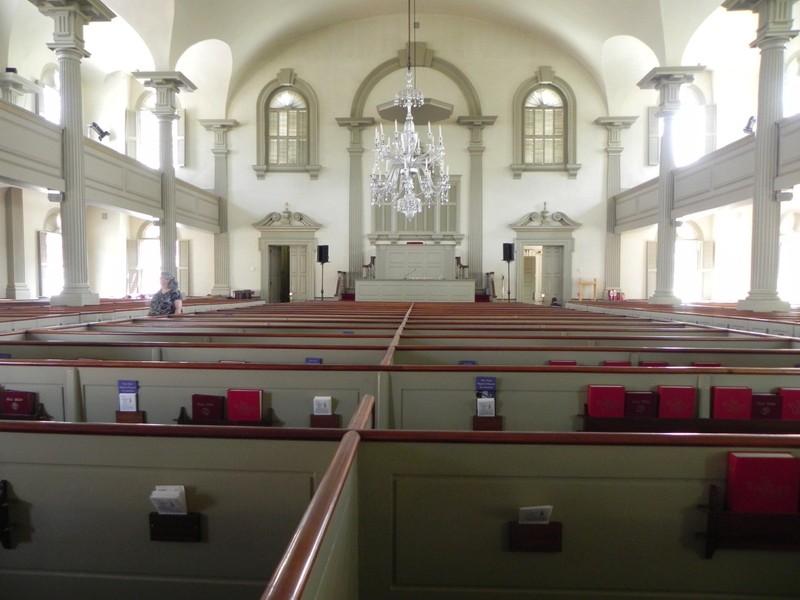 Backstory and Context
The historic church building was erected in 1774–75 and held its first service in May 1775, but the history of the church in Providence dates back to 1638 when Roger Williams founded the first Baptist Church in America.
For the initial sixty years of the church's history, services were held in houses of members, although differences in doctrine and intra-church differences divided the church into two factions for a period. Nonetheless, the Baptist church enjoyed greater unity by the mid-1770s, which allowed the church's sixth pastor, Pardon Tillinghast, a chance to spearhead an effort to construct a church building. The Charitable Baptist Society committee formed and procured a Charter of Incorporation, which allowed the congregation an ability to receive and hold property. Meanwhile, the church hired Joseph Brown, amateur architect, and Jonathan Hammond, a master carpenter, to build the church building.
Brown and Hammond visited Boston to view churches and meetinghouses in the city, and Brown also took inspiration from several plates from James Gibbs' Book of Architecture, published in 1728. When completed, the 80-foot square building, with late Georgian church architectural influences, could seat nearly 1,200 persons.
Given the colonials long history of practicing religion freely, and changing attitudes in 1775 towards Britain, it is not surprising that many church designs of the day diverged from Anglican counterparts, and many Rhode Island Baptists felt that building a church building of any kind was an exercise in vanity. Construction of service halls for Baptists during that era in Providence (and greater New England) often resembled simple meeting houses. However, the First Baptist Church, with its grand design that included a steeple bell resembled traditional Congregational churches.
Brown University's commencement has been held in the Meetinghouse since 1776 (except for 1804 and 1832). One notable graduate, John D. Rockefeller Jr. -- the only son of John D. Rockefeller and father to U.S. Vice President Nelson Rockefeller and Arkansas Govoner Winthrop Rockefeller --- funded a complete rehabilitation of the church building in 1957-58. His philanthropic efforts, keeping in spirit with his father's late-life endeavors, allowed the old church to remain useful to town.
The external appearance of the building largely remains the same today as when erected, but the internal layout has changed a few times.
Sources
Heintzelman, Patricia. "Nomination Form: First Baptist Meeting House." National Register of Historic Places. Jan 20, 1975. https://npgallery.nps.gov/GetAsset/25c1fd0a-09b3-4558-bf1a-fbfd66992da2/

"John Rockefeller, Jr." Philanthropy Roundtable. Accessed August 29, 2018. https://www.philanthropyroundtable.org/almanac/people/hall-of-fame/detail/john-rockefeller-jr.

James, Sydney V. "Ecclesiastical Authority in the Land of Roger Williams." The New England Quarterly 57, no. 3 (1984): 323-46. doi:10.2307/365579.

Lemons, J Stanley. "The Browns and the Baptists." Rhode Island History, 67, no. 2, (2009) 75-82. http://www.rihs.org/assetts/files/publications/2009_SumFall.pdf

Photo Sources
First Baptist Church in America: Picture by Daniel Case, CC BY-SA 3.0, https://commons.wikimedia.org/w/index.php?curid=3987381

2012 Picture: Found at a blog, https://steveawiggins.com/tag/ebenezer/
Additional Information