Coltsville National Historical Park
Introduction
While Hartford has been home to any number of prominent businessmen and industrialists throughout its long history, perhaps best known is the man who invented the revolver and, in so doing, changed the course of military, law enforcement and manufacturing history: Samuel Colt. Although during his lifetime he felt that the city of Hartford did not truly appreciate him, and indeed he received a certain amount of flak due to the fact that his pistols were used by Confederate as well as Union troops during the Civil War, he nevertheless established a giant manufacturing complex as well as constructing numerous residences ranging from humble to palatial. Mr. Colt might be posthumously pleased to know that his legacy is finally to be honored with the designation of Connecticut's second national park.
Images
The Colt Armory as it looked in its earliest days, from an 1857 engraving.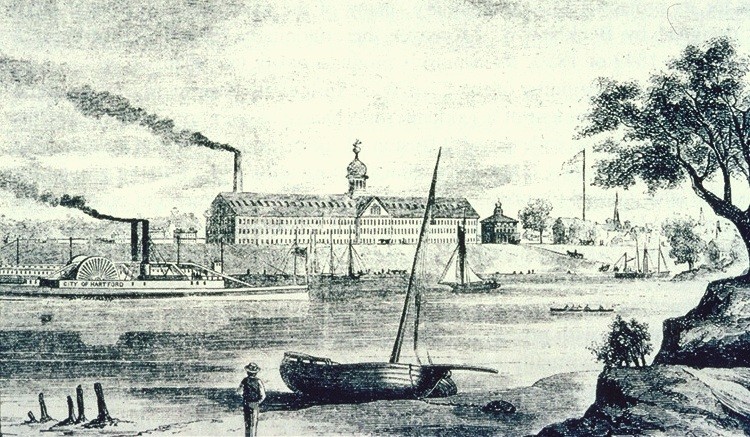 The famous blue onion dome from the rebuilt armory.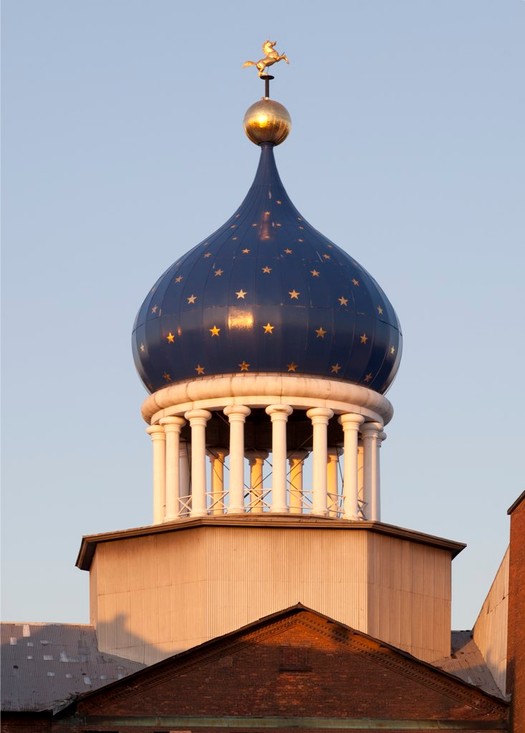 The Colt 1851 Navy, a sidearm much favored by the...oops, Confederate Army (as well as Union troops).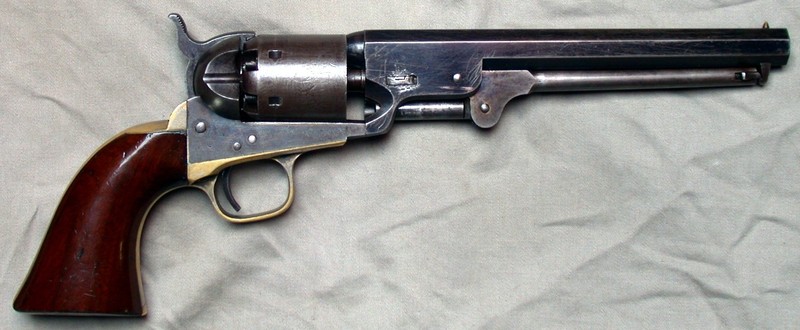 Samuel Colt holding one of his popular revolvers.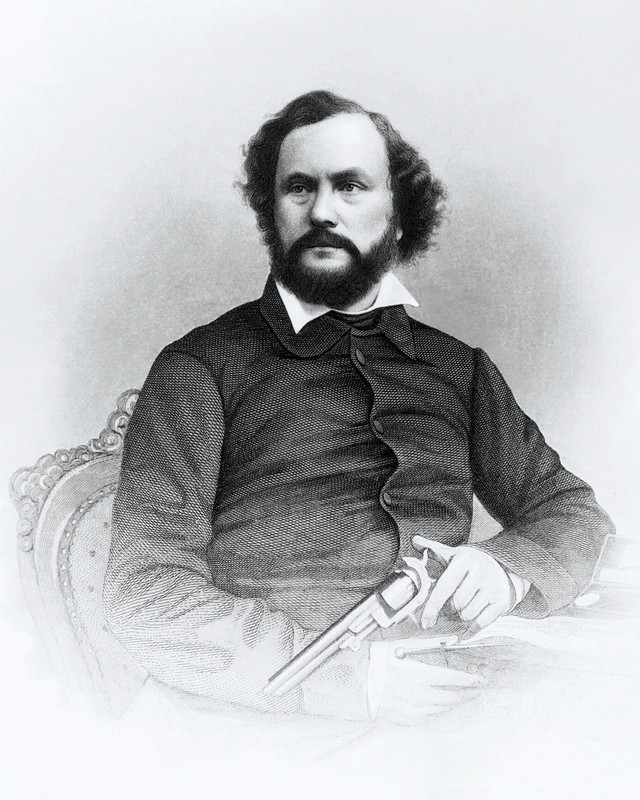 Armsmear, the Colt family place.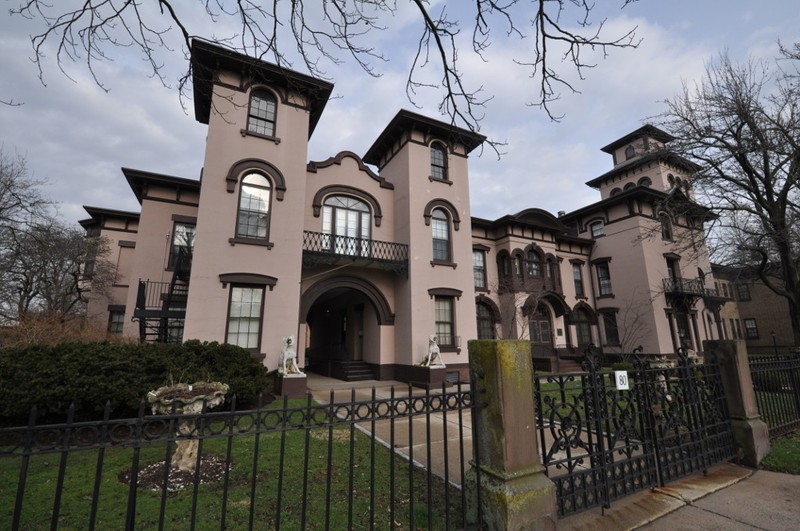 The James Colt place, where Samuel's brother lived.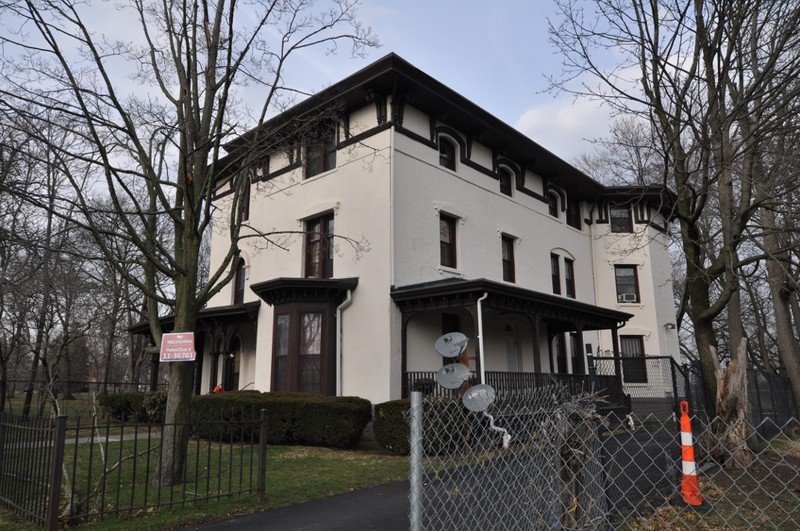 The Church of the Good Shepherd, which will continue to be owned by the Episcopalian diocese but is nonetheless now part of a national park.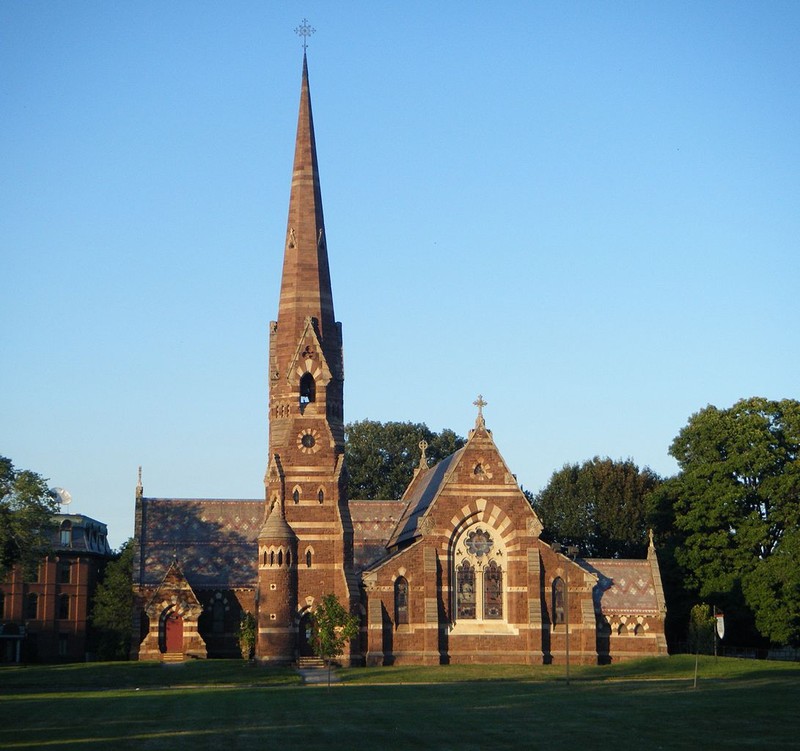 The Caldwell Colt Memorial Parish House, also diocese-owned.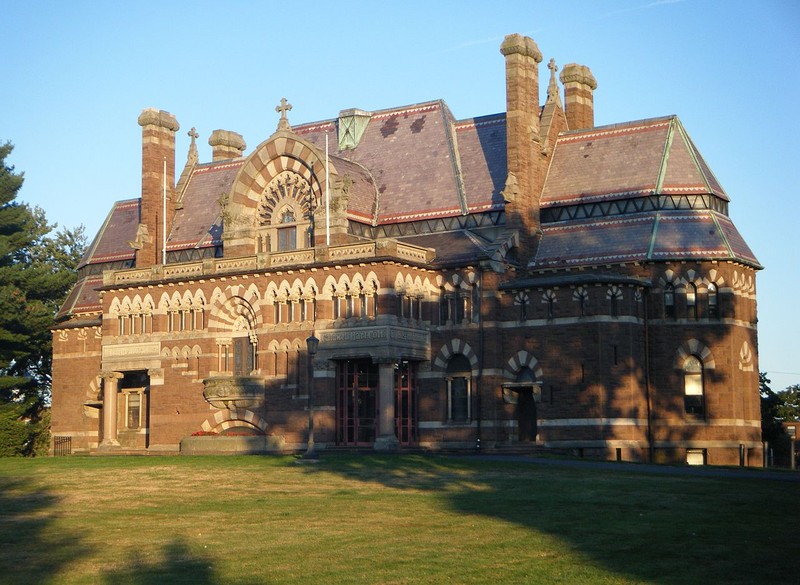 Backstory and Context
The Coltsville district dates back to 1855, when the Colt Fire Arms factory was built. Still standing are the the Fire Shop and the Foundry from that original construction, although the East Armory with its iconic blue onion dome is part of a reconstruction effort that took place after the factory burned down in 1864. The North and South Armories were added during WWI-era expansion, and the art moderne-style brick office building was added during the factory's last hurrah, supplying weaponry for WWII. Although there was a very limited amount of firearms design and testing occurring in the complex as late as the 1990s, most of the factory buildings have long since been repurposed for schools, offices and housing.
Speaking of housing, Coltsville NHP is hardly limited to old factory buildings. The park, which encompasses 136 acres, also includes a variety of historic homes. Most prominent among these is Armsmear, the Colt's Italianate mansion that his widow Elizabeth ordered converted to a retirement complex upon her death in 1905. The neighboring James Colt House, also dating from the same era and a similar Italianate style, was later subdivided into apartments. On the opposite end of the 19t century economic spectrum lie 10 tenement buildings constructed across the street from the armory in 1856 to house its workers. The Coltsville site also includes nine "Potsdam"-style cottages which served as homes for the German immigrants brought over to work in a Colt-owned factory that produced willow furniture.
Not only were the Colts considerate enough to lodge their workers, but they also provided for their spiritual welfare – as long as those workers were willing to embrace Episcopalianism, that is. The 1867 Gothic Revival Church of the Good Shepherd stands as a memorial to Samuel Colt, commissioned by Elizabeth after his death in 1862. Its 1895 parish house commemorates their son Caldwell, who had died at sea the previous year, aged 35. Workers of a more secular bent could always spend their Sundays on the ball fields of what is now Colt Park. The armory itself fielded a team from about 1869 up through 1918, and the park offered, and still offers, ample green space for cooped-up factory workers to catch a breath of fresh air. The entirety of Colt Park, complete with new/old vintage baseball games and an about-to-be-reconstructed stadium ISO a professional soccer team, are also included in the National Historical Park.
So what do a park, a church, a retirement home, an apartment building and an abandoned factory have in common, apart from their connection to the Colt family? Well, according to the National Park Service, they are of great historical significance. Not only is this due to their connection with manufacturing pioneer Samuel Colt, but they also serve as an excellent example of a well-preserved planned industrial district, complete with social and religious structures and worker housing. Although several of its buildings had already been added to the National Register of Historic Places (Armsmear in 1966, the James Colt House and the Church of the Good Shepherd in 1975, the Armory in 1976), it was not until 2008 that the entire Coltsville area received National Historic Landmark District status. While this recognition was certainly appreciated, not to mention well-deserved, it was not quite enough for Hartford civic boosters who had been pushing for National Park status since the '90s. They kept right on pushing, and finally, under the Defense Spending act of 2014, a tiny bit of that defense spending was authorized to honor a long-deceased arms manufacturer by granting Coltsville that long-desired NHP status.
Still, Coltsville is not fully operational as a national park quite yet. Basically, there's a big difference between being an "authorized" park and an "established" one. In this instance, the one main holdup involves the transfer of the Forge and Foundry buildings over to NPS ownership. Once that's a done deal, NPS and community partners still need to find the funding to staff the park with rangers and open a visitors center. The process is expected to take quite some time, perhaps up to five years, but Hartford looks to its neighbors in Massachusetts to see how things might work out. The cities of Lowell and New Bedford have both benefitted from the attention and tourist dollars that have come along with highlighting their historic industries via Lowell National Historic Park and the New Bedford Whaling National Historic Park. Hartford, with its additional non-Colt attractions including the Twain House and the Atheneum, expects to do even better, perhaps doubling or tripling its current tourist trade. It seems as if, even 150+ years after his death, Hartford native son Samuel Colt may once more be helping to put his hometown on the map.
Sources
Coltsville. National Park Service. . Accessed June 19, 2018. https://www.nps.gov/colt/index.htm.

Coltsville Historic District Draft Nomination. National Park Service. May 01, 2008. Accessed June 19, 2018. https://www.nps.gov/nhl/news/LC/fall2007/Coltsville.pdf.

National Register of Historic Places Inventory Nomination Form: Church of the Good Shepherd and Caldwell H. Colt Memorial Parish House. National Park Service. February 20, 1975. Accessed June 19, 2018. https://npgallery.nps.gov/NRHP/GetAsset/NRHP/75001925_text.

Coltsville National Historical Park: Your Park. Van Alen Institute. . Accessed June 19, 2018. https://www.vanalen.org/content/uploads/2016/10/Next-Parks-Performing-Parks-Coltsville-Report-Web.pdf.

Radelat, Ann. Park Service Moves Ahead on Coltsville National Historical Park. The CT Mirror. March 19, 2015. Accessed June 19, 2018. https://ctmirror.org/2015/03/19/park-service-moves-ahead-on-coltsville-national-historical-park/.

Hoffman, Christopher. Ten Business Leaders Who Made a DIfference to Hartford's Vitality. Hartford Courant. October 27, 2014. Accessed June 19, 2018. www.courant.com/courant-250/moments-in-history/hc-250-hartford-corporate-civic-leaders-1026-20141024-story.html.

National Parks Listed by State: Connecticut. National Park Service. . Accessed June 19, 2018. https://www.nps.gov/hfc/cfm/carto-states.cfm?state=ct.

The James Colt House (1856). Historic Buildings of Connecticut. February 20, 2008. Accessed June 19, 2018. http://historicbuildingsct.com/the-james-colt-house-1856/.

Gosselin, Kenneth R.. Now The Hard Part: Coltsville Will Be Years In The Making. Hartford Courant. June 07, 2015. Accessed June 19, 2018. www.courant.com/news/connecticut/hc-coltsville-hartford-connecticut-national-park-20150607-story.html.

Seay, Gregory. Business owners' passion for soccer, Hartford fuels Dillon Stadium quest. Hartford Business. February 05, 2018. Accessed June 19, 2018. http://www.hartfordbusiness.com/article/20180205/PRINTEDITION/302019926/business-owners-passion-for-soccer-hartford-fuels-dillon-stadium-quest.

Our History. Church of the Good Shepherd. . Accessed June 19, 2018. https://www.goodshepherdhartford.org/our-history.html.

Hartford Base Ball Grounds at Colt Meadows. Friends of Vintage Base Ball. . Accessed June 19, 2018. https://www.friendsofvintagebaseball.org/coltmeadows.html.


Additional Information