Hot Rod Hundley Statue
Introduction
Rodney Clark "Hot Rod" Hundley was born on October 26, 1934 in Charleston, West Virginia. Hundley played for WVU from 1954 to 1957. His signature style of dribbling and on-court antics led to the nickname of "Hot Rod." Following his college career, Hundley was drafted in the first round to the Cincinnati Royals and was then traded to the Minneapolis Lakers, where he played from 1957 to 1963. After his retirement, Hundley continued to employ his passion for basketball by becoming a sports broadcaster for the NBA. In 2010, WVU retired his number 33, making him and Jerry West the only WVU players to be awarded the honor. Following his death in 2015, a bronze statue of him was placed outside of the WVU Coliseum.
Images
The Hot Rod Hundley statue at its unveiling ceremony, showing Hundley's infamous hook shot.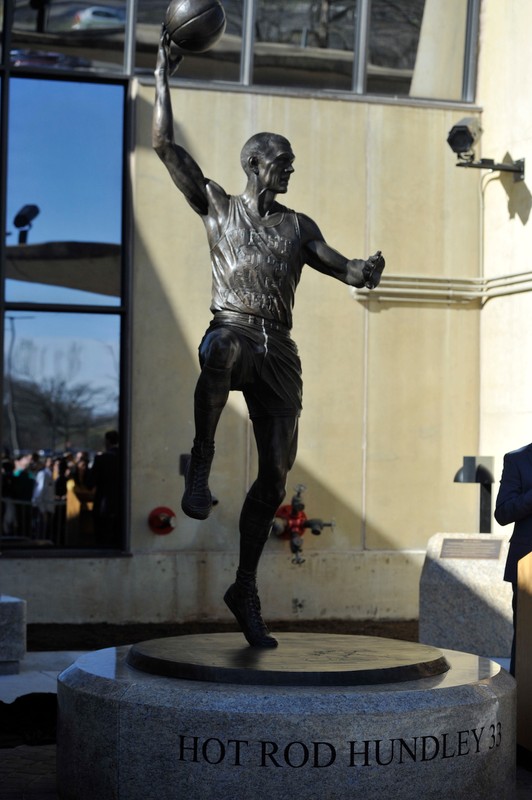 Hot Rod Hundley when he played for the Lakers from 1957-1963.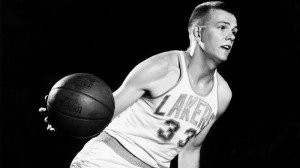 Hundley when he played for West Virginia University.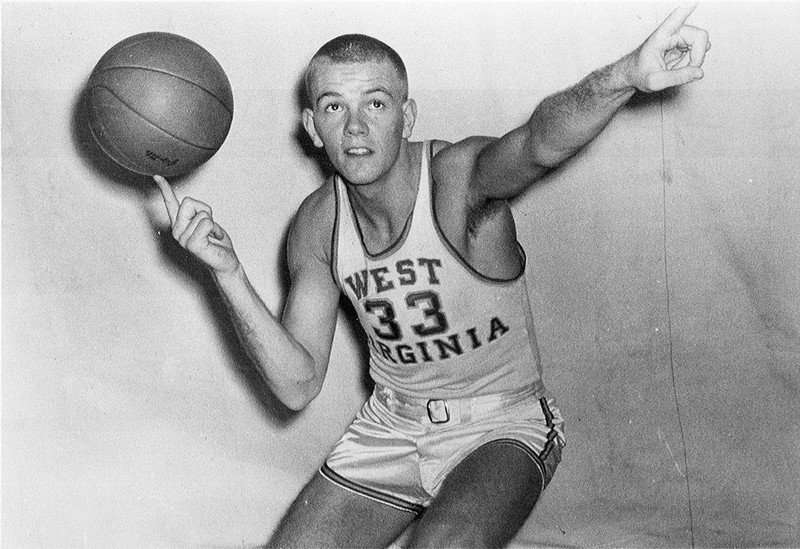 Backstory and Context
Because freshmen were not allowed to play varsity basketball, Hundley did not start his college career until his sophomore year. In the 27 out of 30 games he started, he averaged 23.7 points per game and 8.1 rebounds. During his junior year, he averaged 26.6 points per game and 13.1 rebounds, with a season-high 42 points and 9 rebounds in a single game. He averaged 23.1 points and 10.5 rebounds per game his senior year, breaking a school record by scoring 54 points and 18 rebounds in a single game. In just three years, Hundley became the fourth player in NCAA history to score more than 2,000 points in his career. He brought the Mountaineers to prominence with his talent and shooting antics, which included hook shots for free throws and hanging on the rim to await a lob pass. He led the Mountaineers to three consecutive NCAA appearances during the "Golden Age" of WVU basketball. 
In 1957, Hundley became the only WVU player in history to be the first pick in the NBA draft. He played for the Lakers in Minneapolis and Los Angeles from 1957 to 1963, averaging 8.4 points per game and over 1,400 assists. In 1960, Hundley was joined by former teammate Jerry West, who was drafted from WVU by the Lakers.
After retiring from the NBA due to bad knees, Hundley pursued a broadcasting career, working for the Los Angeles Lakers, the Phoenix Suns, CBS, and most notably, the New Orleans and Utah Jazz. He was known for his quick wit and sayings such as "from the parking lot" for a long distance shot. In 2003, he was inducted into the Naismith Hall of Fame as a broadcaster. 
In 2000, Hundley graduated from WVU with a bachelor's degree in physical education, due to the fact that he left the university to join the NBA before he earned his degree. 
In 2009, Hundley retired from his career as the voice of the Utah Jazz, and in 2010 he became the second WVU player to have his number retired (the first being Jerry West). Hundley passed away at age 80 on March 27, 2015 from Alzheimer's disease. On February 20, 2016 his statue was unveiled outside the Blue Gate of the coliseum, just opposite of Jerry West's statue. A documentary titled Hot Rod was recently made, chronicling Hundley's life and troubled upbringing. 
Artist Jamie Lester created the bronze statue.
Sources
Weiderspiel, Alex. Three years after his death, Hot Rod Hundley documentary set to premiere. WV Metro News. March 27, 2018. Accessed July 12, 2018. http://wvmetronews.com/2018/03/27/three-years-after-his-death-hot-rod-hundley-documentary-set-to-premiere/.
Goldstein, Richard. Rod Hundley, an Outsize Personality on and Off the Court, Dies at 80. New York Times. March 28, 2015. Accessed July 12, 2018. https://www.nytimes.com/2015/03/29/sports/basketball/rod-hundley-an-outsize-basketball-personality-dies-at-80.html.
Additional Information