Governor's House (Woodburn)
Introduction
Woodburn, also known as Governor's House, has a long and significant history in Dover. Most importantly, the home has served as the official residence of the governor since 1965, when it was purchased by the state. Governor's House was built in 1798 and is listed on the National Register of Historic Places.
Images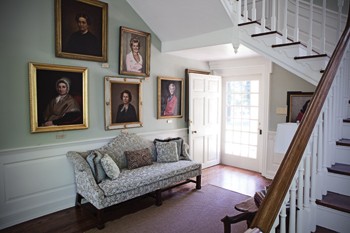 Backstory and Context
The home which now serves as the Delaware Governor's mansion was built in approximately in 1790 by Charles Hillyard. The land on which the home sits was granted to Hillyard's great-grandfather by William Penn in 1683. At the time of its construction, the home was located a quarter-mile outside Dover on the King's Highway, but the town gradually grew to surround the home. It is now part of a residential district in the city.

Hillyard was part of a prominent early Delaware family who were large landowners and active in the government. Hillyard lived in the home until his death, when one of his daughters bought the property.

It is widely believed that the home served as a station on the Underground Railroad in the mid-1800s. Given the home's location and the fact that it was owned in the 1820s by Daniel Cowgill, an abolitionist, it is entirely likely that the home was used to shelter escaped slaves, but there is apparently no firm evidence of this. The claims may have originated in a novel published in the late 1800s that detail a slave-catcher's raid at a home based on Woodburn.

Regardless of its status as a station on the Underground Railroad, the home has unquestionably served as a residence for several prominent families. Charles Hillyard's daughter, Mary, married Martin Bates, who served as a US Senator. In 1820, Bates leased the home to Jacob Stout, who was then serving as governor.

In 1965, the state purchased the home for use as the Governor's Mansion. Charles Terry was the first governor to reside in the mansion after the purchase. The home has the distinction of being the smallest governor's mansion in the United States.
Sources
Hess, Maria. The People's House. Delaware Today. . Accessed June 24, 2018. http://www.delawaretoday.com/core/pagetools.php?pageid=8676&url=%2FDelaware-Today%2FHome-and-Garden%2FNovember-2010%2FThe-People-039s-House%2F&mode=print.

Ryan, Thomas. A Safe Harbor for Escaped Slaves, Ghostly Figures, and the Governor of Delaware. Coastal Point. August 07, 2012. Accessed June 24, 2018. http://www.coastalpoint.com/content/safe_harbor_escaped_slaves_ghostly_figures_and_governor_delaware.