Corbit-Sharp House
Introduction
Regarded as one of the finest pre-Revolutionary homes in Delaware, the Corbit-Sharp house was built in approximately 1774. It was the home of William Corbit, a tanner and prominent early citizen of Odessa. The home remained in the Corbit family until 1938, when it was purchased by H. Rodney Sharp. The home is listed on the National Register of Historic Places.
Images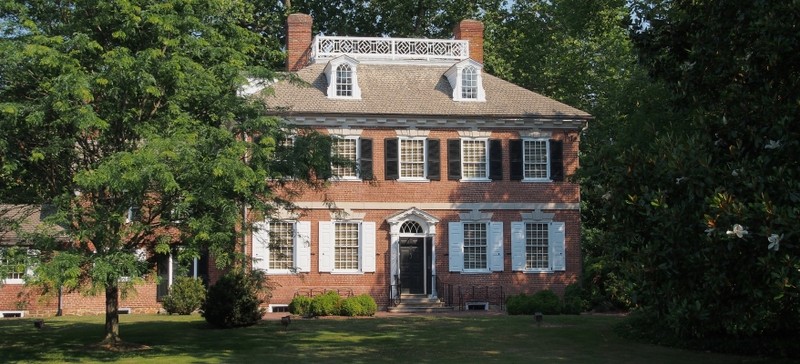 Backstory and Context
William Corbit, a native of Delaware, apprenticed as a tanner in Philadelphia before returning to his home. He established his own tannery along the Appoquinimink River in roughly 1767, and within a few years, Corbit was thriving as both a tanner and a farmer.

In approximately 1774, Corbit built a twenty-two room mansion which faced a now-vanished road leading to the tannery. Because of his business connections, Corbit was able to bring in the finest materials for use in his home. He kept detailed records of the home's construction costs and he spared no expense in crafting a fine home. Corbit's extensive records make the mansion one of the best-documented homes of the colonial period.

Corbit's son, Daniel, eventually became owner of the home. Both Corbits were Quakers and as such, were opposed to slavery. According to family and local lore, the younger Corbit and his wife, Mary, helped at least one runaway slave escape to freedom by hiding him in a tiny closet under the eaves in the attic. The Corbits' daughter, Mary Corbit Warner, recounted the story to Delaware Chapter of the Colonial Dames in 1914. The home is one of nine sites on the National Underground Railroad Network to Freedom.

The home remained in the Corbit family until 1938, when it was purchased by H. Rodney Sharp. Sharp reportedly developed an appreciation of the home when he lived across the street in 1900 and was alarmed by the prospect that it would be divided into apartments. He bought the home and reversed many of the changes made in the 1800s, largely returning the home to its original appearance. Today the home appears largely as it did when constructed.

Sharp bought the Corbit home and several other historic properties in the area and is largely responsible for historic preservation efforts in Odessa. He eventually donated the home to the Winterthur Museum in 1958. It was added to the National Register of Historic Places in 1967.
Sources
Hoffman, Steve. Riding the Underground Railroad. MIddletown Life Magazine. . Accessed June 24, 2018. http://www.bluetoad.com/article/Riding+Along+The+Underground+Railroad/40660/4534/article.html.

Laird, Marnie. Ode to Odessa--Delaware's Historic Wonder. Washington Post. March 23, 1986. Accessed June 24, 2018. https://www.washingtonpost.com/archive/lifestyle/travel/1986/03/23/ode-to-odessa-delawares-historic-wonder/c724bb40-fc2f-42d8-9a22-6ae8c6d44cc6/?utm_term=.2eb3a947fa27.


Additional Information