Church of the Good Shepherd
Introduction
Built between 1867 and 1869, this church is an outstanding example of high Victorian Gothic Revival ecclesiastical architecture. The sanctuary was designed by Edward Tuckerman Potter, an architect who also designed Trinity Church in Wethersfield and is best known for his work in the Hartford area including the Mark Twain House and the library at the Colt mansion, Armsmear. The Church of the Good Shepherd is located between the factory complex and Armsmear, demonstrating Elizabeth Colt's effort to turn her business into an all-inclusive village for the factory's workers. The addition of a church to the little cluster of factory buildings and housing units was meant to ensure that the little community of Coltsville would have its spiritual as well as physical needs met. In January of 1869 the church, was consecrated after two years of construction. Elizabeth Jarvis Colt married Samuel Colt in 1851 when he was an up-and-coming weapons manufacturer. She decided to build this church for the workers of the Colt factory and turned to religion after losing her husband and three of her young children before the Civil War was over. Elizabeth led the company following the loss of her husband and endured challenges including a fire that destroyed the main armory building in 1864. Elizabeth rebuilt the factory and built this church as a memorial to her late husband and children. Since the time, the community around the congregation has changed, but the Church of the Good Shepherd continues to serve the local Episcopalian congregation.
Images
Exterior view of the Church of the Good Shepherd.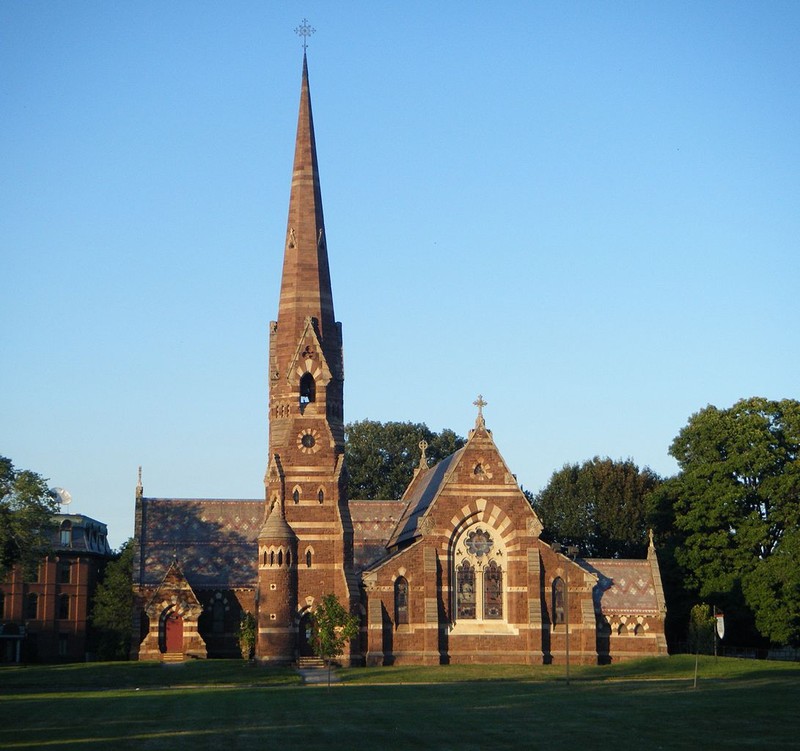 Exterior view of the Caldwell Colt Memorial Parish House.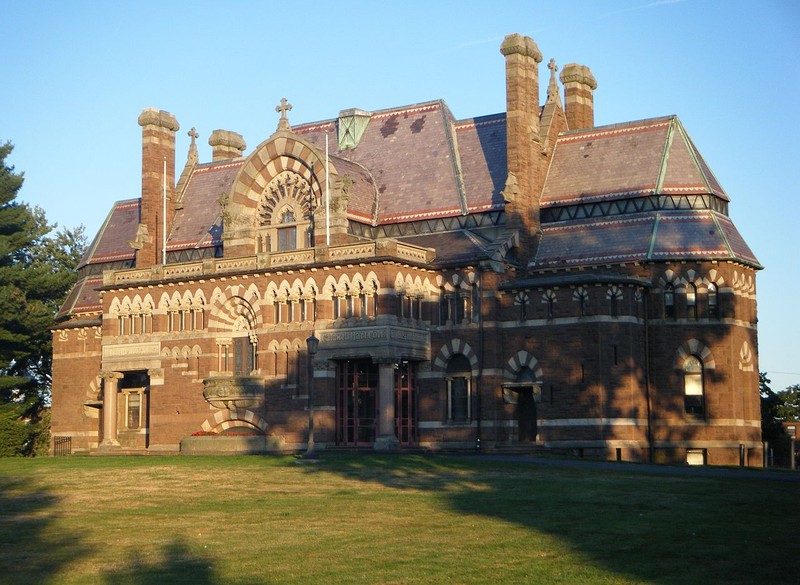 An exterior view (double exposure) of the church as it appeared when new (prior to the parish house being added).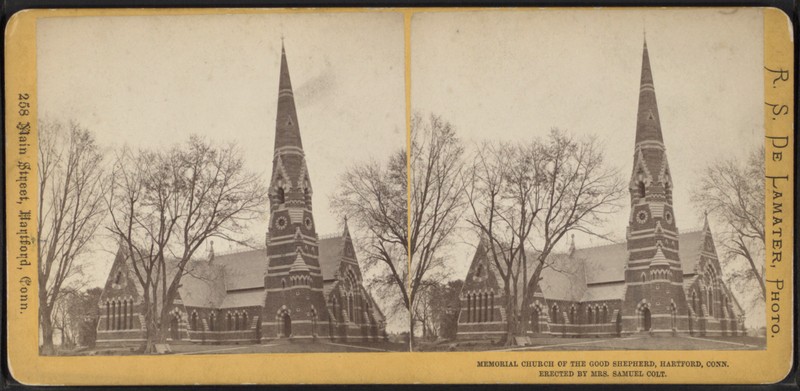 An interior (double) view of the church also dating from the late 19th century.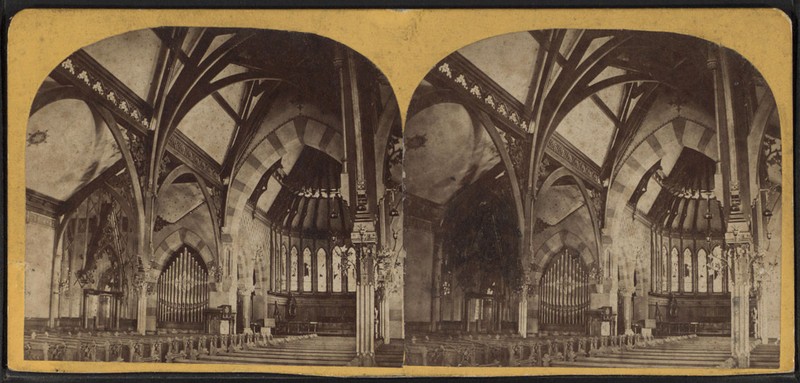 A 19th century photo of one of the church's stained glass windows.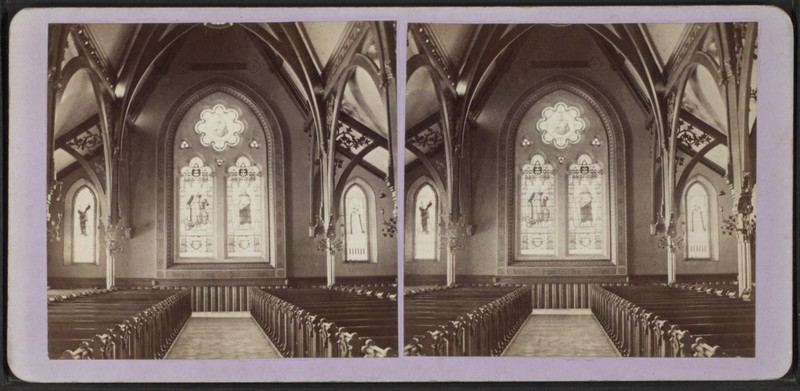 A portrait of Elizabeth and Caldwell, Colt family sole survivors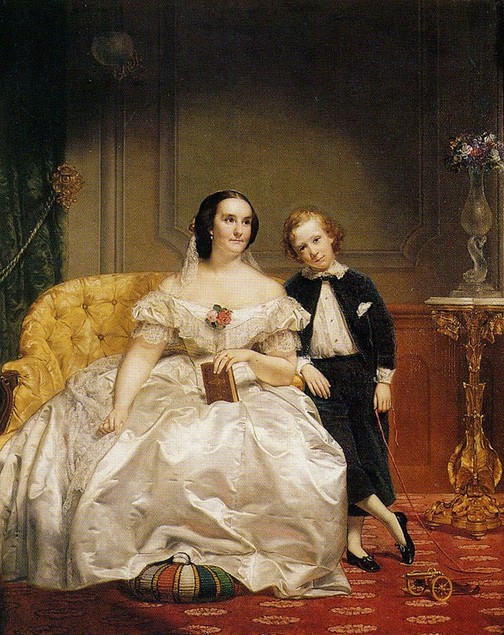 Commodore Caldwell, the yachtsman.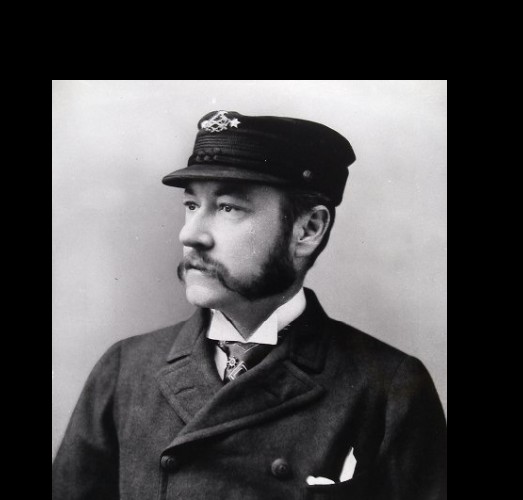 Caldwell's schooner, the Dauntless.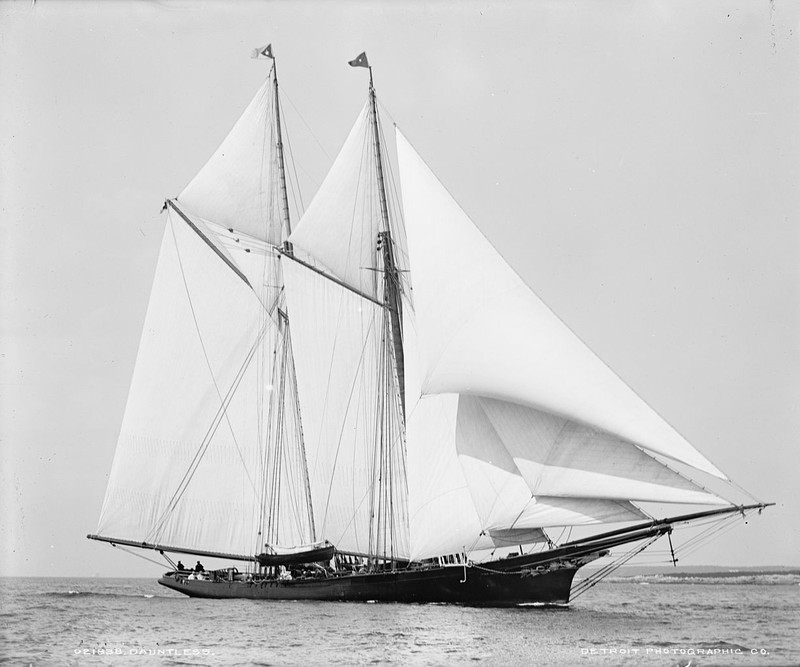 Backstory and Context
Fifteen years after the dedication of this church, Elizabeth Colt was stricken by grief as her only surviving child, Caldwell, died while on a trip to Florida. While historians do not agree on the exact cause of death – some say drowning, some say tonsillitis, some more sensationalist accounts even claim suicide or murder – one fact not disputed is that this final tragedy had Elizabeth turning once more to seek solace in the church, and in her community of workers. She again engaged Mr. Potter to design another commemorative building, this one to be known as the Caldwell Colt Memorial Parish House. This parish house was completed in 1895, 10 years before Elizabeth became the last of her family to pass away.
Both buildings are made of Portland brownstone accented with lighter Ohio sandstone. Several features of interest inside the church building include a marble baptistery in the form of three children holding a shell and a stained glass window featuring an angel holding three children, both meant to symbolize Elizabeth's children who died in infancy or early childhood. Another stained glass window depicts a St. Joseph who bears a strong resemblance to a certain deceased arms manufacturer. A truly unique feature of the church is the armorer's porch, embellished with stone carvings of gun barrels, pistol handles and other revolver and machinery parts. The parish house is decorated in an even more ornate style typical of the later Victorian period, and employs numerous nautical motifs throughout in tribute to Caldwell's vocation as a yachtsman. The ship's bell from his yacht, the Dauntless, hangs in the balcony.
The church grounds also have several points of interest. Modern additions include a Peace Pole inscribed with the text "May Peace Prevail on Earth" in English, Spanish, Swahili and Arabic and a 1990s art installation called "Silent Wishes" which is dedicated to Hartford youths dead of gang or domestic violence, AIDS or drug overdose. Perhaps of most interest to historians, though, are the marble slabs marking where an infield once stood. This Baseball Garden was once home to the Hartford Dark Blues of the fledgling National League, and is a sight unlikely to be seen in the front yard of any other church.
The Church of the Good Shepherd will soon be part of the Coltsville National Historical Park while the property will still be owned and operated by te Episcopal Diocese of Connecticut for the benefit of its congregation. It originated as a worker's church, with even the fancy ornamentation meant to reflect the blue collar reality that built and sustained the Colt manufacturing empire. Today, the church continues to uphold this tradition, providing outreach, assistance, and a sense of community to Hartford residents no matter their ethnicity or economic status. None of this is going to change, no matter how much tourist attention the church receives. Elizabeth Jarvis Colt would have expected no less, and her family's memorial is carrying on as she would have wished.
Sources
National Register of Historic Places Inventory Nomination Form: Church of the Good Shepherd and Caldwell H. Colt Memorial Parish House. National Park Service. February 20, 1975. Accessed June 25, 2018. https://npgallery.nps.gov/NRHP/GetAsset/NRHP/75001925_text.

Church of the Good Shepherd. Hartford.com. . Accessed June 25, 2018. https://hartford.com/venue/church-of-the-good-shepherd/.

Church of the Good Shepherd, Hartford (1869). Historic Buildings of Connecticut. May 19, 2007. Accessed June 25, 2018. http://historicbuildingsct.com/church-of-the-good-shepherd-hartford-1869/.

Colt Family Tragedy: Caldwell Hart Colt. Rock Island Auction Company. March 26, 2015. Accessed June 25, 2018. http://rockislandauction.blogspot.com/2015/03/colt-family-tragedy-caldwell-hart-colt.html.

Elizabeth Jarvis Colt Survives To Make the Colt .45. New England Historical Society. . Accessed June 25, 2018. http://www.newenglandhistoricalsociety.com/elizabeth-jarvis-colt-survives-to-make-the-colt-45/.

McNally, Owen. Separating History From Myth. Hartford Courant. September 08, 1996. Accessed June 25, 2018. http://articles.courant.com/1996-09-08/entertainment/9609060059_1_sam-colt-hartford-s-transformation-palace.


Additional Information