Sierra Mono Museum
Introduction
This small museum preserves and shares the history and culture of the Mono Indian Tribe. Members of the tribe offer courses where they teach their skilled methods of making baskets. They also offer courses in the Mono language throughout the year and a public Pow Wow once per year in the late summer. Inside the Museum there are many artifacts and baskets on display donated and on loan by members of the Mono Tribe. Other collections on exhibit include weapons, traditional games, ceremonial items, tools, and beautiful beaded crafts. Also on display is the Tettelton Wildlife Collection including dioramas and over 100 freestanding taxidermy animals from Northern America, Asia, and South America.
Images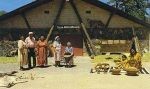 Backstory and Context
The museum has a workshop area where Elders make and instruct others in the art of Indian basketry and beadwork every Thursday from 10 – 1 pm.
Additional Information