Chuck Noll Historic landmark
Introduction
Chuck Noll field is a dedicated of honor landmark for the former head coach of the Steelers, Chuck Noll. On August 2, 2007, the field was dedicated and renamed Chuck Noll Field in honor of the former coach.The field is located in Latrobe, Pennsylvania at Saint Vincent College and its also home of the Saint Vincent Bearcats. In honor of Chuck Noll and the Steelers the team have there training camp at Chuck Noll field from July 25th to August 15th three weeks. Chuck Noll was the head coach for the Pittsburgh Steelers for 23 seasons from 1969 until 1991 and died June 13, 2014 from natural causes and Alzheimer's disease, a heart condition and back problems.
Images
As the quarterback calls the snap cadence, ( Down, Set, Hut) the photographer gets a photo during the Pittsburgh Steelers training camp.
Early fans sits and await for the Steelers to start practicing.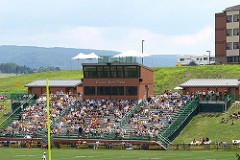 The image of Chuck Noll field, home of the Saint Vincent Bearcats polished up without any fans.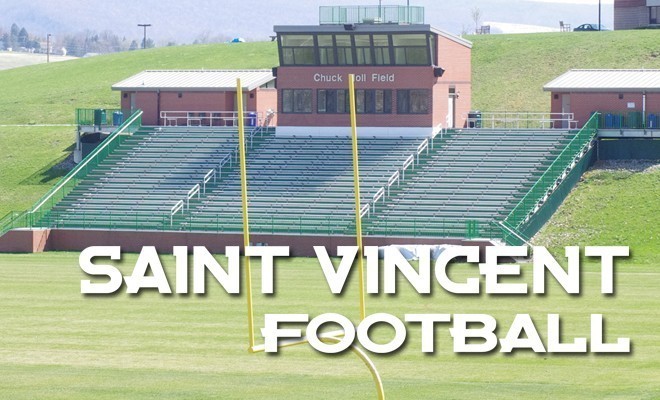 Backstory and Context
Charles Henry Noll (January 5, 1932 – June 13, 2014) was born January 5th 1932 in Cleveland, Ohio, the youngest of three siblings. Growing up living in a house with his mom and her 12 sibling's Noll had a championing desire for football playing on a youth football team with Harold Owens, Jessie Owens nephew. Throughout his teenage years of living he had got a job in the 7th grade and saved up so when he got to high school he can pay his school tuition. When he got to high school he attended Benedictine high school where he played on the football team getting All-State honors being the ideal athlete playing 3 different positions (running back, guard, and linebacker) helping his team while also getting enough film to go to college. During high school he still worked only making 55 cents an hour and still managed to go to school and graduate 28th out of 252 students in his class on a stern schedule.
Wrapping up his senior year of high school going into being a freshman in college, Noll (6 ft. 1 220 pound athlete) attended Notre Dame where his career was cut short due to a seizure during one of his practices during his freshman year. After seeing that the coach didn't want to risk him playing for the school, Noll decided to transfer to the University of Dayton where he received a full ride scholarship to come and play as a lineman and a linebacker while being the team's co- captain. After his remarkable career at Dayton, he entered the 1953 draft. With the 239th pick in the 20th round the Cleveland brown picked up Chuck Noll. From 1953 to 1960, Noll played 7 seasons with the Browns as a Linebacker and a Messenger Guard making 5,000 dollars a season until he decided he wanted to be a coach.
To start off his coaching career he coached the Los Angeles Chargers from 1960-1965 and then the Baltimore Colts in 1966-1968 before his Steelers era begun. He was an assistant coach for nine years before accepting his first and only head-coaching job with the Steelers in 1969. After accepting the Steelers head coaching job he changed the program around from a 1-13 losing team to super bowl champions. Taking over a Pittsburgh team that never seen the super bowl in 40 years he led them to four championships. He won the amount of 4 super bowls (9, 10, 13, and 14) in a six year starting period beating the Vikings 16-6 in super bowl 9 January 12th 1975. Returning to the super bowl the next year January 18th 1976 they beat the Dallas Cowboys 21-17. After some failures of chasing the Lombardi, the Steelers finally made it back to the championship and played against the Dallas Cowboys again in super bowl 13 January 21, 1979 and beat them 31-35 in a struggling close game. Returning again the next year for another back to back series they played for another super bowl title in 1980 and they defeated the Los Angeles Rams 31-19. After winning the four super bowls his championships came to a cease. Altogether, Noll's team won nine AFC Central Division championships and they had winning records in 15 of his last 20 seasons with the Steelers. After coaching 23 years for the Pittsburgh Steelers, he retired after the 1991 season going 16-8 in the post season, with an impressive 209-156-1 Steelers record in all games. Two years later after his retirement he was elected to the Pro Football Hall of Fame in 1993.
In Addition to his coaching legacy he will always be remembered with his landmark in Latrobe, Pennsylvania that is one of the most storied in the NFL. On August 2, 2007, Chuck Noll had a field dedicated to him and renamed after him at Saint Vincent College where the Steelers been have hosted there training camp for more than 40 years. The grass stadium hold a capacity of 1050 seats which the Steelers attract during their training camp period. It was Noll's idea to have the team practice outside of Pittsburgh to reduce distractions preparing for the upcoming season. Latrobe was the perfect fit for their training camp. When the Steelers come they take over the field. The players and coaches stay in dormitory Rooney hall named after Arthur J. Rooney Sr. the founder of the Steelers. The Steelers usually report to Saint Vincent College in late July, check in to Rooney Hall, and begin camp everyday. Most days open to the public. Some players report in exotic cars, others come in funny, exhilarating ways. During Training Camp, the Steelers split their time between working out, team eating's together, and film study. After the practices, the players stick around to take pictures, sign autographs, and sometimes give away their gear to the supporting fans.
In conclusion, throughout all the history of the Pittsburgh Steelers, Chuck Noll was one of the best coaches to come through the program and change the game. With Chuck Noll, the Steelers had success and was lead to 4 championships and many playoffs games. After the retirement of Chuck Noll he was greatly remembered as a hall of famer and he was dedicated the Saint Vincent college football field in honor of his historic success with the Steelers. In honor of his landmark and his success, the Steelers have all access to Chuck Noll field for their training camp where they have hosted it there for the past years.
Sources
Works Cited
http://www.profootballhof.com/players/chuck-noll/
https://en.wikipedia.org/wiki/Chuck_Noll
https://pittsburgh.cbslocal.com/2018/07/16/2018-pittsburgh-steelers-training-camp-guide/
https://en.wikipedia.org/wiki/Chuck_Noll_Field
Additional Information