Lydia Pinkham House
Introduction
A national historic landmark, the Lydia Pinkham House is used today as a collection of studio and business spaces under the collective name of Lydia Pinkham Labs, and is only open to the public for special events (see official website, linked below). Historically, it was the home and laboratory of one of the 19th century's most successful businesswomen, who began selling the famous patent medicine, Lydia Pinkham's Vegetable Compound, in the 1870s (4; 5).
Images
Lydia Pinkham House (image from Wikimedia)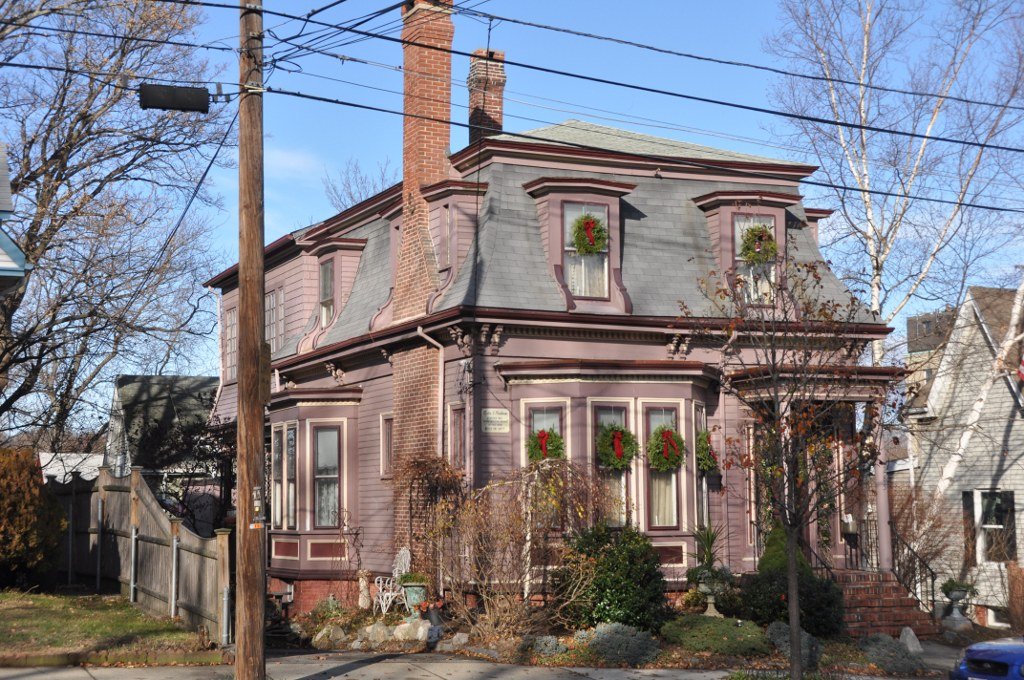 The Pinkham House in 1879 (image from the Lynn Public Library)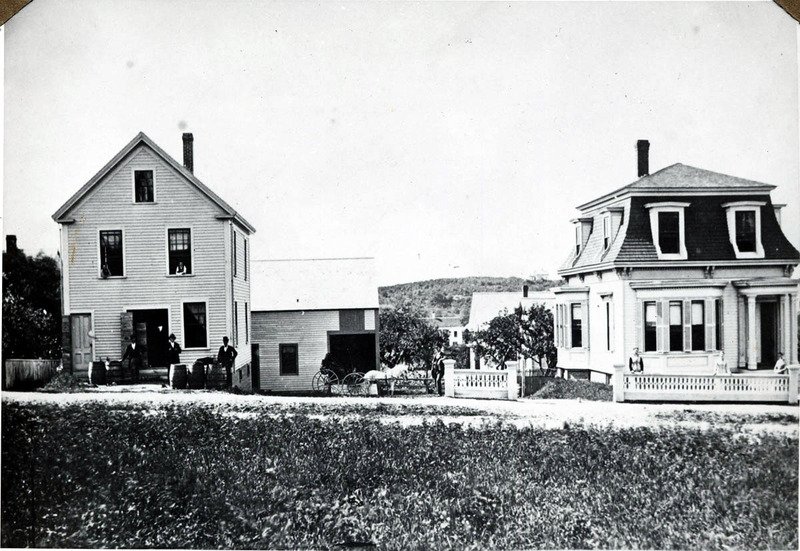 Lydia Pinkham (image from the Boston Public Library)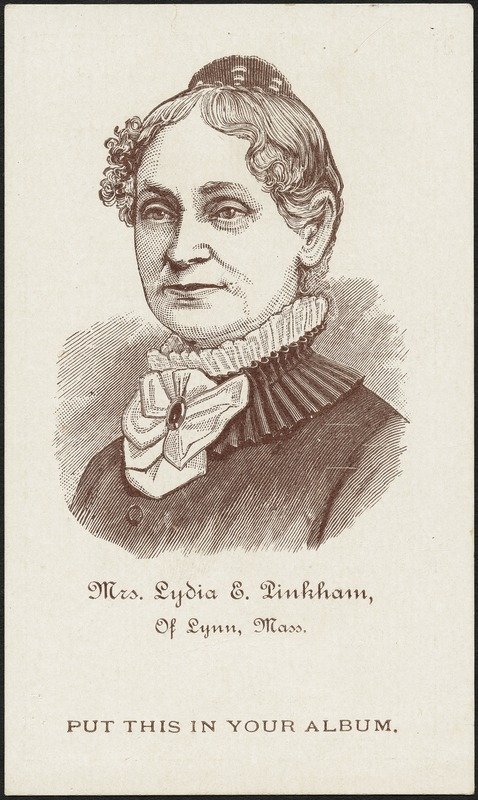 Victorian advertising card (image from Pinterest)
Backstory and Context
Lydia Pinkham and Patent Medicine
A native of Lynn, Massachusetts, Lydia Estes was born in 1818. Before her marriage to the wealthy Isaac Pinkham in 1843, Lydia worked as a midwife, nurse, and schoolteacher, as well as being a member of the Female Anti-Slavery Society and (ironically) the temperance movement. She was also interested phrenology, a pseudoscience popular in the 19th century which posited that personality was correlated to the form of a person's skull (4). Like most women of the nineteenth century, Lydia Pinkham mixed her own home remedies based on herbal family recipes (2; 3). Initially, then, the Vegetable Compound was formulated for the Pinkham family's use, then Lydia's friends. Possibly because of her work as a midwife, the focus of her efforts was relief of menstrual cramps, menopausal symptoms, and a number of other "female complaints". The original formula consisted of wild roots and herbs: Black cohosh (said to be an anti-inflammatory sedative), life root, unicorn root (said to reduce miscarriages), pleurisy root (said to cure a prolapsed uterus), and fenugreek seed, all in a twenty percent alcohol solution as a "preservative" (3; 4). Later, the family also created lozenges and pills for customers wishing to avoid alcohol. As a member of the temperance movement, Lydia Pinkham herself may have intended the alcohol content of her formula as a legitimate preservative and/or medicinal component, but like many patent medicines with high alcohol content or other psychoactive ingredients, the compound was widely abused (1; 2; 3; 7).
Lydia Pinkham's Vegetable Compound gained popularity beyond her immediate circle around the same time period as that the United States was struck by the 1873 economic depression. Her husband's real estate fortune was deeply impacted, but Lydia and her three sons were able to found Mrs. Lydia Pinkham's Medicine Company, which operated out of the family's basement. Lydia E. Pinkham's Vegetable Compound was patented in 1876, initially sold for a dollar per bottle locally, in Lynn, before spreading to the rest of New England and subsequently the rest of the United States (3; 4). The medicine company used advertising techniques which were groundbreaking at the time, using Lydia's portrait on product labels and in promotional material and encouraging readers to write to her with their medical concerns and questions. This gave her products a personal dimension and formed a perceived woman-to-woman relationship between Lydia Pinkham and her customers. The medicine company also published letters from customers in "Pinkham Pamphlets," which also printed medical advice (claimed to be directly from Lydia) in answer to women's letters. Pinkham guaranteed that no man would ever read the letters addressed to her, although in reality all letters were responded to by staff of the company (3; 4; 6). Lydia Pinkham's Vegetable Compound was initially marketed as a remedy for menstrual cramps, but packaging and advertisements later claimed to assist in conception, reduce miscarriage, and treat kidney and ovarian diseases, with the catchphrase, "There's a baby in every bottle," (3). The result of Lydia Pinkham's advertising was that she became one of the most successful, well-known businesswomen of her time. By 1883, when Lydia died, her Vegetable Compound was bringing in $300,000 a year. The family maintained the business for another fifty years after her death, expanding production to Canada and Mexico, and by 1925 the compound was earning nearly four million dollars annually (4).
Mrs. Lydia Pinkham's Medicine Company enjoyed this success in spite of outcries against patent medicines in general and against the Vegetable Compound in particular. Being one of the most widely used patent medicines, it was often targeted in "exposés detailing the excesses and dangers of patent medicines," (6) including Samuel Hopkins Adam's Great American Fraud series. As a result of these articles, the Pure Food and Drug Act was passed in 1906, requiring companies to display the contents of products on the label; subsequently, Mrs. Lydia Pinkham's Medicine Company reduced the alcohol content of the Vegetable Compound from twenty to fifteen percent (3; 6). The family company continued, however, until it was sold to Cooper Laboratories of California in 1968. Today, non-alcoholic versions of Lydia Pinkham's recipe are still sold in pill and liquid form (3; 4).

Though Lydia Pinkham's 19th century Vegetable Compound may have fallen into the realm of quack medicine, it nevertheless played an important role in the history of medicine, and especially of women's medicine. The nineteenth century saw significant changes in medicine, in part, due to a movement on the part of patients demanding more control over their treatments, referred to by some historians as the "democratization of medicine," (6; 7). While this allowed for unregulated and often dangerous medicines and medical equipment on the marketplace, it also pushed mainstream medicine to improve and produce more reliable, scientific treatments and results. The democratization of medicine was in many ways especially empowering for women; at the time Lydia Pinkham formulated her Vegetable Compound, "the standard treatment for severe menstrual cramps involved surgically removing the ovaries, a medical procedure with a forty percent mortality rate," (3). Pinkham's straightforward language and advice on taboo topics of women's health, bodies, and reproductive processes was an alternative to the male-dominated medical profession, an intentional challenge on Lydia's part against what she considered male physicians' indifference to women's health (3; 4; 7).

Sources
1. Acitelli, Tom. "Feds Landmark Lynn Home of Famous Potion Peddler." Boston Curbed. October 1, 2014. Accessed August 4, 2018. https://boston.curbed.com/2014/10/1/10041112/feds-landmark-lynn-home-of-famous-potion-peddler.
2. Goodman, Ruth. "How to be a Victorian: A Dawn-to-Dusk Guide to Victorian Life." 2013. W.W. Norton & Co. Ltd., New York and London.

3. Horwitz, Rainey. "Lydia Pinkham's Vegetable Compound (1873-1906)." The Embryo Project Encyclopedia. May 20, 2017. Accessed August 4, 2018. https://embryo.asu.edu/pages/lydia-pinkhams-vegetable-compound-1873-1906.

4. Lydia E. Pinkham Company Records. Digitized pamphlets. Accessed through Harvard University, August 4, 2018. http://ocp.hul.harvard.edu/ww/pinkham.html.

5. Lydia Pinkham Labs. Official website. Accessed August 4, 2018. http://www.lydia-pinkham.com/.

6. National Park System Advisory Board. "Lydia Pinkham House Nomination." Accessed August 4, 2018. https://www.nps.gov/nhl/news/LC/fall2013/PinkhamES.pdf.

7. Young, James Harvey. "The Toadstool Millionaires: A Social History of Patent Medicines in America before Federal Regulation." 1961. Princeton University Press, Princeton, New Jersey.

Additional Information