Swan Point Cemetery
Introduction
This Providence cemetery was in the planning stages as early as 1828, when local educator Thomas C. Hartshorn became concerned about the deplorable state of local burial facilities. It took nearly 20 years for his plans to come to fruition, but by 1847, the new cemetery was open for business. It held its consecration cemetery on July 2 of that year, with blessings from two Congregational ministers and one Episcopalian one, as well as a speech by the president of Brown University. Local residents saw Swan Point as one of the finest examples of a new trend away from burials in urban lots near churches in favor of a dedicated "rural cemetery" with park-like surroundings that provided a more serene setting in which to remember the dearly departed. Providence's Swan Point ranked among the finest cemeteries at a time with middle and upper-class residents devoted substantial resources to burial rituals and considered the ownership of a family plot within one of the city's leading cemeteries to be a mark of status. This cemetery with its tranquil landscaping, floral plantings, and funerary art as graceful as the swan in its name was part of that tradition.
Images
Swan Point Cemetery, a stereoptic view from the 1870s.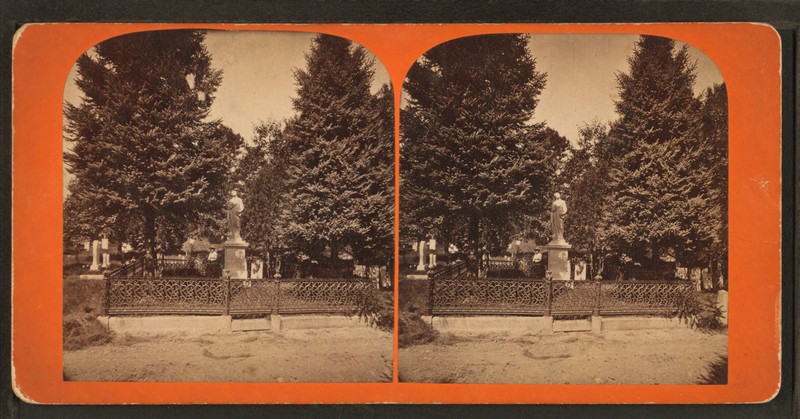 One of Swan Point's numerous grave monuments.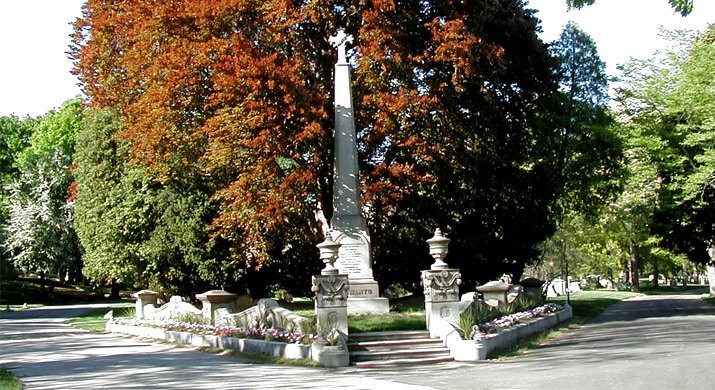 Another monument, this one located along Forest Avenue.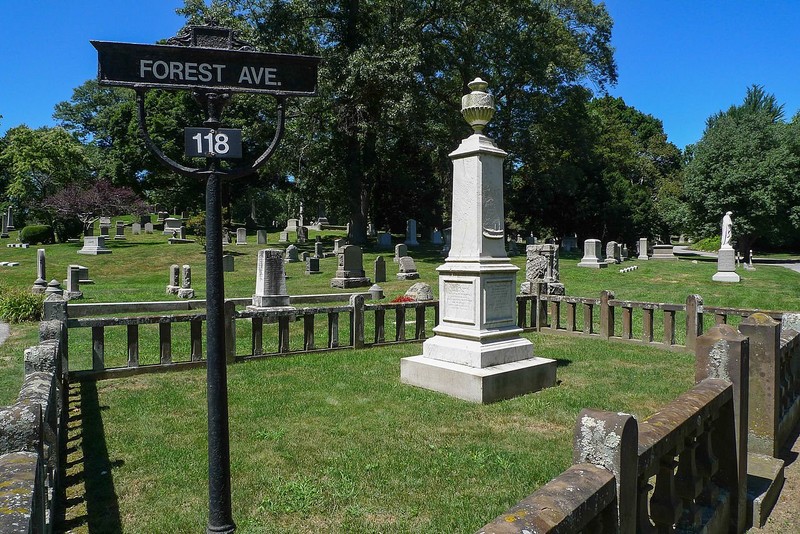 An attractive grouping of monuments.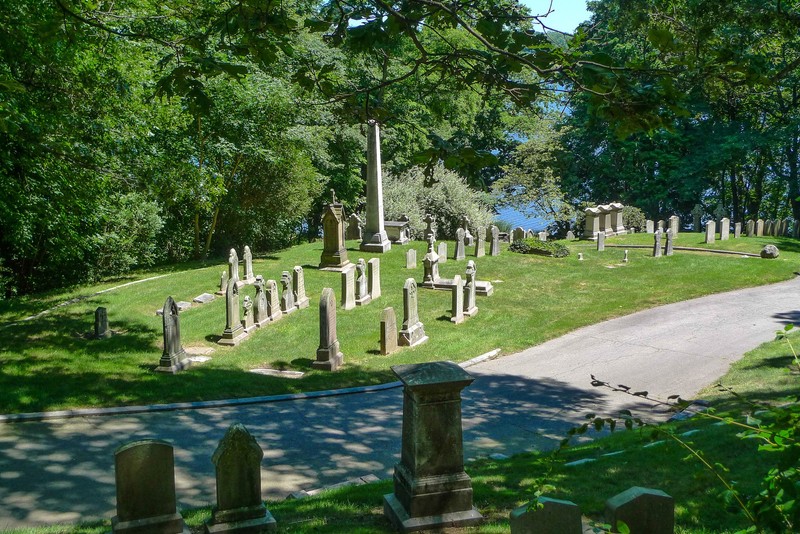 Colonel John Slocum of the 1st Rhode Island Infantry, commanding officer of Major Sullivan Ballou, killed alongside him at 1st Bull Run.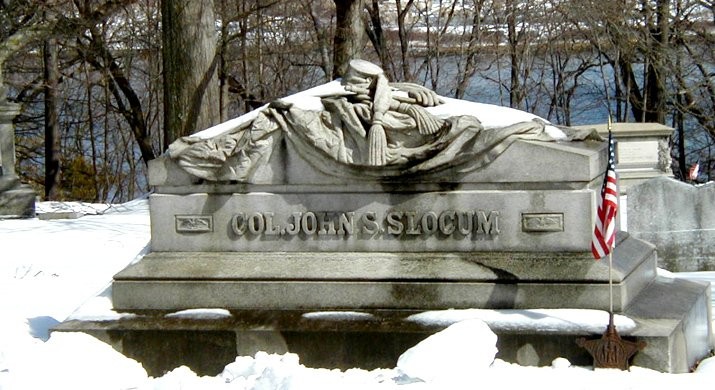 Major General Ambrose Burnside, who survived the war to serve as governor of Rhode Island from 1866 to 1869.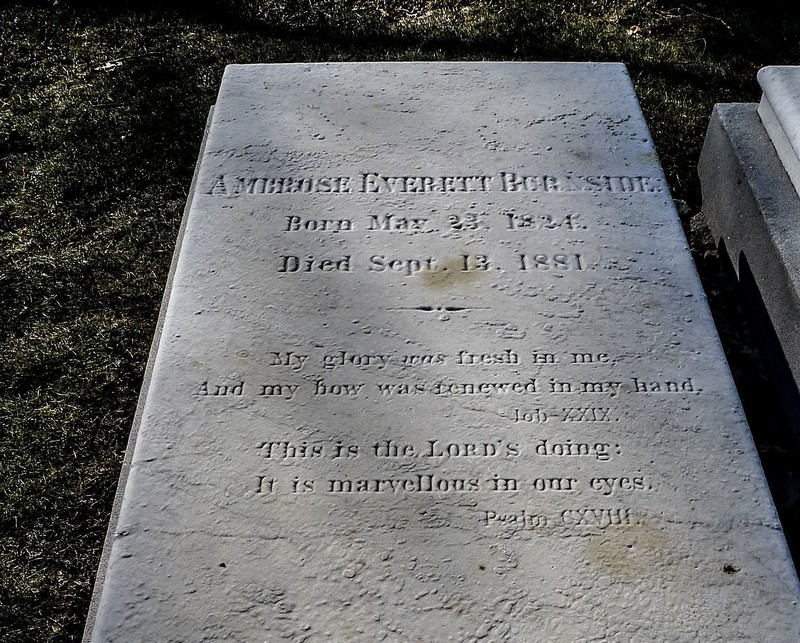 General Burnside with his namesake facial hair.
The Historic Chapel, built in 1932, oldest of Swan Point's three chapels used for funerals and memorial services.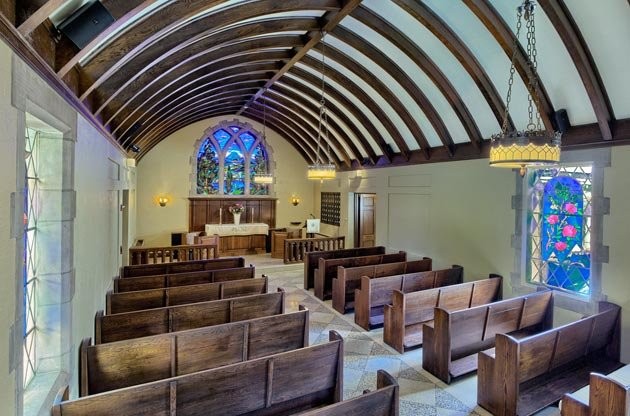 Some trees which would probably be even more scenic had this photo not been taken in March.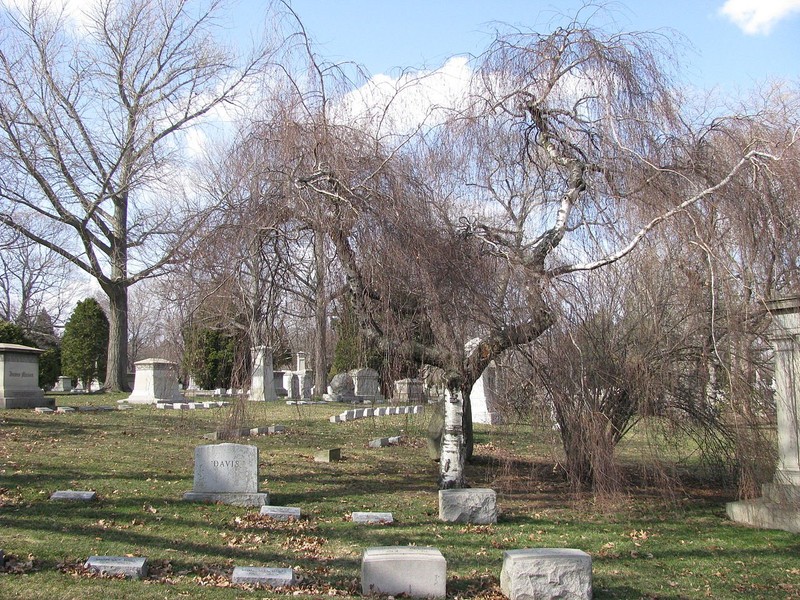 Howard Phillips Lovecraft's monument, complete with gifts from some of his devoted fans.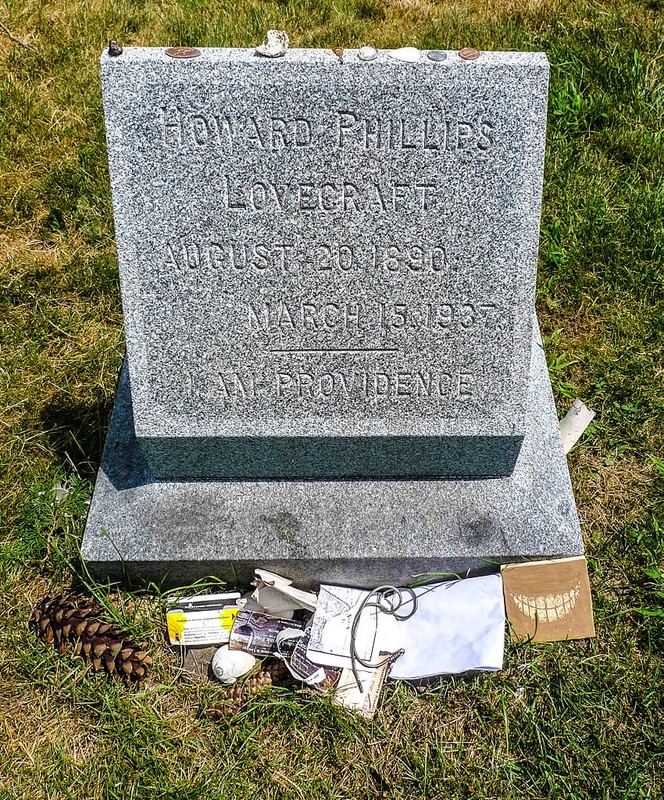 Backstory and Context
A 12-year-old boy was the first person to be buried at Swan Point in 1847 with a monument erected that August. While sightseers were admitted by foot on weekdays, anyone arriving by carriage or on a Sunday had to have an admissions ticket provided by a lot owner. Picnicking on the grounds was strictly prohibited, as were firearms, dogs, smoking and flower-picking.

During the 19th century, mourning the deceased was an established Victorian tradition that might include special mourning jewelry made with the hair of the deceased. Others might utilize recent technology into the ritual with photographic portraits taken postmortem. New England poet William Cullen Bryant penned a work that typifies the way many others viewed the passing with a work called Thanatopsis, meaning "view of death."
The cemetery expanded over the years, acquiring both land and new occupants from several smaller churchyard cemeteries who relocated graves and sold their increasingly-valuable urban plots to support the congregation. The Civil War resulted in a dramatic increase in burials and the cemetery acquired more acreage in 1862 to accommodate the need for new plots. In 1886, Chicago landscape architect H.W. S. Cleveland was hired to do some remodeling and help ensure that the cemetery maintained its restful, natural beauty despite its rapid expansion. By this time, Swan Point Cemetery was already regarded as the state's most prestigious burial ground, with more and more of its most prominent citizens choosing to be buried here.
Today, a stroll through the cemetery and reading names on tombstones may feel like paging through a "Who's Who" of Rhode Island history. Under these stones and monuments lie politicians, businessmen, artists, writers, and soldiers. Perhaps best known among the Civil War soldiers buried here is Major Sullivan Ballou, whose last letter to his wife provided one of the most unforgettable moments in Ken Burns' 1990 documentary The Civil War.
Unfortunately, only a portion of Major Ballou actually made it home to Rhode Island, as his corpse was stolen and desecrated shortly after the First Battle of Bull Run where he lost his life. Another famous Civil War officer, Major General Ambrose Burnside, survived the war to serve as governor of Rhode Island before being interred at Swan Point in 1881. Despite his long and usually illustrious military and political career, Burnside is best known for his contribution to the English language and to tonsorial history – a reversal of the two compound elements of his last name gives us the word we still use to describe the type of side whiskers he favored: Burnside = sideburn(s).
No visit to Swan Point would be complete, however, without a stop at the grave of its most famous inhabitant, Providence's own H.P. Lovecraft. Horror author Lovecraft actually does not lie beneath the relatively plain marker, which was commissioned in 1977. Instead, his body was buried by the adjacent Phillips monument, which is engraved with his name as well as those of his other family members. His grave is also the site of annual gatherings around his death date of March 15 where devotees of the Cthulhu mythos he created gather to read aloud from his works. During some of these celebrations, certain strange events have occurred, such as unexplained noises or a very brief freak snowstorm. These have given rise to the story that perhaps his spectre is still haunting the site. If so, it is certainly preferable to being pulled into any of the hellish nightmare worlds Lovecraft so vividly described in his stories.
In 2017 the cemetery opened up an additional two and a half acre burial area with a cremation garden, a plot designed to fit in harmoniously with the historic cemetery while providing a more contemporary feel. Swan Point also goes to great lengths to be eco-friendly, composting old floral arrangements and using the waste to grow new flowers in an onsite greenhouse. The cemetery was even an early adopter of technology, with burial records and grave locations having been computerized for the past 20+ years. Today, you can even locate a burial plot via scanning a QR code. All of the most up-to-date modern conveniences, and yet all of the historic charm, that is what Swan Point Cemetery strives for in this, it's third century as the state's premier burial ground.
Sources
History. Swan Point Cemetery. . Accessed July 23, 2018. http://swanpointcemetery.com/history.php.

Swan Point Cemetery. Find A Grave. . Accessed July 23, 2018. https://www.findagrave.com/cemetery/1584940/swan-point-cemetery.

Kandarian, Paul E.. R.I.'s resting place of renown. Boston.com. December 13, 2009. Accessed July 23, 2018. http://archive.boston.com/travel/explorene/rhodeisland/articles/2009/12/13/ris_resting_place_of_renown/.

Grandle, Cara. Mourning Jewelry and Death Photography. Heroes, Heroines and History. March 17, 2018. Accessed July 23, 2018. https://www.hhhistory.com/2018/03/mourning-jewelry-and-death-photography.html.

Thanatopsis. Encyclopaedia Britannica. . Accessed July 23, 2018. https://www.britannica.com/topic/Thanatopsis.

A History of Swan Point Cemetery. The LA History Archive. . Accessed July 23, 2018. http://www.lahistoryarchive.org/resources/SWAN_POINT/index.html.

Historical and Architectural Resources of the East Side, Providence: A Preliminary Report. Rhode Island Historical Preservation Commission. . Accessed July 23, 2018. http://www.preservation.ri.gov/pdfs_zips_downloads/survey_pdfs/prov_eastside.pdf.

Tucker, Aimee. Swan Point Cemetery in Providence, Rhode Island | Local Treasure. Yankee Magazine. October 02, 2014. Accessed July 23, 2018. https://newengland.com/yankee-magazine/travel/swan-point-cemetery/.

Patinkin, Mark. Lost in monument debate: Sacrifice of the Union fallen. Providence Journal. August 17, 2017. Accessed July 23, 2018. www.providencejournal.com/news/20170817/mark-patinkin-lost-in-monument-debate-sacrifice-of-union-fallen.

Welles, Hunter. The Most-Visited Grave in Swan Point Cemetery. Innsmouth Free Press. . Accessed July 23, 2018. http://www.innsmouthfreepress.com/blog/article-the-most-visited-grave-in-swan-point-cemetery/.

Providence, Rhode Island: H.P. Lovecraft's Grave. Roadside America. . Accessed July 23, 2018. https://www.roadsideamerica.com/tip/9343.

Grave of H.P. Lovecraft. Quahog.org. . Accessed July 23, 2018. http://www.quahog.org/attractions/index.php?id=3.

H.P. Lovecraft's Grave. Atlas Obscura. . Accessed July 23, 2018. https://www.atlasobscura.com/places/hp-lovecrafts-grave.

Swan Point Cemetery. Occult World. July 15, 2018. Accessed July 23, 2018. http://occult-world.com/haunted-rhode-island/swan-point-cemetery.

Events Calendar. Lovecraft Arts & Sciences. . Accessed July 23, 2018. https://www.weirdprovidence.org/events.html.

Tomison, Bill. Swan Point opening new space for burial sites. WPRI. November 13, 2017. Accessed July 23, 2018. https://www.wpri.com/community/swan-point-opening-new-space-for-burial-sites/1082392763.

Howard-Fusco, Lisa. More Than Just Another Pretty Place. American Cemetery & Cremation. January, 2015. Accessed July 23, 2018. http://swanpointcemetery.com/pdf/ACE.pdf.


Additional Information