Seneca Fire Department Museum
Introduction
Equipment on display in the museum are the restored 1922 Stutz, the Ladder Wagon and the Boyer Fire Apparatus
Images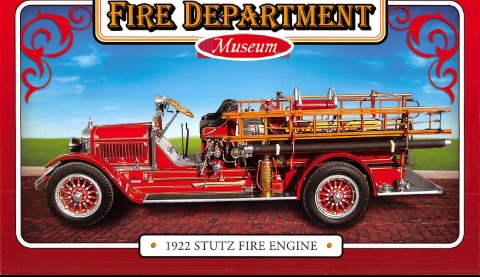 Backstory and Context
History of the Seneca Fire Department
The Seneca Fire Department was organized first in 1884 as the Hook and
L.dder Company. The first fire chief was John Gilchrist. Equipment was horse drawn.
In July of 1889 a Holloway chemical
"spuirter" was purchased. It had rwo tanks with a capacity of fifty gallons of water each. Ir was fueled by vitriol.
In November of 1890 the name of the department became Seneca Volunteer Fire Department. The first Thanksgiving BaII was held that year.
In March of 1922 the Stucz Model K Engine, designed by Henry Stutz was purchased for $6,650. The truck weighed 8,500 lbs. with a 58 h.p. engine. The pump was capable of 400 lbs of pressure.
In 1925 a Packard was purchased for use as a country fire truck. In 1979 a jaws of life was acquired.
The present organi1,arion is 28 firemen. With 11 officers, 17 firefighters including I chief and 2 assistant chiefs.
Open by Appointment: Monday-Friday Call 785-336-2747 or 785-336-2294
(after hours see call list of retired fireman, ar museum)
Sources
City of Seneca. Museums. . Accessed August 15, 2018. http://seneca-kansas.com/community/museums/.

Fire Department Museum. Seneca, KS. Seneca Travel and Tourism.


Additional Information