The Brooks Estate
Introduction
The Brooks Estate comprises over 50 acres of wetlands, maple and oak forest, the 9-acre Brooks Pond, and historic buildings of the Victorian era. The grounds connect with Winchester Town Forest, part of a wildlife corridor to the Middlesex Fells, and are open to the public for fishing, bird-watching, and walking or hiking the trails. The historic Shepherd Brooks Manor and Carriage House buildings are undergoing restoration as of 2018 (see official website for events during which these buildings can be toured) (1).
Images
Shepherd Brooks Manor (image from the Boston Globe)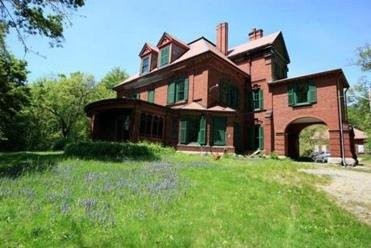 Brooks Manor 1881 (image from the Brooks Estate)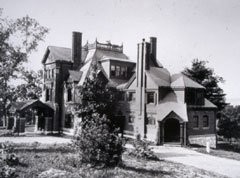 Shepherd Brooks and family (image from Medford-Brooks Estate Land Trust Archives)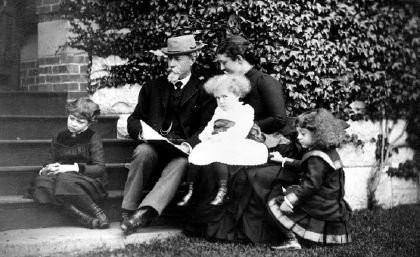 Construction of Brooks Pond 1884 (image from Medford-Brooks Estate Land Trust Archives)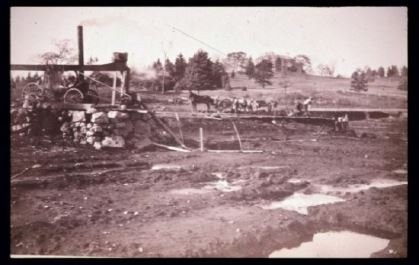 Point-of-Rocks, Brooks Estate (image from Medford-Brooks Estate Land Trust Archives)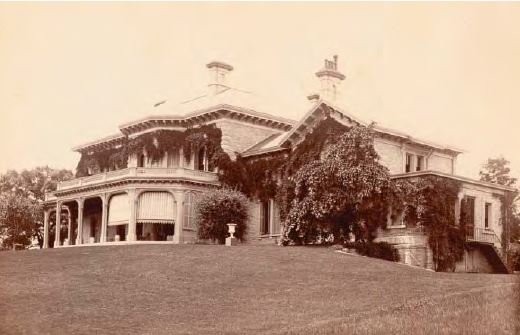 Backstory and Context
The Brooks Family
One of Medford's founding families, the Brooks purchased 400 acres of today's West Medford in 1660. The triangle at the intersection of present-day High Street and Grove Street, known as the Delta, served as the unofficial entry to the Brooks family properties, and is the oldest part of Medford's park system today. One of the only physical remnants of slavery in the city is a stone wall constructed in 1765 by a slave named Pomp, who was the property of brickyard owner Thomas Brooks (2; 3). Dr. John Brooks (1752-1825) was born in Medford and trained under the town's first doctor, Simon Tufts. He worked first in Reading, where he became Captain of the Minutemen. He fought at the Battles of Concord and Bunker Hill, became a Captain in the Continental Army, and fought at Saratoga, White Plains, Valley Forge, and Long Island. John's father, Captain Caleb Brooks, was one of four citizens of Medford who answered Paul Revere's call to join the Battles of Lexington and Concord. When Dr. Tufts retired in 1783, John Brooks took over his Medford practice. John Brooks was elected to the Massachusetts House of Representatives in 1785, and was a delegate at the 1788 Massachusetts Convention which ratified the U.S. Constitution (2; 3). He went on to become Governor of Massachusetts, serving seven consecutive one-year terms from 1816-1823; he was the "last significant Federalist elected official in office in the United States," (2). At his funeral in 1825, George Washington gave the eulogy (3).
Eight generations of the Brooks family lived in Medford, including marine insurance agent Peter Chardon Brooks (1767‐1849), the first millionaire in Massachusetts. His grandsons, brothers Peter Chardon Brooks III (1831-1920) and Shepherd Brooks (1837-1922), constructed the two 19th century homes on the present-day Brooks Estate (1; 2). The home constructed for Peter III, Point of Rocks, was designed by Calvert Vaux as a summer home and "gentleman's farm" at the highest point in West Medford in 1859. Point of Rocks was constructed of granite in an Italianate style; unfortunately, the house was abandoned following Peter's death and the Great Depression. The city acquired the Brooks Estate in 1942 and hoped to use Point of Rocks to house veterans of World War II, but vandalism and theft of architectural parts made the house unsalvageable. The building was razed in 1946 (2).
Architect, farmer, and Harvard graduate Shepherd Brooks constructed his own summer manor, Acorn Hill (now known as the Shepherd Brooks Manor), in 1880, which is the core of today's Brooks Estate. Designed by Peabody and Stearns, the manor is a Queen Anne style home built of brick, with a granite foundation made of recycled Middlesex Canal stones. Shepherd also had Brooks Pond created—the largest man-made landscape element in the city of Medford. The family summered at the Manor until 1939, when Shepherd's widow, Clara Gardner Brooks, died. The Manor became a multi-family home for veterans during the development of nearby Brooks Village, then served as a nursing home and later a group home for developmentally challenged adults. In 1998, restoration of the National Register-listed Manor and its Carriage House began (1; 2).
Sources
1. Medford-Brooks Estate Land Trust, Inc. "The Brooks Estate." Official website. Accessed September 9, 2018. http://www.brooksestate.org. 2. Medford-Brooks Estate Land Trust, Inc. "Brooks Family Medford Heritage Trail." 2012. Accessed September 9, 2018. http://www.brooksestate.org/pdfs/BrooksFamilyMedfordHeritageTrail2012.pdf. 3. Seaburg, Carl and Alan Seaburg. "Medford on the Mystic." The Medford Historical Society, April 1980. Excerpts accessed September 9, 2018 at http://medfordhistorical.org/.

Additional Information