Elizabeth Building
Introduction
The Elizabeth Building (1876) represents an era when cast-iron commercial building dominated urban downtown regions, both in Providence and throughout the nation, serving as the precursor to the modern, steel skyscraper. The building is one of the few remaining buildings built during the era. The structure arose concurrently with Providence's population boom (growing more than 50% during the 1870s) and commercial construction boom.
Images
Elizabeth Building, Providence, Rhode Island, 2007.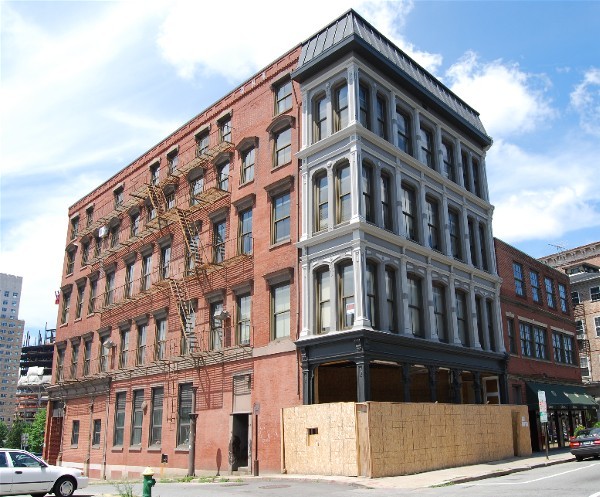 Backstory and Context
The five-story Elizabeth Building building was built roughly in the 1875-1876 timeframe and stands today as one of Providence's few cast-iron fronts. The building represents a period in Providence (and the U.S.) when commercial architecture grew increasingly popular and distinct, a precursor to the age of the glass and steel skyscraper. The Elizabeth Building arose during a commercial construction boom in Providence during the 1870s and 1880s coinciding with a population boom (the city populace grew by more than 50% during the decade).
The structure's Black-painted cast-iron front dually forms the main (east) street facade and also wraps around a two-bay section of the south side of the thin but sizable, rectangular structure, which allows one to see the ornamental detailing even if approaching the building from an angle as it wraps around the building. Moreover, an 1891 photograph offers evidence that the upper stories of the iron front minted in a light color imitated a stone facade.
Though the cast-iron cast facade enjoys four separate levels, the building contains five stories, which can be seen by looking at the rear of the building. Meanwhile, given its commercial purpose, the interior possessed little decoration or complexity.
In the end, to look at the Elizabeth Building is to peer into a time when the Industrial Revolution was taking hold of the U.S. and commercial building dominated the urban landscapes. Cast iron facades served as the forerunner to city downtown regions and modern skyscrapers.

Today, the building functions as an apartment complex.
Sources
Cady, John Hutchins. The Civic and Architectural Development of Providence 1636-1950. Providence, The Book Shop, 1957.

Hauck, Alice H.R. "Nomination Form: Elizabeth Building." National Register of Historic Places. April 7, 1971. http://www.preservation.ri.gov/pdfs_zips_downloads/national_pdfs/providence/prov_north-main-street-100_elizabeth-building.pdf

Woodward, William McKenzie. Providence: A Citywide Survey of Historic Resources. Providence: Rhode Island Historical Preservation Commission, 1986.

Photo Source

Elizabeth Building, Providence, Rhode Island, 2007: By Marcbela (Marc N. Belanger) - Own work, Public Domain, https://commons.wikimedia.org/w/index.php?curid=4445065


Additional Information