Clover Bottom Mansion
Introduction
Constructed in 1858, this antebellum mansion was the center of a vast plantation, a state home for the mentally disabled, and has been the home of the Tennessee Historical Commission and the State Historic Preservation Office since 1994. Clover Bottom Mansion was listed on the National Register of Historic places in 1975 for its architectural and historical significance. Today, the Clover Bottom Mansion and a portion of the original plantation are owned by the State of Tennessee with the Tennessee School for the Blind campus located less than a mile from the mansion. The property includes several restored slave cabins and markers that interpret the history of the enslaved persons, wealthy planters, and patients who have lived at Clover Bottom for the past two centuries.
Images
The Clover Bottom Mansion as it looks today. Credit: Tennessee Council for Professional Archaeology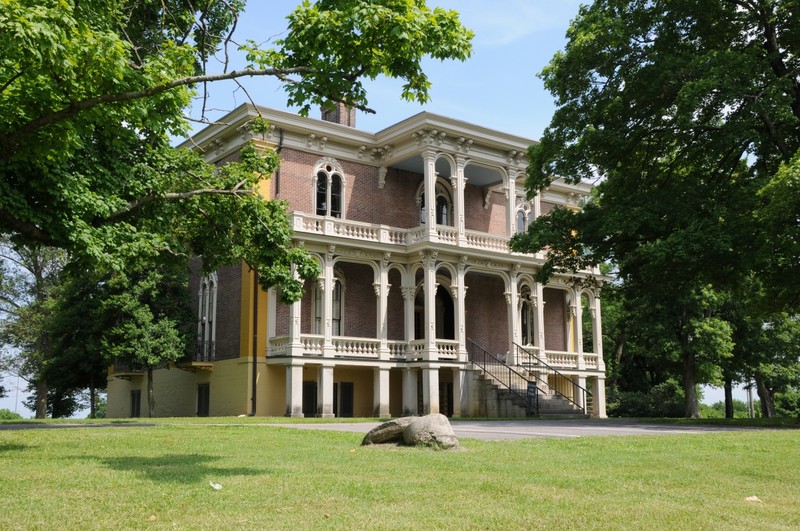 Restored slave cabins at Clover Bottom. c. 1858. Credit: Carver Moore, 2017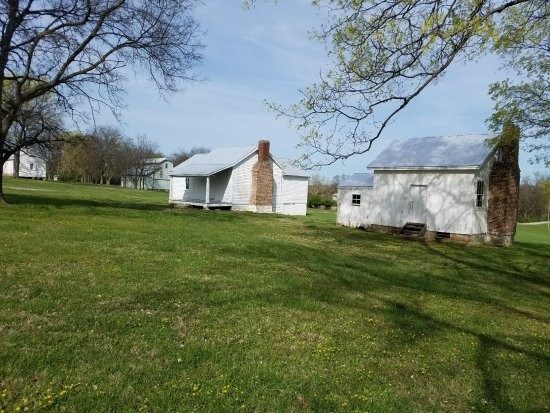 Parlor at Clover Bottom Mansion, Donelson, Tenn., 1918 May 14. Price-Gay Family Papers, 1822-1944, Box 18, Folder 5. Credit: Tennessee State Library and Archives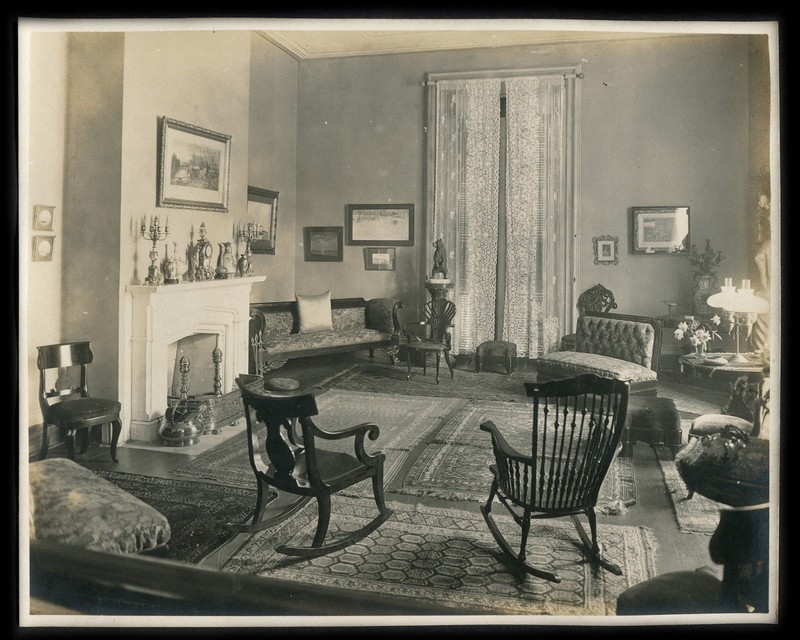 John McCline's Story. Credit: JackR46, TripAdvisor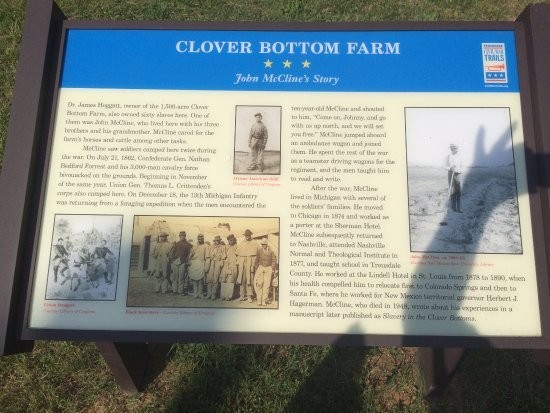 The family cemetery is located approximately five hundred yards from the Mansion on a knoll that overlooks Stone's River bottom land. Credit: Dori & Dick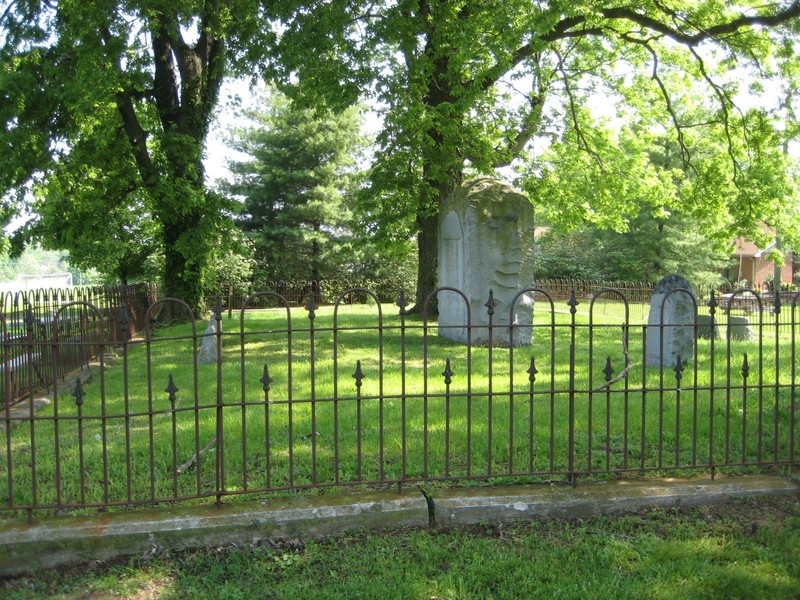 The Tennessean, 09 Jan 1989, Mon, Page 13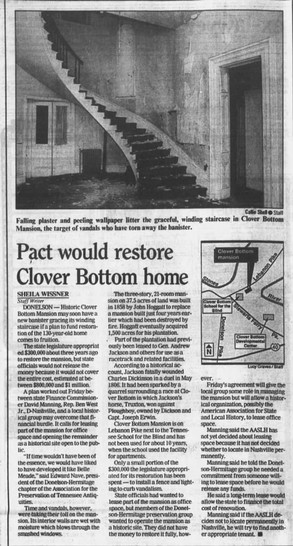 The hallway walls were covered in a scenic wallpaper which was manufactured by Zuber in France in 1838. Credit: Nashville Interiors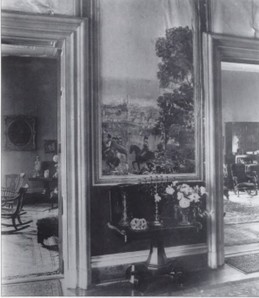 Backstory and Context
Clover Bottom Mansion occupies land on the Stones River first claimed in 1780 by John Donelson, who abandoned his homestead following an attack by area Native peoples. James Hoggatt inherited the land from his father and Revolutionary War soldier, Captain John Hoggatt. Clover Bottom Mansion was built for James and Mary Ann Saunders Hoggatt in 1858. The Hoggatt family's wealth came largely from the labor of enslaved persons and an estimated sixty slaves operated the plantation. Mrs. Hoggatt was a granddaughter of Daniel Smith, and her half-brothers were Andrew Jackson Donelson and Daniel Smith Donelson for whom Fort Donelson was named
The mansion incorporated portions of a previous house that had been built by the Hoggatts in 1853 and was destroyed by fire. The architecture is Italianate Manner or Italian Villa style. The historical significance is led by John Donelson, one of the founders of Nashville settled early in the area, followed by Andrew Jackson, who married John's daughter, Rachel.
The mansion and plantation were located near Nashville's first horse racing track. As early as 1804, influential Tennesseans such as Andrew Jackson were racing their horses at the Clover Bottom Jockey Club situated in the bottomland along the Stone's River. Jackson was involved in a store and tavern nearby and had a keelboat yard on the Stone's River.
Louisiana Congressman Andrew Price and his family lived in the mansion from the 1880s through 1918. The Stanford family acquired the home in 1918 and later sold the property to the state. In 1923, the mansion became the Tennessee Home and Training Center for Feeble-Minded Persons. Over the years this state-operated institution went through many name changes (Clover Bottom home in 1946, Clover Bottom Hospital in 1961 and Clover Bottom Developmental Center in 1973.) Many men, women, and children with Down Syndrome, autism and other disabilities were sent to Clover Bottom, some living out their lives at the facility. At its peak, some 1500 people lived in the facility.
Clover Bottom was originally scheduled to be closed in 2005. Over the years there were several patient abuse cases--many going unreported to the police. Since 2002, until Clover Bottom's closing in 2015, there was just under 300 reported cases of abuse, neglect, and exploitation. In 2010, Tennessee Governor Phil Bredesen promised to close Clover Bottom by the end of the year. Due to family concerns the closing was delayed. In February 2014, a Tennessean investigation found the long delays in closing Clover Bottom had added up to huge costs for taxpayers--nearly half a million per resident per year, which was more than twice the national average for similar institutions. In November of 2015, the last six residents were moved from the Clover Bottom cottages.
Sources
Edwards, Amelia Whitsitt. Images of America: Nashville Interiors 1866 to 1920. Charleston, SC. Arcadia, 1999.

Historic Nashville Behind-the-Scenes Tour of Clover Bottom Mansion & Outbuildings. Historic Nashville, Inc.. . Accessed September 26, 2018. http://historicnashvilleinc.org/event/historic-nashville-behind-the-scenes-tour-of-clover-bottom-mansion-outbuildings/.

Public records reveal Clover Bottom patient abuse cases went unreported to police. WJHL, 2016. Youtube Video.

Sikes, Kathryn. Unearthing Clover Bottom's Majority: Using Archaeology to Trace One Community's Path to Freedom. Tennessee Archaeology Council. . Accessed September 26, 2018. https://tennesseearchaeologycouncil.wordpress.com/2015/09/28/30-days-of-tennessee-archaeology-2015-day-28/.

Wadhwani, Anita. Clover Bottom's troubled history comes to an end. Tennessean. January 02, 2016. Accessed September 26, 2018. https://www.tennessean.com/story/news/health/2016/01/02/clover-bottoms-troubled-history-comes-end/76624670/.

Wadhwani, Anita. The long wait. Tennesseean. February 08, 2014. Accessed September 30, 2018. https://www.tennessean.com/story/news/2014/02/09/thelongwait/5299521/.

Additional Information