Morton Plant Hospital
Introduction
This hospital was built because a father couldn't find a hospital for his severely injured son and so using his railroad connections brought a surgical team. That father was Morton Freeman Plant. Later he provided half the money and the city of Clearwater provided the other half. The hospital was built in 1916.
Images
https://baycare.org/mph/services/maternity/the-doyle-tower-at-morton-plant-hospital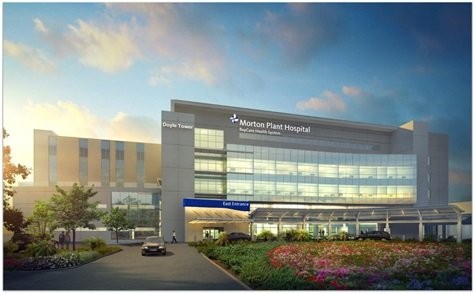 Backstory and Context
Imagine being in need of medical attention, or someone you know. Now imagine you can't get that attention because there is no medical facility. Morton Plant Hospital is the first ever hospital built in Clearwater Florida, playing a major role in in the development of the city, providing an essential service to a growing community in need.

The place we now know as Clearwater, was once called Clear Water Harbor, until Clear water became one word in 1895, and the word Harbor was dropped in 1906. Clearwater was filled with clear springs back when the place was only known to Native Americans, all of which are now gone. In 1567, Pedro Menendez established missions throughout the area however many people died in battle with the natives, settlers didn't return to the area until the 1800. The government built Fort Harrison which is where Safety Harbor is now located. The fort was then abandoned in 1841.
After the railroad was built in 1888, Clearwater had just 18 families. Henry Plant was a developer at the time and built another railroad to Pinellas County, increasing visitors by even building hotels. Clearwater had many visitors and tourists due to the climate and the advertising of developer's ideas for the land. Florida's real estate boomed in 1921 and was at its highest during 1925, which fell in 1929, when the market crashed, and the depression started. The city of Clearwater was officialized on May 27, 1915. Clearwater built its first wood bridge which gave Morton F. Plant the chance to build a hospital in 1914, (City of Clearwater).
Henry Plant's son, Morton Freeman Plant, was severely injured in a car accident in 1912 while on vacation, however there were no hospitals during that time to treat him. Plant brought in multiple medical doctors and supplies from Chicago, using the railroads. His son stayed in a railroad car near a hotel, which was near to the site where the future hospital would be built. The city raised twenty thousand dollars and Plant donated a hundred thousand dollars. Most of those who donated were women, in fact they were the first ones to approach the city with the fundraising idea in 1914. A female ran the hospital in the beginning. The hospital was built and opened on January 1st, 1916, with, as the article "Morton Plant Hospital Celebrates 100 Years," states that "20 beds, 5 bassinets and one operating room" (McManus) called the Morton F. Plant Endowed Hospital. The first ever hospital in Pinellas County. The hospital ran as a non-profit then and continues to do so. In 1997, the hospital formed a relationship with University of South Florida, providing Morton Plant Mease Family Medicine Residency for medical students.
The hospitals goal is to reinvest the monies to provide better services to patients and their families. The hospital has also built a camp where patients can take a break from medication, to rest and interact with other patients, called Camp Living Springs. Due to increased visits to the ER, a facility is being built that could house 80,000 patients. In the article "Morton Plant Hospital Responding to Changes," it states that "Morton Plant's new emergency department has 42 private-treatment rooms and $3.1 million in new equipment. It has a dedicated laboratory and digital radiology unit, and five treatment areas: acute care, intermediate care, psychiatric care, obstetrics and express care." (Meinhardst). The new facility is expected to cut down visitors waiting time, approximately two hours from the time they enter and leave. For intermediate visits, it would take an hour. The community also contributed an amount of Ten Million dollars. Philip K. Beauchamp, president of the hospital, as well as chief executive officer, stated, "It shows that if you're focused on their needs, they're willing to help support it."
What started as a city with so much history, from going to a native American simple tropical piece of land with war from Spaniards and other invaders, to a developed and established city with no hospital, building one with just 20 beds in a 2-story building, to now a facility that has had Two Thousand, Two hundred and forty nine births, Twenty four thousand, one hundred and ninety four discharges, and Eighty thousand, two hundred and eight ER visits in 2014. Specializing in women's services, oncology, orthopedics and heart care. Celebrating over 100 years of service and history and continues to grow and provide the best service to its community.
Sources
"City of Clearwater, FL." Government | City of Clearwater, FL, www.myclearwater.com/news-info/about-us/history. Accessed 27 September 2018.
Meinhardt, Jane. "Morton Plant Hospital Responding to Changes." GALE, 14 Sept. 2001, go.galegroup.com.db26.linccweb.org/ps/i.do?p=ITOF&u=lincclin_scc&id=GALE|A78933189&v=2.1&it=r&sid=ebsco. Accessed 27 September 2018.
McManus, Tracy. "Morton Plant Hospital Celebrates 100 Years." Tampa Bay, Florida News, 24 Mar. 2016, www.tampabay.com/news/humaninterest/morton-plant-hospital-celebrates-100-years/2270623. Accessed 27 September 2018.
Additional Information