Willie Howard Mays Jr. Statue
Introduction
With the exception of a brief stint with the Army, Mays played professionally from 1951-1972. Though majority of Mays' career was spent with the now San Fransico Giants, he finished his career with the New York Mets. Mays' entered the Baseball Hall of Fame in 1979 for his skill and success while playing centerfield. His contributions to the Giants landed him a statue in the Giant's current home of AT&T Park, located in Willie Mays Plaza in San Fransico.
Images
Willie Mays also performed tricks while on the field to entertain fans.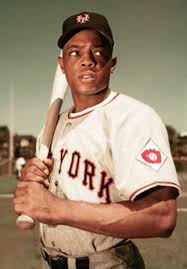 Mays also became famous for his actions during the 1954 World Series with "The Catch".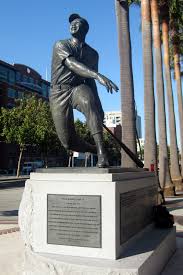 Willie Mays with Hank Aaron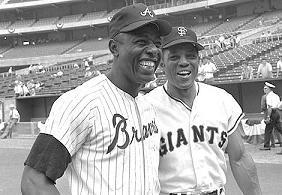 Backstory and Context
One of the first competitive teams he played for were the semipro the Fairfield Gray Sox. He was initially played shortstop, but his strong throws were too much for the first baseman. Because of this, the team's manager Cle Holmes turned Willie into a pitcher. Despite his skill as a pitcher and ability to pitch for all nine innings, Cal Mays told the team's manager that his son could only play in the field. Willie Mays moved again to center field where he proved to be a natural, later winning 12 Gold Gloves.
Before starting his professional career in baseball, Mays was reportedly playing for the Chattanooga Choo-Choo's, a Negro League Team in Tennessee, as an unsigned player. Mays was then discovered by Piper Davis, coach of the Negro League Birmingham Black Barons. Mays was scouted by several Major League teams but was drafted by the New York Giants after graduating in 1950.
In 1950 Mays' contract was bought by the Giants, despite a poor start in his first season, he won the NL Rookie of the Year. He was the youngest Africa-American to play professional baseball at the time. Throughout most of 1952-53 Mays served in the Army, when he returned in 1954 he led the league with his batting average, home runs, and total runs. He played for the Giants between 1951 and 1972 and played his final season in 1972 to 1973 for the Mets. While with the Giants, Mays made several contributions to the team's success. Mays' great arm and fielding skills were key to several important victories. After their move to San Francisco, Mays was appointed team captain. He lead his team to secure several titles including the 1962 National League before being sold to the Mets in 1972. As well as contributing his skills, Mays made history with the Giants, being a part of one of the first all-Black outfield in major league history. During his career, he was named the league's Most Valuable Player twice, played in 24 All-Star games, and had a career total of 660 home runs. Following his retirement, Mays remained with the Mets as a batting coach until 1979. Mays entered the Baseball Hall of Fame in 1979 for his skill as a centerfielder. 
The statue was unveiled on March 31, 2010, at AT&T Park in San Francisco, California. The nearby plaza has 24 palm trees representing his jersey number. May's statue was designed by William Behrends, who also created three other statues at the park. His statue stands eight and a half feet tall made from bronze and depicts Mays swinging a bat. Following Mays' retirement, the Giants retired his number 24 jersey. Mays' is also remembered today as the "Say Hey Kid", but the reasons for this nickname have been forgotten.
Mays during his 22 seasons as a professional baseball player was asked controversial questions. Including his thoughts on players using steroids, which claimed ignorance of. He was also accused by some, including Jackie Robinson, of not using his prominence to further civil rights. Though his actions and success as a player led to further integration within professional baseball. The Giant's AT&T stadium is located on the Willie Mays Jr. Plaza. While San Francisco celebrates every May 24th as Willie Mays Day. May continues to hold the league record for career outfield putouts with 7,095.
Sources
New York Times "Willie Mays, at 78, Decides to Tells His Story," The New York Times, accessed September 30, 2018, https://www.nytimes.com/2010/01/31/sports/baseball/31mays.html.
Baseball Hall of Fame "Willie Mays," The Baseball Hall of Fame, accessed September 30, 2018, https://baseballhall.org/hall-of-famers/mays-willie
ESPN, "Willie Mays Biography," ESPN, accessed September 30, 2018, http://www.espn.com/mlb/player/bio/_/id/24790/willie-mays
National Public Radio, "Willie Mays Reflects On Legendary Baseball Career," National Public Radio, accessed September 30, 2018, https://www.npr.org/templates/story/story.php?storyId=123653406
"Willie Mays." Willie Mays - New World Encyclopedia, https://www.newworldencyclopedia.org/entry/Willie_Mays
Image Sources
https://mlb.nbcsports.com/2010/05/06/willie-mays-was-a-total-jerk-to-hank-aaron/comment-page-2/

Additional Information