Park Central High School
Introduction
During the era of segregation, African American students in Bluefield attended Genoa High School up until 1950 or they attended school in this building which was home to Park Central High School until Bluefield integrated their high schools in 1969. This building later became the home of a church.
Images
Park Central High School is now home to Greater Mt. Zion Pentecostal Church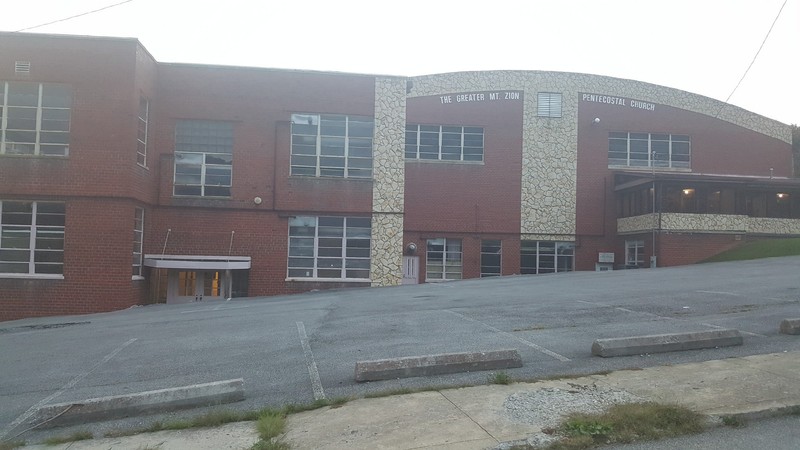 Backstory and Context
Before integration, this high school was home for African American students for many years. It was not until 1957 when the partial integration began in this school district. Although segregated schools were starting to diminish due to the work of the civil rights movement, students attended this school until the final class of 1969 graduated in the spring of that year. After that graduating class, the area schools integrated to form Bluefield High School.

Many years after the merger of the two schools, this building became the home of Greater Mt. Zion Pentecostal Church in August of 1985. The school had thirteen classrooms, a cafeteria capable of accommodating 300 people, multiple offices, and thirteen restrooms and shower rooms. The gymnasium/auditorium of the high school is currently the main sanctuary of the church, accommodating 1,200 seats.
Sources
Park Central High School (historical) (in Mercer County, WV). (n.d.). Retrieved September 18, 2018, from https://westVirginia.hometownlocator.com/maps/feature-map,ftc,3,fid,1557298,n,park central high school.cfm
Genoa School (historical) (in Mercer County, WV). (n.d.). Retrieved September 18, 2018, from https://westVirginia.hometownlocator.com/maps/feature-map,ftc,3,fid,1551219,n,genoa school.cfm
Archer, B. (2014, August 11). 2014 Genoa-Park Central reunion closes with event at Sims Youth Center. Retrieved September 18, 2018, from http://www.bdtonline.com/news/local_news/genoa-park-central-reunion-closes-with-event-at-sims-youth/article_a67b9be2-2108-11e4-8b1d-0019bb2963f4.html
Church History. (n.d.). Retrieved September 18, 2018, from http://www.gmzion.org/page07.html