Walter Reuther : Serving His Fellow Man Memorial
Introduction
This historical site is in remembrance of Walter Reuther and is located at Heritage Port in Wheeling, WV. The memorial signifies his strong efforts for the United Automobile Workers (UAW). The memorial is a seven-foot bronze statue of Reuther created by Alan Cottrill of Zanesville, Ohio. The statue stands on a granite pedestal where his famous quote is engraved. This man fought for men and women who worked labor jobs within large automobile factories such GM and Ford. The memorial was dedicated October 12, 2006 and is publicly accessible at any time of the day at the Heritage Port in Wheeling, WV.
Images
Walter Reuther posing for Time Magazine.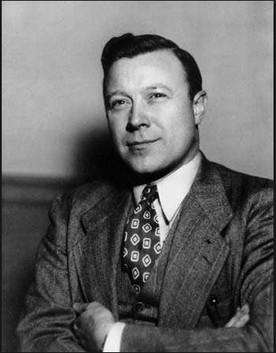 Walter Reuther with Martin Luther King Jr. supporting the Civil Rights Movement.
Bottom of the Memorial located in Wheeling, WV.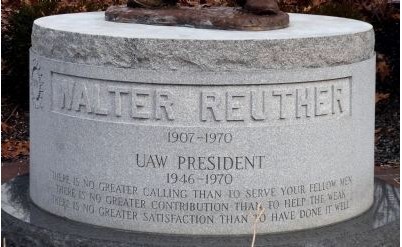 Memorial Site in Heritage Port in Wheeling, WV.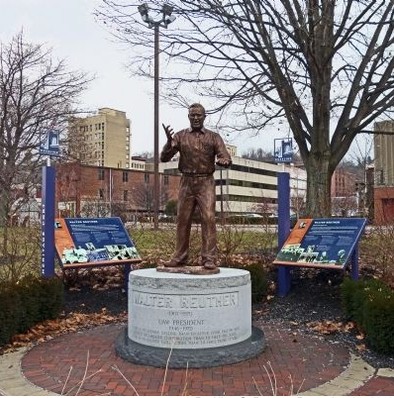 Walter Reuther and Richard Frankensteen after Ford Security guards beat them up for handing out leaflets in regard to the GM Strike in 1937.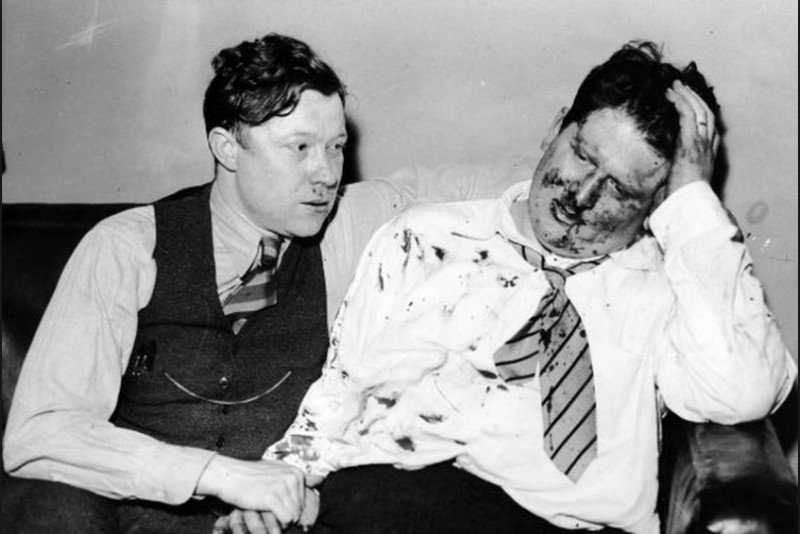 Backstory and Context
Walter Reuther was born in Wheeling, West Virginia September 1, 1907. His father, Valentine Reuther, was a strong politically-minded man who began teaching his children about socialism, activism, women's suffrage, segregation laws, and civil rights. His efforts to teach his children about these political issues helped the children develop political mindsets used to form their futures. Walter Reuther worked all his life, whether it was a paper route or a local store, he loved to work. This love of labor caused him to drop out of high school at the age of 16. He began to work locally in Wheeling, WV as a Tool and Die maker, but was fired shortly after for trying to organize a union. 
Lacking a formal education didn't mean much in the early 1900's because many men were forced to work labor jobs in order to provide for their family. In 1927, Reuther moved to Detroit, Michigan, due to Ford Motor Company's promises of high wages and shorter work week. He was quickly recognized as one of the best mechanics at Ford's Rover Rogue plant. While working the night shift at Ford, he finally got his high school diploma at the age of 22. He then proceeded to take classes at Detroit City College, now present-day Wayne State University. While attending Detroit City College he organized a Social Problems Club on campus that was affiliated with the Socialist League of Industrial Democracy. This group led protests against the campus ROTC and protests against the local swimming pool's segregation policies. These actions are just some of Walter Reuther's early steps into being an activist within America. 
After forming organizations and protests, Reuther wanted to learn about other nations economic, political, and social policies. He took a nine-nation tour of Europe in 1932 and decided to stay 2 years in the Soviet Union, where he worked at a massive automobile factory. He returned to Detroit in 1935 and married May Wolf in early 1936. They later moved into a townhouse and had two daughters. This same year Reuther joined the United Automobile Workers (UAW) at the local 86 chapter, even though he didn't work for GM. He was elected as a delegate the same year at the UAW National convention. His strong admiration and determination quickly earned him a position within the organization, and was elected to UAW Executive Board. 
When returned to Detroit after the convention, Reuther set out to organize another UAW on the West Side of the city. Within eight months of forming the UAW Local 174, as president he represented 30,000 workers and 76 shops within Detroit. In 1937, he formed a sit-down strike against GM in Flint, Michigan. After this strike he wanted to reach out to Ford's workers, but was beaten up by Ford's security guards while passing out leaflets. This scene grabbed national attention because newspaper photographers captured the incident. 
By 1939, Reuther was director of UAW's General Motor department, and by 1942 he was elected the Union's First Vice President. During this time, he worked for better labor wages and better work conditions. After World War II, in 1946, he led a 116-day strike against GM. His demands were a 30% wage increase without the increase of retail price on cars, but his demands were not met; instead GM offered them an 18% wage increase, which was accepted to end the strike. This strike led to his presidency of the UAW in 1946, which is where he pressed his political agenda of national health care, economic redistribution, and job security. He fought for the American people who worked in labor industries and factories. He remained president of the UAW until his death in a plane crash in 1970. 
To many people, Walter Reuther is a well-respected activist in American History.  His memorial, located in Heritage Port- Wheeling, West Virginia, was established to honor his strong impact on American labor policies. The memorial is a seven-foot bronze statue of Reuther created by Alan Cottrill of Zanesville, Ohio. The statue stands on a granite pedestal where his famous quote is engraved. The quote reads: "There is no greater calling than to serve your fellow man. There is no greater contribution than to help the weak. There is no greater satisfaction than to have done it well". Walter Reuther's influence continues to flourish in American politics today, and he will forever be remembered as the man who fought for the American people in a time of need. 
Sources
Walter Reuther. AFL- CIO. . Accessed October 01, 2018. https://aflcio.org/about/history/labor-history-people/walter-reuther.
Walter Reuther: American Labour Leader. Encyclopedia Britannica. August 28, 2018. Accessed October 01, 2018. https://www.britannica.com/biography/Walter-Reuther.
Carney, Brent. Biography: Walter Reuther. Ohio County Public Library. . Accessed October 01, 2018. http://www.ohiocountylibrary.org/wheeling-history/biography-walter-reuther/5163.
Additional Information