St. Frances Academy
Introduction
Before the Civil War, education for African American children was far from a priority. While Maryland was a slave state, teaching a slave or free person wasn't punishable by law. Haitian refugee, Elizabeth Lange and French Sulpician priest, Father James Joubert decided to take advantage of this fact and founded the The Oblate Sisters of Providence, the first all Black nunnery dedicated to providing education for young underprivileged colored girls. The Oblate Sister started their mission in 1828 and opened St. Frances Academy for Colored Girls.
Images
What the front of St. Frances Academy looks like today.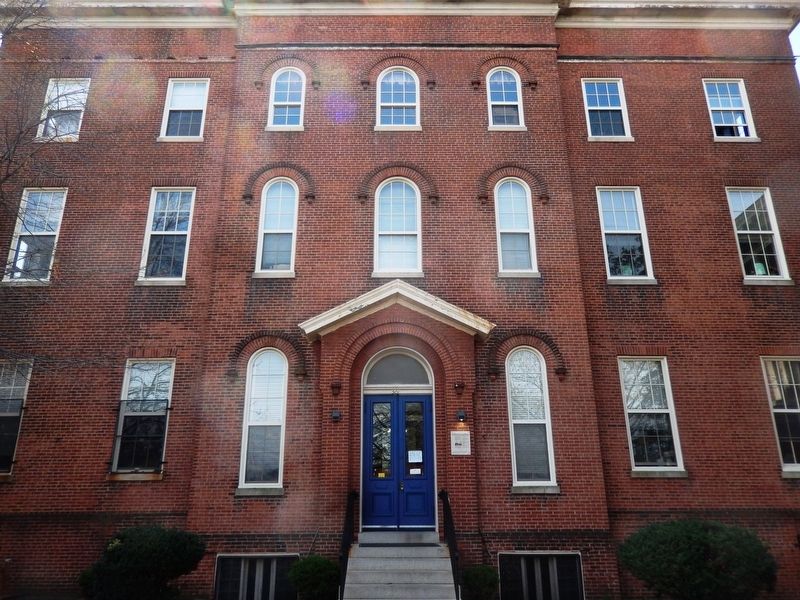 St. Frances Marker describing the history and legacy of the academy (right of front door).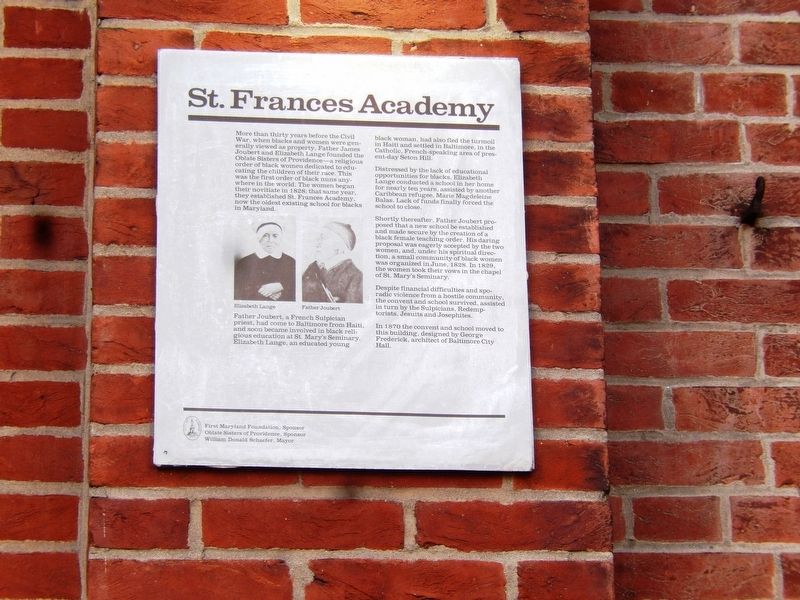 Backstory and Context
Haiti was a war ridden country in the early 1800s and many citizens had to flee to the United States. Many of these refugees ended up initially fleeing to Cuba and then over the years, started funneling in to Baltimore, Maryland. Among the masses were Reverend James Mary Hector Nicholas Joubert de la Muraille and Mother Mary Lange. Both had a strong background in education and saw the lack of educational opportunities culminating around them. In 1828, after failed attempts of providing schooling in her personal home with Caribbean refugee, Marie Magdeleine Balas, Lange was finally offered the opportunity to found St. Frances Academy for Colored Girls by Father Joubert, which they did within a year.

Father Joubert served as the spiritual director of the academy until his death in 1843. During his years as director, Joubert worked tirelessly to secure funds and fiercely protect his convent from opposing views that argued colored women didn't have the minds to be educated. After his death, Mother Mary Lange took an even stronger leadership role and took on a job as a domestic to support her community. She worked all throughout her life to keep The Oblate Sister of Providence and St. Frances Academy for Colored Girls thriving until her death in 1882.
Now shortened to St. Frances Academy, the school Joubert and Lange founded 190 years has since flourished and expanded in many ways. It became coeducational in the 70s and the living areas were converted into classrooms for the incoming students. Even in the past 20 years the population of the school has more than doubled due to major advancements in technology, gymnasiums, and classroom space. The legacy of Father James Joubert and Mother Mary Lange is prevalent in St. Francis Academy still today, with their mission posted on their website stating, "Through its dignity and uniqueness, St. Frances Academy continues the legacy of Mother Mary Lange, its foundress. St. Frances Academy, with faith in God's Providence, provides the immediate neighborhood and the Baltimore area relevant educational programs which gives all members a sense of their cultural heritage and giftedness by helping students and members of the community, particularly the poor and the neglected, to recognize, develop and live as respectful, responsible, and just members of God's human family".
Sources
Banks, Willa. "A Contradiction in Antebellum Baltimore: A Competitive School for Girls of 'Color' within a Slave State," Maryland Historical Magazine 99, no. 2: 134.
Founders. Oblate Sisters of Providence. . Accessed September 29, 2018. http://www.oblatesisters.com/founders
Morfe, Don. St. Frances Academy. www.hmdb.org. April 16, 2017. Accessed September 22, 2018. https://www.hmdb.org/marker.asp?marker=102852.

.


Additional Information