The Civil Life Brewing Company
Introduction
The Civil Life Brewing company was one of several craft and independent breweries in Saint Louis to begin operation in 2011. The brewery itself is styled upon English and German-style pubs and produces beer derived from various nineteenth century styles. Located in the Tower Grove South neighborhood, Civil Life has won awards for several of their distinct styles including their flagship American Brown Ale. Throughout the year, Civil Life holds various events including an annual "State of the Beer" party held on the date of its founding. There are currently plans to expand the brewery by 2020.
Images
Civil Life Brewing Company from the exterior.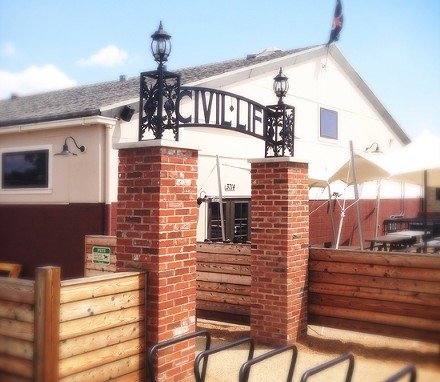 The Civil Life logo including its mustachioed, nineteenth century mascot.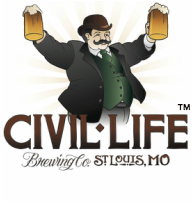 Backstory and Context
The Civil Life Brewing Company began in 2011 as the brainchild of head brewer Dylan Mosley and proprietor Jake Hafner. Prior to opening, Hafner had had experience in owning and operating a wine bar and had been exposed to the craft beer and micro-brewing subculture. Mosley had experience in brewing beer and had, along with Hafner, attended small gatherings of home-brewers upon which the pair, along with friend and business partner Mike Bianco, decided to open what is today Civil Life. Hafner then purchased brewing apparatus which prompted Mosley and Bianco to refine their brewing techniques. After Mosley left to gain formal training in brewing, Bianco and Hafner remained in St. Louis to focus on setting up the business.

After the return of Mosley, the business became a reality with batches of original beers being served in Civil Life by 2011. The first two years saw growth and many new beer and food offerings at the pub location. These included the flagship American Brown Ale, Rye Pale Ale, and British Bitter. Interestingly, the Rye Pale Ale won a gold medal from the Great American Beer Festival in 2014. In 2013, Bianco moved to Florida, but returned by 2015 to help brew and expand once again. After three years of continued success, Civil Life had grown an impressive beer list and began canning and distributing select brews throughout the St. Louis area. In addition, they loaned out kegs of their beer for events throughout the country.

The brewpub has no phone number, only takes cash, and may be difficult to find upon the first visit. What is most impressive about the Civil Life Brewing Company, however, is its propensity to retain regulars and reward them yearly. Each year on the anniversary of its grand opening, Civil Life hosts a "State of the Beer" address, parodied after the State of the Union delivered by the United States President. This event includes the unveiling of each year's new logo, a humorous speech delivered by Hafner, and an award given to an outstanding patron. Recently, plans to expand the brewery have been green-lit by Hafner to hopefully double the size of the current brewpub by 2020.
Sources
Herbst, Henry. Roussin, Don. St. Louis Brews: The History of Brewing in the Gateway City. Edition 2nd. St. Louis, MO. Reedy Press, 2015.

Hafner, Jake. About Us. Civil Life Brewing Company. September 17, 2011. Accessed December 12, 2018. http://www.thecivillife.com/.


Additional Information