Chicago Bee Building
Introduction
Located in the Black Metropolis Bronzeville District of Chicago, the Bee Building was home to The Chicago Bee, a newspaper that served the city's African American community from 1926-1946. Recently, the building was adapted for reuse as a branch of the Chicago Public Library, and after a 2.7 million dollar renovation, the Bee Building became a full service library.
Images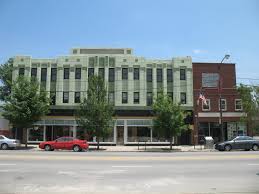 Backstory and Context
After erecting the Overton Hygienic Building, Anthony Overton commisioned his second building next door that housed the offices of the Chicago Bee, an African American newspaper he founded in 1921. Ironically, after completion of the Bee building in 1931, he was forced to consolidate his assets and move out of his first building and share occupancy with the Bee Building after the Great Depression collapsed his Douglass National Bank, located in the Hygienic Building.

Overton founded the newspaper for civic and racial improvement and development and to promote Black business. This a bold financial move on his part, especially erecting such an elaborate structure on State Street (the Wall Street and Broadway to Chicago's Black community) during that time, which served as a show of confidence in the Black Metropolis. Although the Bee went out of business in 1946 and never took off like Anthony had hoped (as his paper had to compete with The Defender, the largest African American owned newspaper in the country), it is noted for its 20 years of existence being staffed entirely by women.


Sources
http://www.Blackpast.org/aah/chicago-bee-1926-1946 http://en.wikipedia.org/wiki/Chicago_Bee_Building
Additional Information