Belle Haven Apartments
Introduction
Constructed in 1926, this historic three-story, building was originally called the El Verona Apartments. It was designed by architect Dwight James Baum in Sarasota in the Mediterranean Revival style and had 50 apartments. Baum designed many other buildings including the El Verona Hotel (which was demolished and replaced by the Sarasota Ritz Carleton hotel) and the Sarasota County Courthouse. Belle Haven is still considered one of the finest buildings in the city. It was added to the National Register of Historic Places in 1984. As of 2018, a real estate developer is renovating the building into its temporary office space as it works to develop the surrounding area.
Images
The former Belle Haven apartments is currently being renovated, as of 2018, into office space for a real estate developer.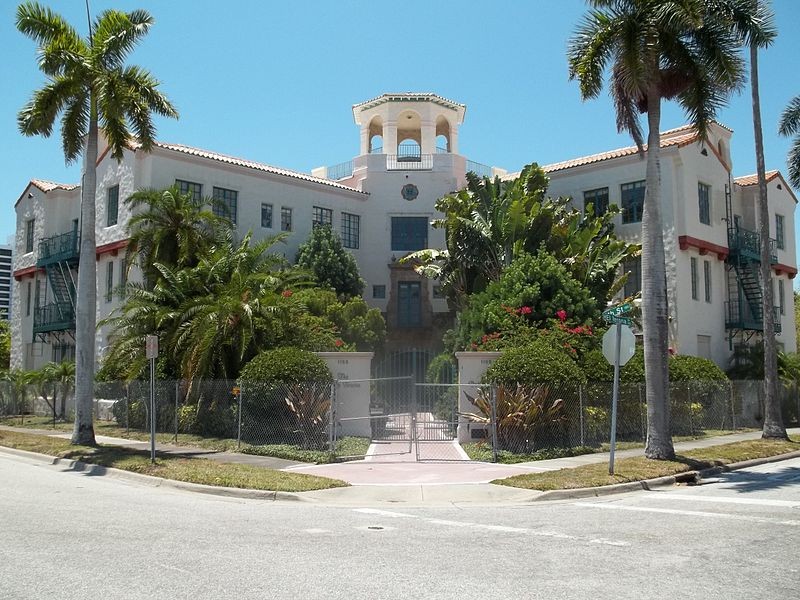 Backstory and Context
The Belle Haven was erected around the end of the Florida land boom, which abruptly ended in the mid-1920s, and a few months before the 1926 Miami hurricane, which devasted Miami and many other parts of the state. The real estate crash and the effects of the hurricane foreshadowed the looming global crisis of the Great Depression, which would begin in just a few years.
Sources
Denton, Ilene. "New Life for the Grand Old Belle Haven." Sarasota Magazine. June 11, 2018.
https://www.sarasotamagazine.com/articles/2018/6/11/new-life-for-the-grand-old-belle-haven

Kearns, Sarah L. "El Verona Apartments/Broadway Apartments." National Park Service - National Register of Historic Places Nomination Form. March 22, 1984. https://npgallery.nps.gov/GetAsset/ee002c7b-4466-4007-a6a3-6dcc06137892.

Lahurd, Jeff. "Belle Haven building opened during Roaring '20s." Herald-Tribune. May 20, 2014. https://www.heraldtribune.com/news/20140520/belle-haven-building-opened-during-roaring-20s.

Photo: Wikimedia Commons