Saint Anthony Hall
Introduction
Saint Anthony Hall was completed in 1878 for the use of the Epsilon Chapter of the fraternity Delta Psi at Trinity College. The chapter is the oldest at Trinity and members have long occupied central roles as both students and later as trustees and administrators of the college. The building has served continuously as the chapter's headquarters, with most rooms serving their originally intended purposes. The building is listed on the National Register of Historic Places.
Images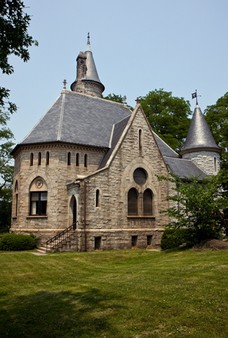 Backstory and Context
Saint Anthony Hall, which was built in 1878, owes much to the generosity of Robert Coleman, one of the county's wealthiest industrialists in the 19th century. Coleman was an 1877 graduate of Trinity, and following his graduation, he assumed leadership of his family's iron and steel companies and quickly became a very wealthy man. Coleman served three terms as an alumni trustee of Trinity and donated considerable sums to the college before losing most of his fortune in the Panic of 1893. 
Coleman donated $25,000 to the construction of the building. There were rumors at the time regarding the great cost of the hall's construction and what that could mean for the future of the Epsilon Chapter's finances. The chapter published a statement in the local newspaper informing readers that the building was free of financial obligation and would not be a burden to the chapter. 
Saint Anthony Hall is a two-story, High Victorian Gothic style structure that was designed by Josiah Cleveland Cady, a prominent architect at the time. The most significant feature of the building is the octagonal Chapter Room on the second floor. The room was designed in an octagonal shape because it was in this room that all official Chapter events and business would take place. 
The building has changed very little since the time of its construction. Some of the upstairs rooms, in particular, remain virtually unchanged and even include original furniture. Mementoes from the Chapter's history are placed throughout the hall. Saint Anthony Hall was listed on the National Register of Historic Places in 1985.
Sources
Saint Anthony Hall. NP Gallery. . Accessed October 15, 2018. https://npgallery.nps.gov/nrhp/AssetDetail?assetID=f164a1b7-7580-4d7a-85dc-f657365f9d82.
Saint Anthony Hall. Hartford Art 2. February 15, 2017. Accessed October 15, 2018. https://commons.trincoll.edu/commons-2/artwork/saint-anthony-hall/.