Aide's Department Store
Introduction
After a major fire swept the town in 1910, Mount Hope began to rebuild. By 1912 many of the Main Street buildings were rebuilt using stone and had returned to serving area consumers. This particular building opened its doors as one of the first post-fire hardware stores in Mount Hope. The two-story commercial structure is vernacular in style, though with some Art Deco influences. A painted historic sign on the side of the building advertises it as "Mount Hope's only complete department store." Owned and operated by L.C. Patteson, the business was later sold to Andrew and George B. Aide in 1931. Successful Aide's stores were also opened in Rainelle and Fairlea, and the Aide's department store brand became recognized among many coalfield families. The store became an icon of Mount Hope as well as Southern West Virginia. Andrew Aide worked hard to maintain a thriving business in the city of Mount Hope. His sons followed in their father's footsteps, but soon it became necessary for daughters Geneva and Frances to maintain the family business. After obtaining her degree in education from Buchannon College, Geneva returned home not to teach, but to become a staple in Mount Hope society. The two sisters continued to operate the store until Frances' death. In the early 1990s, Geneva sold the building to its current owners. The site is now owned by the Laczniaks of Virginia and is operated by sisters Susan and Linda. Maintaining the building's historic roots, the sisters sell a variety of items and objects and the store is known as Antique's at Aide's.
Images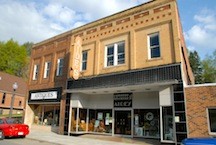 The historic painted sign on the side of the building.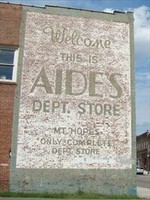 Hardware store can be seen with "Furniture" sign painted on building's edge. Main Street - 1915.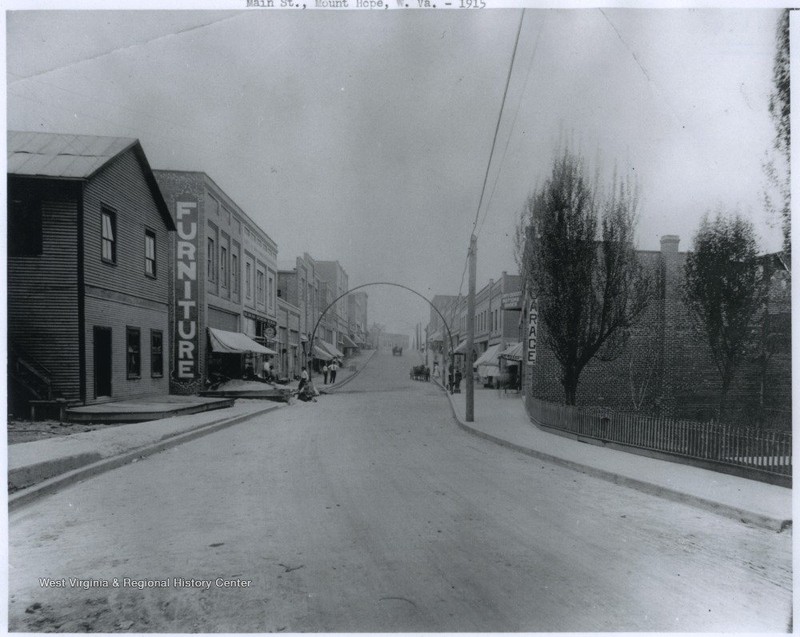 Aide's department store sign can be seen in image. Photo taken ca. 1950.
Backstory and Context
Sources
Taylor, David L. Mount Hope Historic District, National Register of Historic Places. January 1st 2007. Accessed May 18th 2021. http://www.wvculture.org/shpo/nr/pdf/fayette/07000785.pdf.
Image Sources
City of Mount Hope. Accessed May 18th 2021. http://mthopewv.org/community/businesses/.

Waymarking. Accessed May 18th 2021. https://www.waymarking.com/waymarks/WMCCMN_Aides_Department_Store_Mount_Hope_WV.

Caldwell, Walter.

Additional Information