Stadium Terrace Housing Development
Introduction
This housing development was constructed in 1939 as a proof of concept for low-income housing. Eleanor Roosevelt had seen the effects of economic depression and a collapsing coal economy in rural West Virginia and had a personal hand in selecting Mount Hope as the site of this initiative. Roosevelt also worked tirelessly to realize the project. West Virginia architect H. Rus Warne designed the twenty-five simple and identical wooden homes. This development and other prototypes like it led to the creation of the United States Department of Housing and Urban Development. It is the only low-income housing prototype from this era to still stand in the United States. The homes continue to be rented to by local owners.
Images
Houses on the Stadium Terrace row.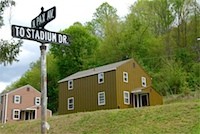 Image of Stadium Terrace Housing in the background during building of U.S. Mine Safety and Health Administration building.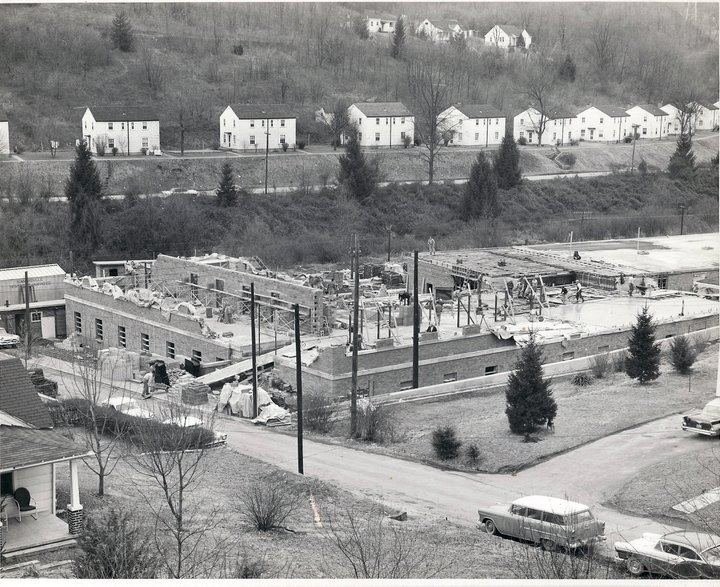 Image of Sugar Creek Coal Company housing. These houses would late be replaced during the "New Deal" by one of the first housing developments in U.S. history.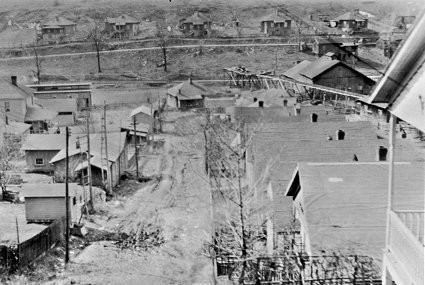 Backstory and Context
During the Great Depression, the town of Mount Hope suffered more than any other town found in the heart of the coal fields. In the early 1930s, Eleanor Roosevelt toured the region and viewed firsthand how the economic disaster was affecting Appalachia. Her travels led her to appeal to her husband, President Franklin D. Roosevelt to begin a project which would provide adequate housing for low-income families. Three areas of West Virginia were selected as prototypes for the first income-based housing developments: Charleston, Huntington, and Mount Hope. This project was different from some of Eleanor Roosevelt's planned community projects, such as Arthurdale. The goal of the low-income housing projects were to supplement existing infrastructure and towns, not to build a new settlement from the ground up. Mount Hope was the smallest town in the United States to receive attention from the low-income housing program, as most projects were focused on urban centers.
The site selected for Stadium Terrace was a slum of the notorious Sugar Creek coal camp. The area was characterized by poor sanitation, lack of utilities, and haphazard Jenny Lind style board-and-batten homes. The slum was razed and construction on new houses began in 1939. West Virginia architect H. Rus Warne was contracted to design the Stadium Terrace Housing Development. Warne was a classically trained architect who had worked for the United States Treasury Department and maintained a successful architectural firm in Charleston. Though Warne's work was typified by grand revival styles, the houses at Stadium Terrace are simple and utilitarian. Each home is primarily wood with four-bay facade and gabled roof. A small concrete stoop doubled as an additional storage area. Twenty-five identical homes were constructed by local company Meighborgall and Leach. Many renovations have been made over the years, most significantly, the replacement of asbestos siding with vinyl. 
After successful completion of the Huntington, Charleston and Mount Hope developments, as well as some developments in Texas, the low-income housing project was determined to be a success. This led the government to create the United States Department of Housing and Urban Development. Eleanor Roosevelt returned to Mount Hope in 1960, twenty years after the completion of the development, but did not visit the houses. The Charleston, Huntington, and Texas low-income housing prototypes have all been demolished, making the Stadium Terrace Apartments the last standing pilot project apartments in the country. The homes are still rented by local owners. 
Sources
Chambers, S Allen. Stadium Terrace, SAH Archipedia. January 1st 2012. Accessed May 19th 2021. https://sah-archipedia.org/buildings/WV-01-FY16.
Griffith, Amanda. Eleanor Roosevelt, The West Virginia Encyclopedia. December 8th 2015. Accessed May 19th 2021. http://www.wvencyclopedia.org/articles/129.
Smith, Judie. H. Rus Warne, The West Virginia Encyclopedia. December 9th 2015. Accessed May 19th 2021. http://www.wvencyclopedia.org/articles/887.
Taylor, David L. Mount Hope Historic District, National Register of Historic Places. January 1st 2007. Accessed May 19th 2021. http://www.wvculture.org/shpo/nr/pdf/fayette/07000785.pdf.
Image Sources
City of Mount Hope. Accessed May 24th 2021. http://mthopewv.org/history/historic-district/.