Unity Temple
Introduction
When a fire destroyed the wood-framed church of the Oak Park Unitarian Universalist congregation in 1905, fellow Oak Park resident Frank Lloyd Wright offered to design them a new building. With a limited budget of $45,000 to design and construct not only the exterior, but the building's interior and furniture, Wright turned to concrete as a cheap and abundant building material. Completed in 1907, the Unity Temple, as it came to be known, is considered by many architects and architectural historians as the first modern building in the world. The Unity Temple was added to the National Register of Historic Places on April 17, 1970 and designated as a National Historic Landmark on December 30, 1970.
Images
Black and white photo of Unity Temple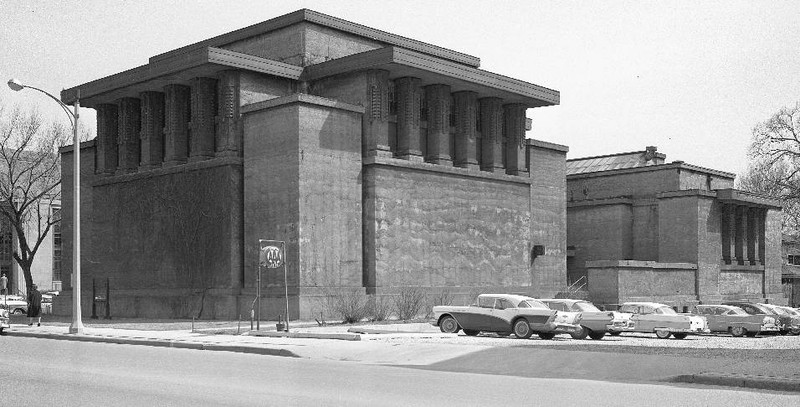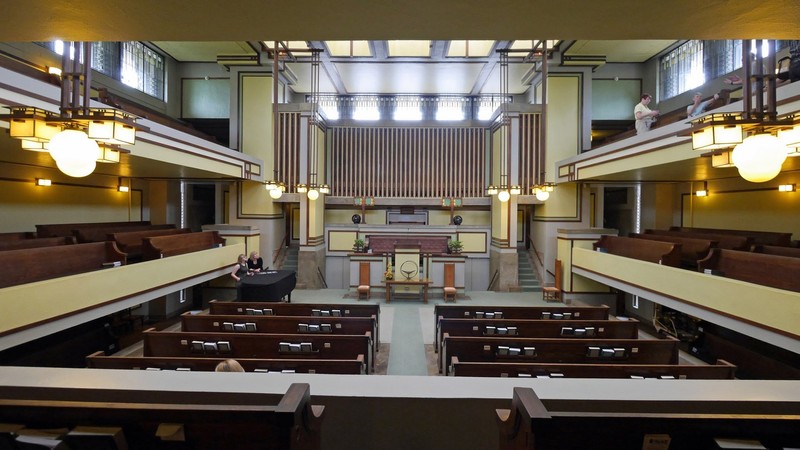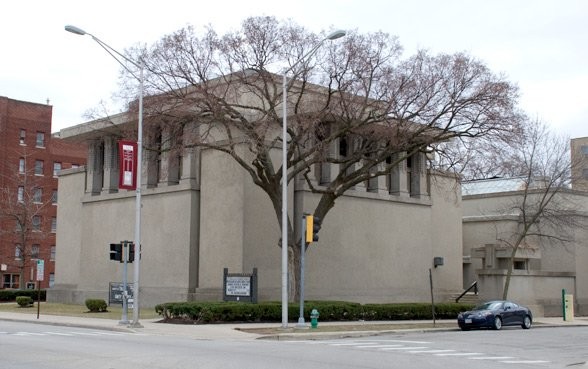 Backstory and Context
Oak Park's Unitarian Universalist congregation traces its roots back to 1871 when a group of Unitarians and a group of Universalists joined together and formed Unity Church. Soon after, the congregation erected wood-framed church and worshipped out of the building. Then in 1905, lightning struck Unity Church and burned it to the ground. The rebuilding process was granted to one of the church's congregants: Frank Lloyd Wright. Wright came from a long line of Universalists; his uncle was the Universalist preacher and social reformer Jenkin Lloyd Jones, his father also worked as a Universalist preacher, and his mother was very involved in the religion. Wright sought to create for his congregation a modern building that embodied the Unitarian principles of "unity, truth, beauty, simplicity, freedom, and reason."
Granted a mere $45,000 construction budget, Wright sought to make the most of the limited funds. As the primary building material, he chose concrete because it was cheap and allowed for a series of molds to be repeated multiple times. Wright put into practice the Unitarian beliefs when he left the concrete exposed, desiring to "bring out the nature of the materials." The astutely modern exterior, with its sharp corners as sterile appearance, meant to generate a sense of introspection in a busy world. Wright was also tasked with designing the church interior, in which he demonstrated his masterful understanding of varying ceiling height and manipulating space to create emotion.
Completed in 1907, the congregation chose to name its new house of worship Unity Temple two years later as it resembled no other religious building. The building quickly became an architectural icon due to its innovative and unconventional design and construction techniques. The originality of the building stemmed from the new architectural philosophy emerging in that form must follow function, a building must be designed around its function. With Unity Temple, we see that Wright physically manifested his and the congregation's philosophy towards humanitarianism and religion. Many architects and architectural historians consider Unity Temple as the first modern building, which ushered in a new era and architectural style.
Due to Unity Temple's concrete exterior, severe water damaged developed over the years. In 2015, a $25 million restoration project occurred. For the next two years, the building was meticulously restored to its former glory.
The Unity Temple was added to the National Register of Historic Places on April 17, 1970 and designated as a National Historic Landmark on December 30, 1970.
Sources
Snell, Charles W. National Register of Historic Places Inventory - Nomination Form. National Park Service. April 17, 19070. October 29, 2018. https://npgallery.nps.gov/GetAsset/073834ab-4688-4f03-b81a-d7ab1929c253/.

Unity Temple. Frank Lloyd Wright Trust. October 29, 2018. https://flwright.org/researchexplore/unitytemple.

History. Unity Temple. 2017. October 29, 2018. http://www.unitytemple.org/about-us/history.

Unity Temple. Chicago Architectural Center. 2018. October 29, 2018. http://www.architecture.org/learn/resources/buildings-of-chicago/building/unity-temple/.


Additional Information