Gramercy Gym ( 1939-1993)
Introduction
Cus D'amato was an Italian-American boxing manager who helped train many boxers, such as the famous heavyweight champion boxer Mike Tyson, Floyd Patterson, and Jose Torres. D'amato opened the Gramercy Gym at the age of 22 and spent long hours dedicated to finding a champion boxer. D'amato gained respect from many by developing his own style of boxing and training his boxers mentally and not just physically. D'amato was inducted to the boxing hall of fame in 1995 and his legacy still continues today as his marker stands where the Gramercy Gym once was before its demolition in 1993.
Images
Gramercy Gym Marker Photo By: Larry Gertner August 31, 2007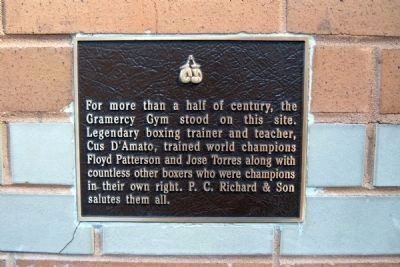 The Gramercy Gym was originally located where the P.C Richard & Son building is today. The Gym was torn down in 1993. It is located on the street which is now called "Cus D'Amato Way" Photo By: Larry Gertner August 31, 2007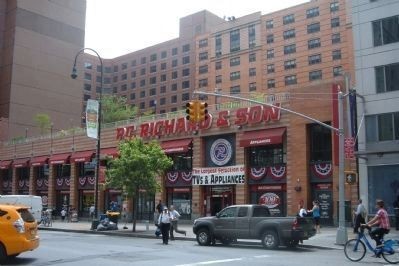 Founder of Gramercy Gym Cus D'amato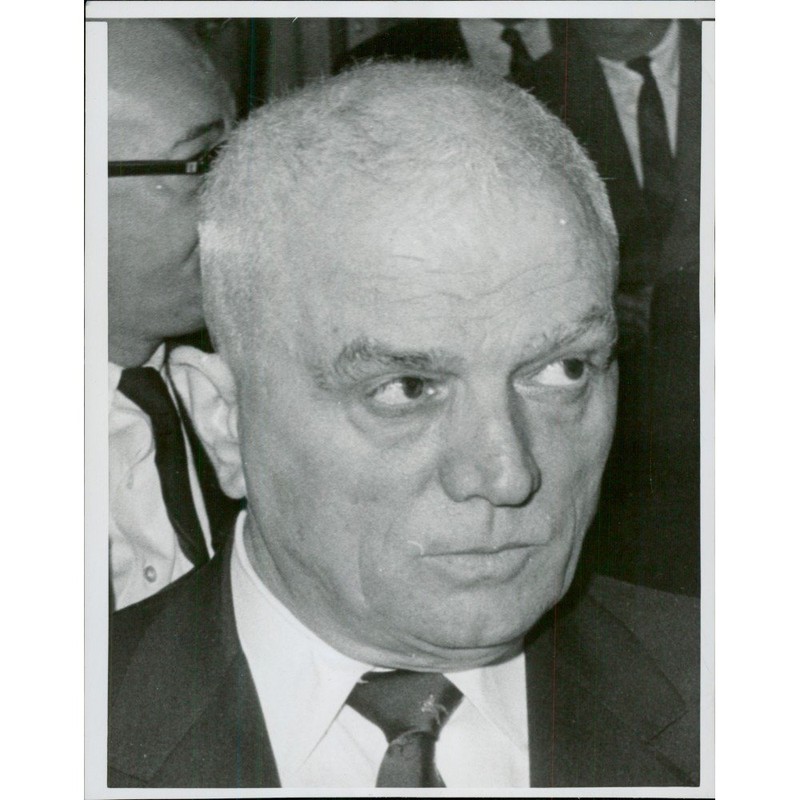 Backstory and Context
Constine "Cus" D'amato was born into an Italian family in the Bronx, NY on January 17, 1908. D'amato grew up with four brothers and learned how to fight in the streets. D'amato dreamed of becoming a professional boxer and, for a while, was an amateur lightweight and featherweight. However, he could not go on to be a professional due to an eye injury that occurred during a street fight.
When D'amato was 22 years old, he opened the Empire Sporting Club with Jack Barrow at the Gramercy Gym. D'amato was very dedicated to the gym and even lived there for three years. D'amato spent his time at the gym "waiting for a champion" to train. D'amato believed that psychological training was more important than mental training and many boxers, like famous heavyweight champion Mike Tyson (who D'amato trained) credit his style of training and belief in his athletes as a big reason for their success. D'amato, however, lost many of his boxers due to his resistance against the IBC (International Boxing Club) by not allowing his fighters to compete in any match sponsored by the organization which was eventually found out to be in violation of anti-trust laws and was stopped.
D'amato created a style of boxing called "Peek-A-Boo". This style consisted of the boxer's hands being placed in front of their face. It allows for extra protection for the fighter all while making it more accessible to jab the opponent.
D'amato was an influential trainer and trained some of the most famous and successful boxers in the world. These include Joey Hadley a professional boxer who won the Golden Gloves six times and used D'amato's Peek-A-Boo style when fighting. Also, Floyd Patterson who was the first boxer to use the Peek-A-Boo method effectively to become an Olympic gold medalist and a 2-time heavyweight champion of the world. His most famous trainee, however, was Mike Tyson who D'amato cared for and basically raised when Tyson's mother died at 16, even becoming his legal guardian.


Sources
Cronin, Brenda. "The Trainer Who Turned Mike Tyson into a Champion." The Wall Street Journal, Dow Jones & Company, 24 May 2017, www.wsj.com/articles/the-trainer-who-turned-mike-tyson-into-a-champion-1495640066.
"Cus D'amato." Cus D'Amato, www.ibhof.com/pages/about/inductees/nonparticipant/damato.html.
Dana. "A Boxing Legend's Memory Lives on 14th Street." GVSHP | Preservation | Off the Grid, 1 Oct. 2012, gvshp.org/blog/2012/01/11/a-boxing-legends-memory-lives-on-14th-street-2/.

Additional Information