The John Smart House / Medina Historical Society
Introduction
Since the late 1800s, the John Smart home has seen many residents and families come and go over the years since its construction. The building of the house began in early 1886, but was not finished until 1887 when John and his family of four moved in. Being a Victorian Queen Anne style home, the Smart residence fit right into the nature of Medina County, as this was a very popular design at the time.
Images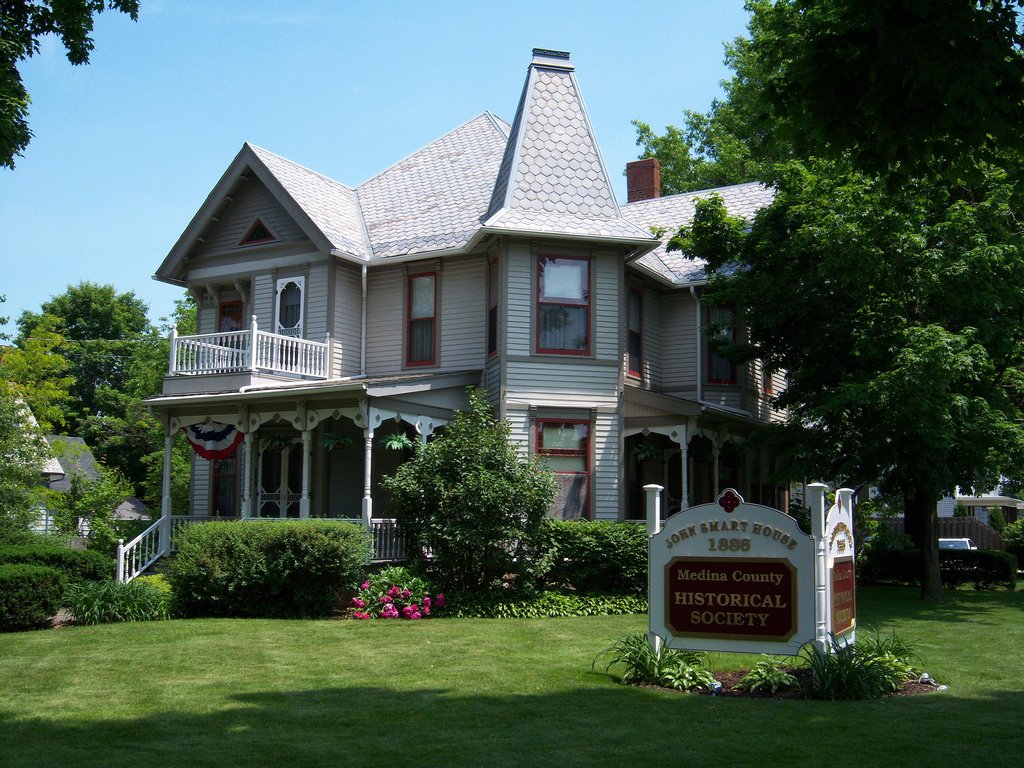 Backstory and Context
Construction on this Victorian Queen Anne style building, indicated by its very irregular form, began in 1886 when John Smart was moving to Medina from the state of New York. Although it is not certain who built the house, observations suggest that George Gruninger (Medina's leading house builder at this point in time) was the creator. Mr. Smart's family (his wife Julia and their daughters Anna and Maud) moved into the home in April of 1887, almost a year after construction began.
Considering that most people that lived in Medina at the time still resided in smaller Greek style homes, the John Smart house stood tall and proud in Medina. Consisting of large bay windows, a two story tower, a first, and second story porch, an irregular roof line with scalloped shingles, and boards that define the different floor levels, it was evident that John had enough money and success to thrive in growing Medina County.
John built an iron foundry on the west side of town, just north of the A.I. Root Company as a result of the first railroad that had been built through town. At the time, Medina was simultaneously rebuilding a lot of its businesses and city buildings because of the 1870 fire that claimed a number of buildings in its destruction. This foundry brought a large amount of economic success to him and later on in life, both of his daughters were married in the home. After the marriage of the daughters, both John and Julia moved to Cleveland to be closer to the children and took with them every item formerly in the home. This means that, unfortunately, nothing in the John Smart home as it sits today has any connection to the original family.
For more information regarding the extended history of the John Smart home, following John Smart's ownership and residency, please visit
http://www.medinahistorical.com/jsh.pdf
Sources
Medina County Historical Society. Medina County Historical Society. . Accessed October 31, 2018. http://www.medinahistorical.com/jsh.pdf.

Medina County Historical Society. . . http://www.medinahistorical.com/. Picture of John Smart Home/Medina County Historical Society Building


Additional Information