Rocky Marciano Statue
Introduction
This 22-foot statue commemorates local boxer Rocky Marciano, the son of Italian immigrants who became the only undefeated heavyweight champion in boxing's modern era. The statue was erected by the World Boxing Council and is made of fiberglass and polyester resin.
Images
Rocky Marciano and the blow that knocked out Jersey Joe Walcott in the 13th round.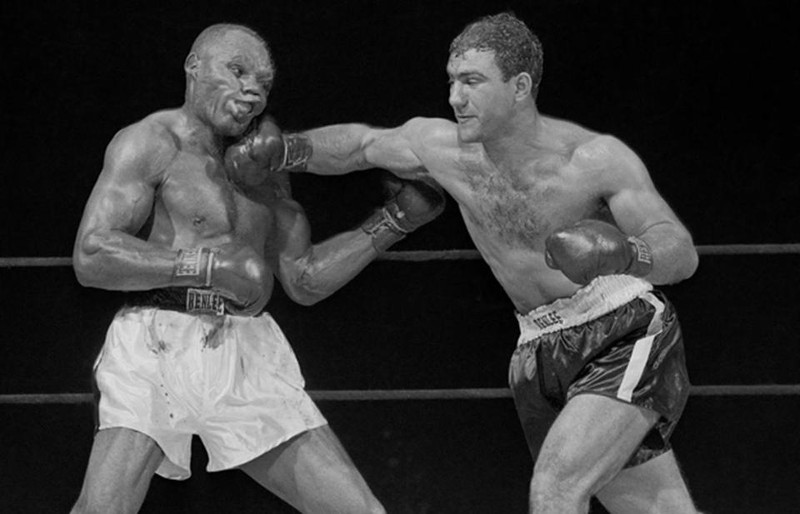 This photo was captured after Rocky Marciano knocked out Joe Louis in the 8th round of Louis' last fight. Marciano knocked him through the ropes in that final blow.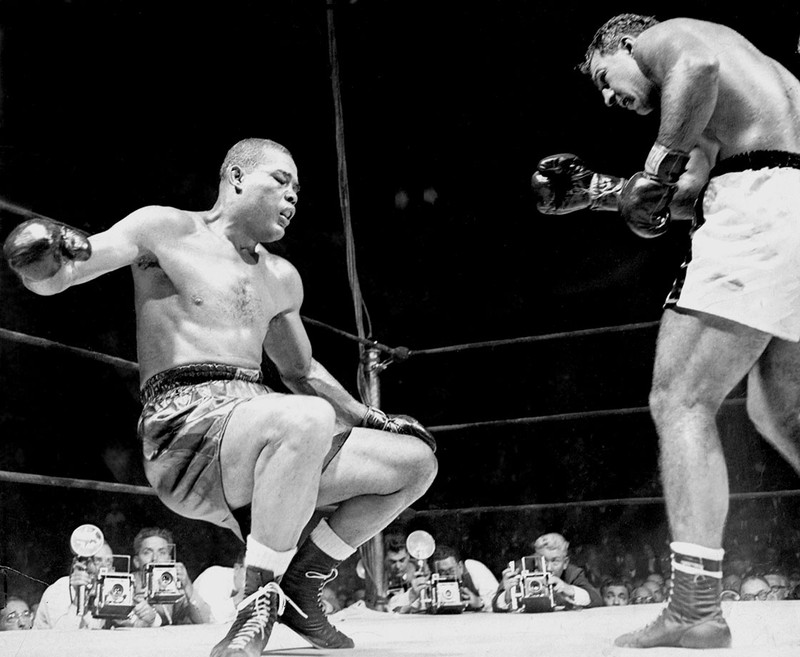 The 22.5 foot tall Rocky Marciano statue in Brockton, Massachusetts. Rocky's hometown.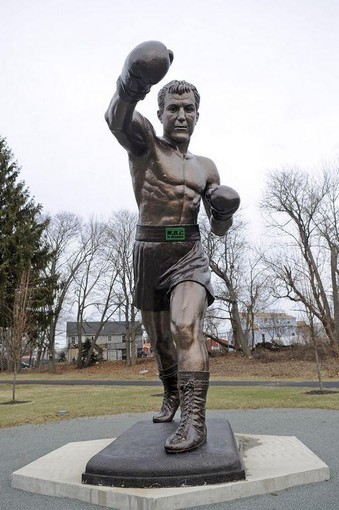 Rocky Marciano holding his heavyweight champion belt that he won in a historic fight against Joe Louis.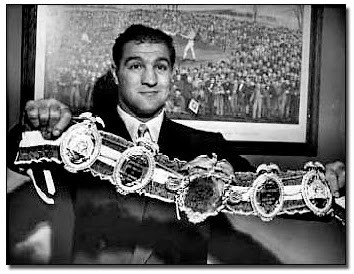 Backstory and Context
Rocky Marciano is the only world heavyweight champion in the modern era of boxing to have an undefeated record. He was born September 1, 1923. He fought 49 fights in his professional career and won each of them. Of those victories, 43 of the fights ended in knockouts. Rocky did not take up boxing until he was in the Army in 1943. He became an amateur boxer when he was discharged from the service in 1946.
As a young boy, Rocky Marciano dreamed of becoming a football or baseball star, and he had a chance with the Chicago Cubs when he was signed by the Chicago Cubs in 1947. Despite some talent, he was cut by the Cubs for poor fielding skills and turned to professional boxing. His first 16 fights ended in knockouts despite his late start in boxing and his small frame for a heavyweight at 190 pounds and 5-foot 10.5 inches.
After Rocky reached 37 fights with 32 knockouts, he was finally able to face a champion-- his hero and inspiration Joe Louis. At the time of the fight, Louis was nearing the end of his boxing career and in a closely fought bout, Rocky knocked Louis through the ropes in the eight round. This gave Rocky his 38th victory with 33 by the way of knockout. Five fights later, Rocky got his chance at the heavyweight title. The defending champion was Jersey Joe Walcott. Jersey Joe Walcott was ahead for the whole match until the 13th round when Rocky knocked him out with a blow to the jaw. This gave Rocky the heavyweight title and he had another six fights before his retirement in which he defended his crown each time.
Rocky died one day before his 46th birthday in a plane crash in Iowa. He left behind two kids, his wife of 19 years, and a boxing legacy. Rocky Marciano was not the biggest, quickest, or strongest boxer, but he was known for his toughness and technique. The World Boxing Council continued to keep his legacy alive and known by donating this statue to Brockton, Massachusetts next to the football field that is dedicated in his honor.
Sources
Rocky Marciano. Rocky Marciano. . Accessed October 01, 2018. https://www.rockymarciano.net/.

Ballou, Brian. Rocky Marciano statue to be unveiled in Brockton. The Boston Globe. September 23, 2012. Accessed October 05, 2018. https://www.bostonglobe.com/metro/2012/09/22/massive-rocky-marciano-statue-unveiled-symbol-late-undefeated-champ-grit-years-after-big-win-marciano-statue-unveiled/rmuMxxwaC5dsSwGkNfWkEO/story.html.

Joe Louis' top 5 fights. Sports Illustrated. May 13, 2014. Accessed September 25, 2018. https://www.si.com/boxing/photos/2014/05/13/joe-louis-biggest-fights#5.

Rocky Marciano. Encyclopedia of World Biography. . Accessed September 01, 2018. https://www.notablebiographies.com/Lo-Ma/Marciano-Rocky.html.


Additional Information