Fifth Third Field, Home to the Toledo Mud Hens
Introduction
Completed in 2002, the $39.2 million Fifth Third Field seats over eight thousand fans and is home to the Toledo Mud Hens minor league baseball team. Fifth Third Field replaced Ned Skeldon Stadium which was originally constructed as a racetrack in 1965. Seating around the racetrack was converted to bleacher seating for the baseball field created within the former infield of the racing track. While Skeldon Stadium (known as Lucas County Stadium until 1988) was suitable for a time, its layout prevented expansion and made it difficult to modernize the stadium which led to the construction of this new field.
Images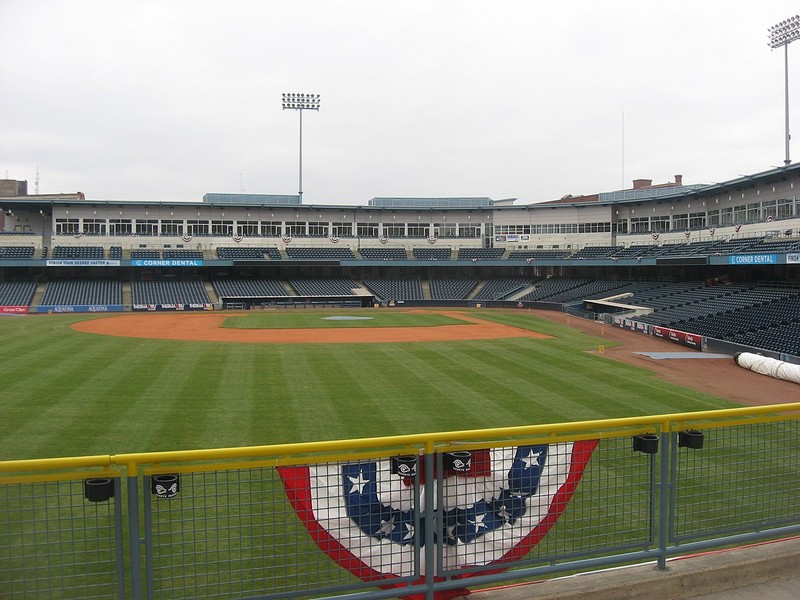 Backstory and Context
The Toledo Mud Hens were formed in 1896. In their early years, the team played near a marsh that often flooded. Local residents gave the team a nickname of "Mud Hens" as a tongue-in-cheek reference to the wildlife that inhabited the marsh. A mud hen is a type of bird that resembles a duck although they are only distantly related to that species. Known officially as the American coot, the mud hen has long legs that fold back and make them well-suited for walking on land--something important for a species that inhabits marshlands. Mud hens are migratory birds and inhabit the marshlands around Toledo during the summer mating season.
In 1902, the Mud Hens officially joined a minor league association, the American Association. After playing with that association for over fifty years but failing to attract a large fan base, the team left Toledo in 1955. Ten years later, Toledo created a new Mud Hens team which joined the International League. The team garnered national attention in the 1970s when a character on M.A.S.H., the TV sitcom, wore Mud Hens merchandise on the show. Today, the Mud Hens are affiliated with the Detroit Tigers.
Sources
Fifth Third Field Info. Minor Leauge Baseball. Accessed November 01, 2018. http://www.milb.com/content/page.jsp?ymd=20100219&content_id=8098256&sid=t512&vkey=team2.

Reichard, Kevin. Fifth Third Field / Toledo Mud Hens. Ballpark Digest. March 22, 2009. Accessed November 01, 2018. https://ballparkdigest.com/200903221614/minor-league-baseball/visits/fifth-third-field-toledo-mud-hens.

Toledo Mud Hens. Ohio History Central. Accessed November 01, 2018. http://www.ohiohistorycentral.org/w/Toledo_Mud_Hens.


Additional Information